Public transport in Dallas is primarily managed by the Dallas Area Rapid Transit (DART) system. DART offers a comprehensive range of services including buses, light rail, commuter rail and paratransit services. In 2022, the system had a ridership of over 41 million trips. Despite the bus and rail services available to the city's population, most residents opt to purchase and drive a car for their daily commutes. Even weekday public transport commuters are likely to invest in a car, as it comes in handy for exploring the surrounding areas at weekends or travelling during vacations.
---
Public transport in Dallas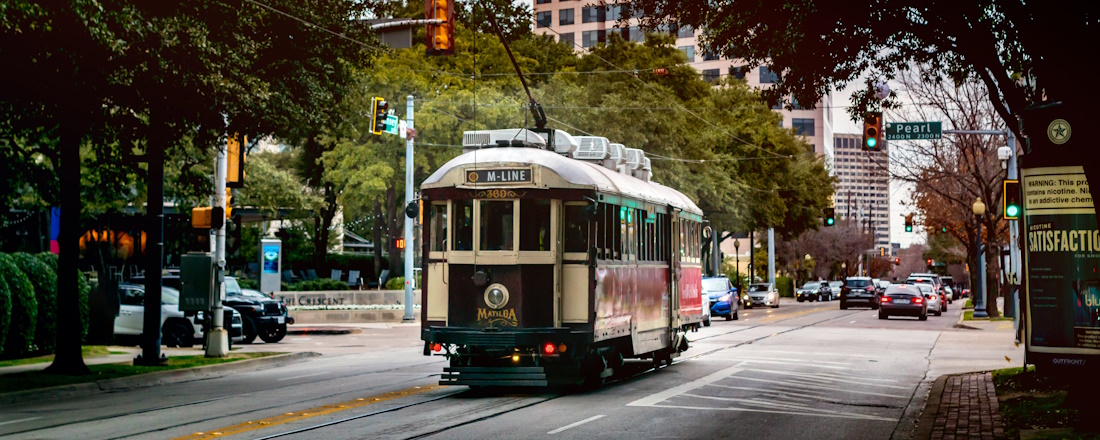 The DART system is designed to facilitate easy movement within the city and its surrounding suburbs. With its extensive network, DART ensures that residents and visitors have a reliable mode of transportation, reducing the need for private vehicles and contributing to a more sustainable urban environment.
Explore DART Fares and Passes.
Light rail
Dallas's light rail network serves most of the city's suburbs and comprises 93 miles (5km) between four colour-coded lines. Trains operate from 5am to 12am daily, with trains arriving every seven to 15 minutes during rush hours and every 20 to 30 minutes at off-peak and late-night hours.
Train
There is a single commuter train line, known as the Trinity Railway Express or TRE. The TRE has connections with all four light rail lines and covers areas west of the services provided by the light rail system.
Discover the Trinity Railway Express.
Buses
The bus network in Dallas is extensive and accounts for most of DART's trips. DART's bus network boasts over 90 routes that operate daily from 5.30am to midnight. One can get almost anywhere using the city's buses, although most bus journeys will require multiple transfers that lengthen travelling times.
Streetcars
DART operates a free modern streetcar service which runs from the Bishop Arts District to Union Station, the central transport hub downtown. Streetcars run from 5.30am to midnight and arrive every 20 minutes.
There's also a historic tram service known as the M-Line Trolley, which is also free. There are several attractions along the single route it travels daily, including restaurants, shopping districts and hotels.
Experience the M-Line Trolley.
---
Taxis in Dallas
Various taxi firms operate in the city. While taxis are readily available in downtown Dallas, locals don't generally use them on a regular basis.
It's possible to hail a taxi from the side of the road in the downtown area of Dallas, but it's best to pre-book a vehicle if travelling from the suburbs. Taxis use a metered system and are quite expensive. A silver lining to the metered system is that they don't use surge pricing. Ride-hailing applications such as Uber and Lyft are also operational in Dallas.
Useful links
---
Driving in Dallas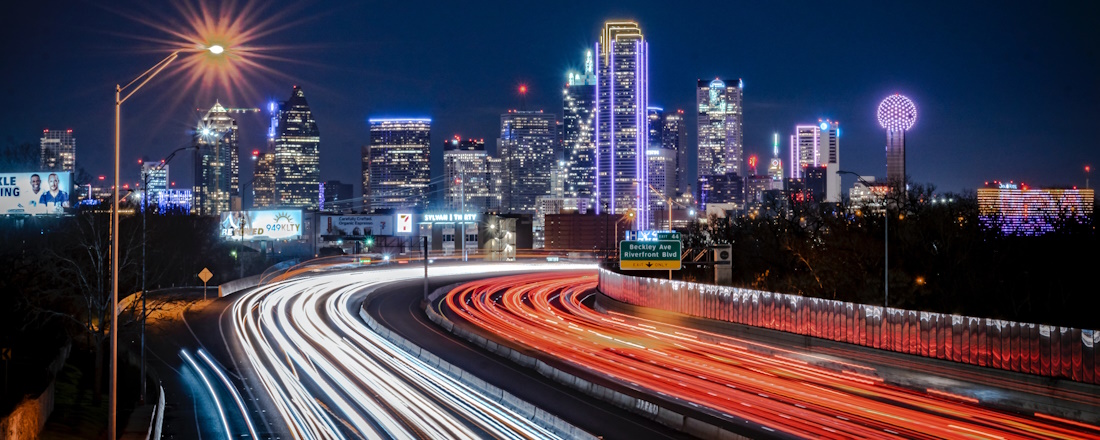 The easiest way to get around Dallas is by car. The road networks are sophisticated, making it possible to get across town relatively quickly. Petrol in Texas is quite cheap due to its proximity to oil production, and petrol stations are plentiful, making life convenient for drivers. Road conditions in Dallas are also excellent, and signage is clear.
Expats with residency in Dallas and newcomers from other states can drive on their foreign licence for up to 90 days before they have to get a local one. After this, they're required to obtain a Texan driving licence. Certain countries have a reciprocal agreement with the state of Texas, allowing a foreign licence to be exchanged without taking a local driver's test.
Those from nations without such agreements will need to complete both knowledge and skills tests before being granted a Texan licence. As with other states, if one's foreign driving licence isn't in English, it's advisable to also have an International Driving Permit (IDP) alongside the original while driving in Dallas.
Useful links
---
Cycling in Dallas
Dallas is not known for being a particularly cycling-friendly city. As the population becomes increasingly health-conscious, there have been demands for improved cycling infrastructure, with the city adding both dedicated and shared bike lanes in selected areas. Cyclists will still likely find themselves having to ride on the road or sidewalk though. All in all, residents will probably want to opt for another form of commute, though there are numerous parks and trails that are great for recreational cycling.
Useful links
What do expats think of public transport in Dallas?

"There is some public transport in Dallas; we have a train and some buses. However, it doesn't really take you everywhere, and people have told us not to use it due to safety.

I guess Texas is really made for cars, so the only people who use public transport are the ones who don't have a car." Read more in our interview with Conny, a Dutch expat living in Dallas.
---
Further reading
►Looking for a job in Dallas? Read Working in Dallas to get an overview of the city's job market.
Image credits: Streetcar and Timelapse by Gabriel Tovar (gabrielrana). Sourced from Unsplash.
Are you an expat living in Dallas?
Expat Arrivals is looking for locals to contribute to this guide, and answer forum questions from others planning their move to Dallas. Please contact us if you'd like to contribute.
Expat Health Insurance
Cigna Global Health Insurance - 10% off any plans bought in November and December 2023

With Cigna, you won't have to rely on foreign public health care systems, which may not meet your needs. Cigna allows you to speak to a doctor on demand, for consultations or instant advice, wherever you are in the world. They also offer full cancer care across all levels of cover, and settle the cost of treatments directly with the provider. Cigna is currently offering a 10% discount for seniors (over 60) on their Silver package.
Moving Internationally?
International Movers. Get Quotes. Compare Prices.

Sirelo has a network of more than 500 international removal companies that can move your furniture and possessions to your new home. By filling in a form, you'll get up to 5 quotes from recommended movers. This service is free of charge and will help you select an international moving company that suits your needs and budget.

Get your free no-obligation quotes from select removal companies now!