The East Asian island nation of Japan has a booming economy and a thriving expat community. While it presents a fascinating juxtaposition of modernity and ancient traditions, the culture shock can be difficult for new expats to overcome. Here's a summary of some of the pros and cons of moving to Japan.
---
Pros of moving to Japan
+ PRO: Outstanding infrastructure
Everything from public transport to staying in touch runs very smoothly in Japan. Whether it's the bullet train or a streetlight, nothing is ever broken. And if it is, a small team will quickly turn up to fix it. Almost everyone has a smartphone. Internet enters most homes via super high-speed fibre optic. Even after the earthquake of March 2011, the networks were still up and running. Nothing ever seems to break.
+ PRO: The best food in the world
Eating out in Japan is a dream come true. Famously Tokyo has had more Michelin stars awarded than Paris. However, Japan isn't just about sushi. It has a myriad of different dishes to offer at a range of prices from budget to bank-breaking. Kobe beef is literally melt-in-the-mouth, whereas tonkatsu (breaded, deep-fried pork cutlet) will be familiar but refreshing. Teppanyaki (a style of Japanese cuisine that uses an iron griddle to cook food) will set diners back a small fortune but yaki-niku (grilled meat) will cost next to nothing.
+ PRO: The bilingual button on the TV
Many Japanese TVs receive broadcasts in both Japanese and English. The default audio is Japanese, but there's a button on the remote control that switches non-Japanese broadcasts (such as movies and overseas news channels) to English. It may take some time to find, and every time you change channel it defaults back to Japanese, but at least the option is there.
---
Cons of moving to Japan
- CON: Language 
The language barrier in Japan is an unfortunate reality. Japanese people use Japanese. Don't expect many to have more than a basic smattering of English and even less of any other language. The written alphabet uses three different character sets, none of which will be familiar (however if you read Chinese you'll have some idea). From car navigation systems to buttons on microwaves, it will all be unreadable.
- CON: Time zone
For the typical expat from Europe or America, the time zone difference to Japan is about as hard as it can be. Eight hours between London or California and 11 hours to New York can make work schedules problematic. Organising Skype sessions with family back home is something to be planned rather than a spontaneous chat.
---
Are you an expat living in Japan?
Expat Arrivals is looking for locals to contribute to this guide, and answer forum questions from others planning their move to Japan. Please contact us if you'd like to contribute.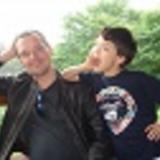 Jonathan Hewitt
Our Expat Expert
When Jonathan Hewitt was sent to Tokyo, Japan, by his UK company, he thought of it as a two-year adventure in a foreign country. More than 20 years later, he still calls Tokyo home and even runs a blog to help other expats settle into their new homes. 
Expat Health Insurance
Cigna Global

With 86 million customer relationships in over 200 countries, Cigna Global has unrivalled experience in dealing with varied and unique medical situations and delivering high standards of service wherever you live in the world.
GeoBlue

GeoBlue is one of the best international health insurance plans for US expats abroad or internationals residing in the USA. The GeoBlue Xplorer plan includes worldwide coverage and great customer service with access to a premium international network of hospitals and doctors including the Blue Cross Blue Shield network in the USA.
Moving Companies
Moving Internationally?

Sirelo has a network of more than 500 international removal companies that can move your furniture and possessions to your new home. By filling in a form, you'll get up to 5 quotes from recommended movers. This service is free of charge and will help you select an international moving company that suits your needs and budget.