Originally from North Macedonia, expat Sania is passionate about Japan and loves discovering new places and learning about new cultures. She shares her experiences as an expat mom on her YouTube channel, Expat Mama Bird. Here, she tells us about the ups and downs of living in Ashiya, a picturesque city situated between Osaka and Kobe.
To learn more, check out our guide to Moving to Japan.
 About Sania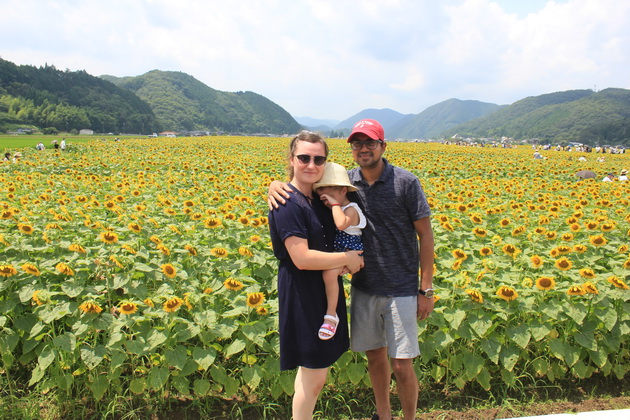 Q: Where are you originally from?
A: Originally, I am from a small country in Europe called North Macedonia.
Q: Where are you currently living?
A: We live in Ashiya, Japan.
Q: When did you move here?
A: We moved here in August 2019.
Q: Is this your first expat experience?
A: No, we previously lived in UAE for seven years, and Turks and Caicos Islands for one year.
Q: Did you move here alone or with a spouse/family?
A: I moved here with my husband and daughter.
Q: Reason for moving?
A: My husband got a job offer to work for a company based in Osaka.
Living in Japan
Q: What do you enjoy most about Ashiya and Japan in general?
A: I love how clean and safe it is, I enjoy their food the most, and I love how polite and kind people are here.
Q: Have you had any low points? What do you miss most about home?
A: Yes, several... The lowest was when my daughter was a newborn and I was left on my own for pretty much 14 hours a day while my husband was working. I definitely missed my parents and my siblings at that time the most. But in general, I miss my friends and speaking my language; I kinda feel like I'm starting to forget most of the words!
Q: What are the most significant adjustments you had to make when settling into expat life here? Did you experience culture shock at all?
A: We had to adjust our way of life. We felt the cultural shock the most when we moved from Turks and Caicos to Japan, there were a lot of positives but some negatives too.
Q: What are your favourite things to do on the weekend? Any particular places or experiences you'd recommend to fellow expats?
A: Almost every weekend, we try to see new places in the country where we reside. When you are an expat, you can never be sure how long you will stay in that country, so we always tell every expat that we meet to travel and explore places as much as they can. In particular, I would say hang out with locals as much as you can, try their food and learn their language – it will take you a long way.
Q: What's the cost of living compared to home? Is there anything especially expensive or cheap in Japan?
A: In general, Japan is more expensive compared to my home country. Food, groceries, clothes, public transportation. When my parents visited us here, they were quite shocked when they saw the prices in a supermarket or restaurant.
Q: What's public transport like in your city and across the country?
A: Public transportation is very convenient. In our city Ashiya we have three major train lines that pass from here, JR, Hanshin and Hankyu. Throughout Japan every possible public transportation is very reliable, safe, clean and punctual. We have a car that we take on longer journeys, but in everyday life, we use mostly trains and buses.
Q: What do you think about the healthcare available in Japan? What should expats expect of local doctors and hospitals?
A: We've been to hospitals or clinics several times around our area, mostly for my daughter. The thing that we struggle with the most is the language barrier. Now it's a bit easier because we learned a little bit of Japanese. But in the beginning it was a real struggle. The day we landed in Japan for the first time, my daughter was taken into an emergency room, and we spent the next three weeks in a well-known hospital in Osaka, but only the pediatrician and the surgeon knew a bit of English, while we had to communicate with the rest of the employees through Google Translate.
The doctors are pretty good and very helpful, and hospitals are clean and equipped almost everywhere. At least, that's how it is in our area.
Q: What's the standard of housing like in Ashiya? What different options are available?
A: Rent is quite high where we live, but that changes from area to area. In general, apartments and houses are tiny, but that also depends on whether you are in the city centre or in the suburbs. We live around 20 minutes by car from Osaka, and our apartment is quite spacious and similar to Western apartments.
Q: Any areas or suburbs you'd recommend for expats to live in?
A: We live in the Kansai area, so from here the best spots from my experience to live in are Osaka (central area), and a little bit further Kobe, Rokko Island and Ashiya, especially for people who don't speak Japanese.
Meeting people and making friends
Q: Was meeting people and making friends easy? How did you go about meeting new people?
A: For me, this was the hardest part. When I lived in Abu Dhabi, it was pretty easy to meet people since I worked. But in Turks and Caicos and Japan, it was very difficult.
When I left UAE, my director advised me to join moms' playdate groups (since his wife was also a stay-at-home mom in UAE), and that's how I'd meet a lot of people. I listened to his advice, and that's what I did in both countries. That helped me the most. I met a lot of local women, and they introduced me to other local people, which made our life in both countries much easier.
Japan in particular was a bit more difficult. People are not as social as in the Caribbean, so for the first six months I struggled to find international playdate groups in my area. Luckily, one day online I came across a playdate group which was with local Japanese women who only spoke English at the playdate since they wanted to practise English. This was a jackpot for me; they taught me Japanese, and I helped them with their English.
Q: Have you made friends with locals, or do you mix mainly with other expats? What advice would you give to new expats looking to make friends with the locals?
A: Honestly, I recommend hanging out more with locals than new expats. Locals are always more helpful and will teach you a lot.
Working in Japan
Q: Was getting a work permit or visa a relatively easy process? Did you tackle the visa process yourself, or did you enlist the services of an immigration consultant?
A: When moving to all three countries, our work permits and visa process were handled by an immigration consultant who was hired by all of my husband's companies at the time. However, getting a work permit and visa in Turks and Caicos was the most difficult, and it took quite a long time.
Q: What is the economic climate in the city like?
A: Currently, Ashiya looks pretty stable.
Q: How does the work culture differ from home?
A: I have noticed that in Japan people are very determined and dedicated to their workplace. I sometimes find that amazing, but sometimes I find it strange. Because, in most cases here, people put their family, kids, spouse and friends aside, and work always comes first. I know that this sounds cliche, but it's really obvious here. Even if there's no need, employees tend to stay at their workplace way longer than their superiors just to show respect and dedication even if that is not asked of them.
Family and children in Japan
Q: How has your partner adjusted to your new home?
A: My partner adjusted pretty well and quickly; he loves Japan as much as I do, and loving the place and the country where you live makes the process of adjustment much easier.
Q: Did your children settle in easily? What were the biggest challenges for them during the move?
A: When we moved to Japan, my daughter was around 1.5 years old and wasn't really aware of what was happening and where we were. However, she loved all the kawaii things in every corner of the city!
Q: What are your favourite family attractions and activities in the city?
A: We love the parks, picnic areas and theme parks here. We tend to spend a lot of time outdoors and we are always on the hunt for a new park and picnic place.
Q: What are the schools like? Any particular suggestions?
A: At the moment, my daughter goes three times a week to a daycare, and the only thing we struggled with was to find a daycare or kindergarten with free spots. I hear from a lot of friends that they also struggle to find an available spot for their children in local kindergartens.
Final thoughts
Q: Is there any advice you would like to offer new expat arrivals in Japan?
A: If you ever have the opportunity to move to Japan, do not hesitate a second. It's a lifetime opportunity, and I tell this to whomever I meet. Life in Japan is a different world; you can never know enough about the country until you come and experience it yourself. Before coming, learn a little bit of the Japanese language and their culture. Good luck!
– Interviewed July 2021