Kim Dix has been living in Japan for the past three years. Before moving to Japan, she worked in corporate America, and although she enjoyed that opportunity, something was missing. She loves travel, exploring, trying new foods, experiencing cultures and connecting with new people, and she says that Japan has allowed her to fulfil those desires. Keep up with Kim on her YouTube channel, KimDix Diary.
To learn more, check out our full expat guide to Japan.
About Kim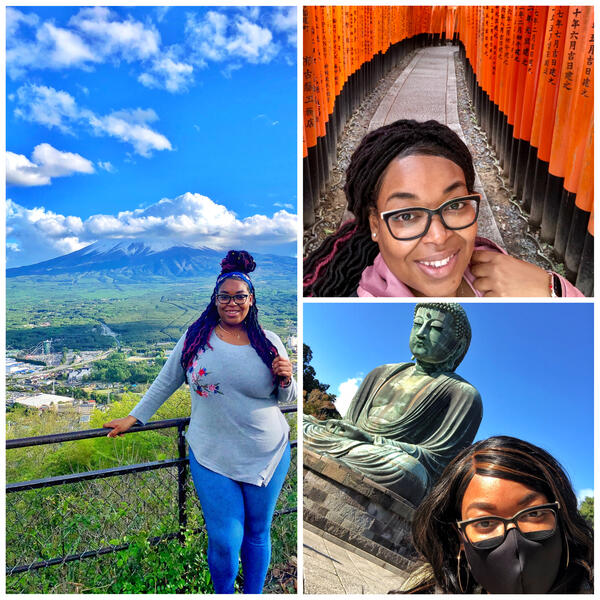 Q: Where are you originally from?
A: I'm from North Carolina.
Q: Where are you currently living?
A:  Yokohama, Japan
Q: When did you move here?
A: August 2018
Q: Reason for moving?
A: I needed a change. I realised that I was on a track of continuously trying to break glass ceilings and not living in the moment or doing the things my heart truly desired. Japan gave me the opportunity to do both – having a career yet still having a flexible work-life balance to travel and explore another culture.
Living in Japan
Q: What do you enjoy most about Yokohama and Japan in general?
A: I enjoy the scenery. Yokohama is a beautiful city that boasts water views and mountains on the horizon.
Q: Have you had any low points? What do you miss most about home?
A: Yes, I have indeed. I sometimes miss having the opportunity to step outside, speaking in English and having full conversations with anyone of my choice. I typically also have various food cravings for snacks and sweets, such as Mike & Ike and Cheetos.
Q: What are the biggest adjustments you had to make when settling into expat life here? Did you experience culture shock at all?
A: I had to retrain myself to understand that I'm in a different country and things might be different from what I am used to. The language barrier made it a tad harder as I wasn't able to handle official business on my own, always needing an interpreter for even the simplest task. I didn't experience culture shock arriving in Japan as my employer prepared and equipped us with the knowledge of what to expect upon arriving in Japan. I did, however, have reverse culture shock once I returned to the US for the first time after two years.
Q: What are your favourite things to do on the weekend? Any particular places or experiences you'd recommend to fellow expats?
A: I try to go sightseeing on the weekends, so I'm always somewhere new, but I love to visit Minatomirai in Yokohama. It is extremely beautiful and tranquil and even has a China Town one train stop away, less than 10 minutes, where you can enjoy some delicious cheap eats. I recommend heading to Tokyo, but don't be afraid to leave the hustle behind and venture to a more quaint place such as Kyoto.
Q: What's the cost of living compared to home? Is there anything especially expensive or cheap in Japan?
A: The cost of living compared to home is EXPENSIVE! I find fruit to be ridiculously overpriced in Japan. While you may find some deals at a farmers' market, it's still expensive compared to fruit back home. On the other hand, vegetables that are in season are extremely cheap in Japan, which allows you the possibility to eat healthy meals at an affordable price.
Q: What's public transport like in Japan?
A: OMG! The train system in Japan is one of the best in the world. It is extremely rare that you will experience a train delay, and if you do, it's typically not due to the train line's error but rather people-related accidents.
Q: What do you think about the healthcare available in Japan? What should expats expect of local doctors and hospitals?
A: The healthcare in Japan is extremely cheap compared to the US, though I haven't had much luck with the healthcare system in Japan. My body structure differs from the bodies of the locals, and I think this is what has caused many of my mishaps. I have had one too many wrong diagnoses and health scares with the healthcare system in Japan. It's very rare that your local doctors and hospitals or even staff will speak English. You would therefore need to visit these facilities with a native speaker, hire an interpreter or hope for an English/international hospital close to your home.
Q: What's the standard of housing like in Yokohama? What different options are available?
A: Housing is another tricky issue in Japan. Not all housing companies will rent to foreigners. In addition to this, you will need a guarantor to act on your behalf before renting a house/apartment in Japan. The standard apartment is typically small, being equipped with a living room, bathroom and kitchen. To get an idea of what apartments in Japan are like, be sure to check out my YouTube channel KimDix Diary and head to my Japanese apartment playlist.
Meeting people and making friends
Q: Was meeting people and making friends easy? How did you go about meeting new people?
A: Meeting people and making friends have been difficult for me in Japan. I typically meet new people at social gatherings for expats. Surprisingly too, commuting on the train can also be a great place to meet friends if you're willing to initiate the conversation.
Q: Have you made friends with locals, or do you mix mainly with other expats? What advice would you give to new expats looking to make friends with the locals?
A: I haven't made many friends with locals outside of a few co-workers. There are social apps that are strictly platonic which are able to connect like-minded people based on their common interests. These apps are diverse, so there is a possibility for you to connect with locals.  
Working in Japan
Q: Was getting a work permit or visa a relatively easy process? Did you tackle the visa process yourself, or did you enlist the services of an immigration consultant?
A: I wouldn't list it as easy; it was extremely time-consuming, with an extensive amount of paperwork and documentation constantly being requested from you. My employer handled my visa process and sponsorship.
Q: How does the work culture differ from home?
A:  Work culture in Japan is 180 degrees different from my job back home. In Japan, it's frowned upon to leave work before older staff members. 'Busy work' is also done, where you pretend or appear to be busy even though you are not.
Final thoughts
Q: Is there any advice you would like to offer new expat arrivals in Japan?
A: I would first like to congratulate any new expats arriving in Japan and even those who are thinking of taking the plunge. This is a life-changing opportunity, and as such, you will have high and low moments. Enjoy them both, and understand your feelings are valid and frustration doesn't last forever. Never stop challenging yourself, pushing your boundaries and widening your horizons. Enjoy this new chapter of your life as your empty pages are waiting to be filled with all the newfound experiences you're about to embark on. Here's to a new chapter which you hold all the writings for.