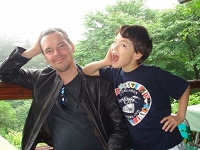 When Jonathan Hewitt was sent to Tokyo by his UK company, he thought of it as a two-year adventure in a foreign country. More than 20 years later, he still calls Tokyo home and is married to a Japanese woman.
He reveals some insider secrets to making a success of expat life in Japan and even runs a blog on the subject to help other expats settle into their new homes.
About Jonathan
Q: Where are you originally from?
A: UK
Q: Where are you living now?
A: Tokyo, Japan
Q: When did you move here?
A: 1991
Q: Did you move here alone or with a spouse/family?
A: I moved here alone and have since met and married my Japanese wife.
Q: Why did you move?
A: I was 25 and given the chance by my company. It seemed like an interesting use of two years at the time. I had no idea it would end up being over 20 years.
Living in Japan
Q: What do you enjoy most about Tokyo?
A: Tokyo is one of the world's truly international cities, akin to New York or London. The quality of life is exceptional, although it may take a little time to adjust. Outside Tokyo, it's very different − still exceptional but more challenging for the non-Japanese speaker.
Tokyo is clean and safe; women can walk home late at night, and young children can ride the trains on their own. Driving is easy, and the train systems are convenient and punctual to the degree that if a train is delayed more than five minutes, a ticket will be issued to explain to the company why you're late.
Q: What do you miss most about home?
A: Japan is different from Western countries, and this sometimes takes a toll on stress levels as people acclimatise. The differences can be surprising and sometimes hard to accommodate. If you do, though, it's a wonderful country. Almost everything from my home country is available these days, but seeing a movie in English without subtitles remains a challenge. Everything can be ordered online, though at times it will require a little creative addressing.
Q: What are the biggest adjustments you had to make when settling into expat life in Japan?
A: This is a 'how long is a piece of string?' question. Everything about daily life is different in some way from the UK. The focus on being exactly wrong rather than inexactly right, the meaning of 'yes', the universal lack of English, and the desire to stay late in the office irrespective of whether any work is actually being performed. And yet people helped me even if they couldn't speak to me, sometimes walking 15 minutes to show me where a station was.
Q: What's the cost of living compared to the UK?
A: It's not necessarily the case that items are more expensive than in the UK. There are few remaining import duties, and most items these days are available either in stores or online. The real cost comes in that different stores sell the same items at different prices. Without a base reference, you actually don't know what is expensive and what is good value. It takes time to learn this, but after a while, your cost of living comes down.
Q: How would you rate public transport in Japan?
A: Public transport is outstanding across the country. The city-to-city bullet trains are fast and efficient with outstanding service. The subways in Tokyo run every few minutes and connect the entire city. Timing is important as rush-hour trains can be very crowded and should generally be avoided. There are women-only carriages on most trains for those preferring privacy. A car is not necessary in Tokyo, though with children they can be a significant benefit. A police certificate of parking is required to purchase a car. The bus service runs until late into the evenings, and taxis are everywhere − simply put your hand out.
Q: How would you rate the healthcare in Tokyo?
A: There are two distinct healthcare systems in Japan – the local one designed for Japanese patients. Typically drugs are known by US names; for example, paracetamol is known as Tylenol. There's also a number of international facilities in most of the main cities. These are staffed by Western doctors and cater to the expat community.
Q: What are the biggest safety issues facing expats living in Tokyo?
A: Very limited. Japan is safe, and crime is rare. The biggest issue is getting lost, but someone will eventually help out.
Q: How do you rate the standard of housing in Tokyo?
A: Housing is smaller and probably more expensive than many other cities in the world, but it's clean and convenient. There are expat areas and local areas that are less used to exposure to English (or other languages). Stand-alone housing is common in the city, as are apartments (confusingly called 'mansions').
Q: Any areas/suburbs you'd recommend for expats to live in?
A: The most convenient is the west of the city in a pizza slice on the Yamanote Line from Meguro to Yoyogi and into Akasaka. The east of the city is safe but not set up for foreigners.
Meeting people in Japan
Q: How tolerant are the locals of foreigners?
A: Japanese people are typically happy with foreigners but often are shy and hesitant simply because of their limited English ability. The government can sometimes seem reluctant to engage with foreigners, but the general public is as warm as they can be.

Q: Was it easy meeting people and making friends?
A: For a new expat, the first stop is the Tokyo American Club. Excellent for networking connections and general orientation. If you stay in the main expat areas, you'll soon meet and get to know many fellow foreigners. There are excellent international schools which provide an additional source of friends and activities.
Q: Have you made friends with locals, or do you mix mainly with other expats?
A: I largely mix with local friends these days as I've lost too many expat friends over the years. On arrival, though, it's useful to have a bridge to the local community, and many schools offer mentoring for new arrivals.
Working in Tokyo
Q: Did you have a problem getting a visa or work permit?
A: As long as the expat has a company sponsorship, it's very simple to acquire a work visa. It's simply a matter of paperwork and visiting the Shinagawa Immigration Office. There are qualified people to assist in the process, but they do not necessarily make a significant difference. If you go with an English-speaking assistant, it's just a matter of filling in forms and queuing. Make sure you go in the morning unless you like waiting.
Q: What's the economic climate like in Tokyo?
A: The Japanese economy has been in recession for more than 20 years, but there are still many Ferraris on the streets of Tokyo. However, you cannot simply arrive in Japan and look for work unless you are the spouse of someone already employed. Corporate sponsorship is vital, and few companies will engage with an unemployed, non-Japanese-speaking foreigner.
Q: How does the work culture differ from the UK?
A: It is seen as a badge of honour to work late into the evenings, but it's a myth that Japan is very productive. A typical expat will complete his workload by 6pm and leave, whereas a Japanese colleague may feel obliged to work until midnight on a regular basis.
Family and children
Q: Do you think there are any specific challenges for a trailing spouse?
A: The cause of many expat failures is the disenchanted spouse. It is important at an early stage they find an approach to filling the time of day, whether this is a job, Japanese lessons or even ikebana (flower arranging). 
Q: What are the biggest challenges for children during the move?
A: Most children settle quickly. The schools are excellent and the country somewhat exotic.
Q: What are the schools like?
A: There are excellent American, British, German and French schools in Tokyo. There are some excellent international schools (Tokyo International School and Yokohama International School being the biggest), including a number of pre-schools.
And finally…
Q: Is there any other advice you would like to offer new expat arrivals?
A: Leave any questions you may have on my blog. Happy to help.

– Interviewed in November 2014