Whether driving or using public transport, getting around in San Diego is fairly easy, and new arrivals will likely not need to buy a car thanks to the city's comprehensive public transport infrastructure. Be that as it may, newcomers who will be hauling children around and those who would like to explore further afield may benefit from purchasing a vehicle.
Public transportation in San Diego is administered by the San Diego Metropolitan Transit System (MTS), which operates buses and a light rail tram system in the city. There are more than 100 bus routes in the city and surrounding areas, as well as three light-rail lines.
---
Public transport in San Diego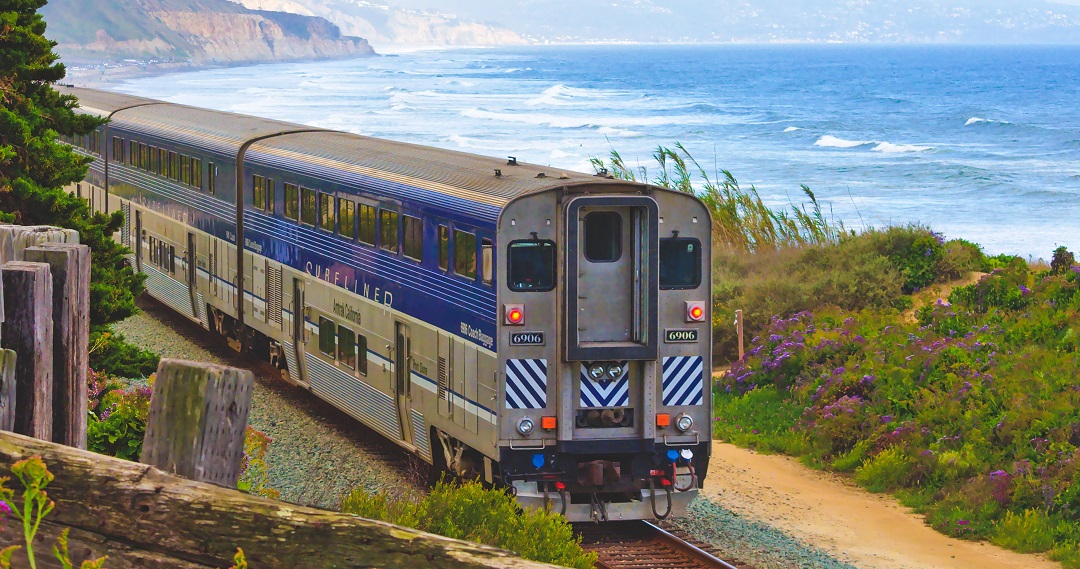 Single tickets for public transport are readily available and relatively affordable. The most cost-effective option for expats intending to make frequent use of public transport in San Diego is to purchase a monthly pass. Day passes are also readily available.
Physical tickets can be purchased at stations, or tickets can be purchased online using a service known as PRONTO, which was formerly known as Compass Cloud. Regular commuters should purchase a PRONTO Card, which is a smartcard that can be used across all MTS and North County Transit District (NCTD) services.
Buses
The public bus service in San Diego is one of the most economical ways of getting around the city. Most buses run seven days a week, with extra services during weekdays and peak traffic times. There are dozens of bus routes that comprehensively cover the inner city and surrounding areas, including rural routes. There is also a rapid transit bus service of nine lines, with two additional rapid transit lines operational during peak hours.
Light rail
The San Diego Trolley is the city's light rail system and is one of the most recognisable forms of transport in the city. Also known as the Red Trolley, the light rail service consists of 62 stations on four main lines that cover around 65 miles (105km) of track.
A vintage trolley service runs on a single line in downtown San Diego on weekends, select weekdays and during major events. Primarily a tourist attraction, the vintage streetcar Silver Line service is a good way for new arrivals to get to know the city.
COASTER
New arrivals looking to explore the nearby coastal towns such as Carlsbad, Solana Beach and Oceanside, can use the scenic COASTER commuter trains. The trains serve eight stations between downtown San Diego and Oceanside, and with 20 trips over the weekend, it's the perfect mode of transport for a quick weekend getaway.
Useful links
---
Taxis in San Diego
MTS is responsible for licensing and regulating taxis in San Diego, as well as ensuring that they adhere to safety standards. Rates vary between companies, but a starting cost (known as a 'flag drop fare') plus a per-mile fee is standard. Cabs in San Diego can either be called in advance, hailed from the street or found at a taxi stand.
Several ride-hailing applications, including Lyft and Uber, also have a presence in San Diego. These allow users to summon a cab directly to their location and get an estimated price for the trip upfront.
---
Cycling in San Diego
The city actively encourages residents to cycle and is constantly expanding existing infrastructure as part of the San Diego Regional Bicycle Plan.
Given the favourable weather conditions and support from local government and the private sector, commuting by bicycle in San Diego is becoming more popular. The city is constantly expanding its network of bicycle paths and lanes. San Diego also has several bike rental companies that offer e-bikes and e-scooters for those looking to explore the city on two wheels.
Useful links
---
Driving in San Diego
Given the spread-out nature of the wider region, a car is the most convenient way of travelling outside the city, and most foreigners moving to San Diego are likely to purchase one.
Expats with valid driving licences from foreign countries can drive in the state of California, but once expats become residents of the state, they will need to get a local licence. Some countries have agreements with the state of California, meaning that their citizens can transfer their driving licence without needing to retake a driver's test. Other expats must take a written traffic law test as well as a practical to get a local licence.
See Transport and Driving in the USA for more on national driving practices and legislation.
---
Further reading
►See Working in San Diego for information about job opportunities and work culture in the city.
What do expats say about public transport in San Diego?

"In Carlsbad, there is hardly any public transport in my experience. There is a bus system, but mostly you see mom-vans and minibuses transporting the large families. It is a driving culture." Read more about the experiences of Quinne, a South African expat who lived in San Diego for many years.
Image Credits: Photo by Hari Panicker from Unsplash
Are you an expat living in San Diego?
Expat Arrivals is looking for locals to contribute to this guide, and answer forum questions from others planning their move to San Diego. Please contact us if you'd like to contribute.
Expat Health Insurance
Cigna Global Health Insurance - 10% off any plans bought in November and December 2023

With Cigna, you won't have to rely on foreign public health care systems, which may not meet your needs. Cigna allows you to speak to a doctor on demand, for consultations or instant advice, wherever you are in the world. They also offer full cancer care across all levels of cover, and settle the cost of treatments directly with the provider. Cigna is currently offering a 10% discount for seniors (over 60) on their Silver package.
Moving Internationally?
International Movers. Get Quotes. Compare Prices.

Sirelo has a network of more than 500 international removal companies that can move your furniture and possessions to your new home. By filling in a form, you'll get up to 5 quotes from recommended movers. This service is free of charge and will help you select an international moving company that suits your needs and budget.

Get your free no-obligation quotes from select removal companies now!