Road networks are extensive and well-maintained in Italy, as is the public transport system. Given the efficient and modern train and bus systems, expats can reach most of Italy by public transport. Despite this, travelling by car is still a popular option among Italians, even though owning a car in a large city can be expensive and driving can be stressful. Options for getting around in Italy are broad.
---
Public transport in Italy
The Italian public transport system is well-connected and varied. Expats can choose to travel by road, rail, air or water to locations all over the country.
Trains
Trains are the most efficient and cost-effective way to travel around Italy. The rail system in Italy is extensive, with options ranging from high-speed trains to slower regional services, ensuring that most destinations can be reached by train.
High-speed rail routes, such as those operated by Trenitalia's Frecciarossa (red) trains, connect many of Italy's major cities, such as Rome, Florence, Milan and Bologna, with speeds up to 186 miles per hour (300 km per hour). Frecciargento (silver) and Frecciabianca (white) trains offer high-speed services as well, with top speeds of 155 miles per hour (250 km per hour) and 124 miles per hour (200 km per hour), respectively.
In addition to these high-speed options, Trenitalia's intercity trains play a crucial role in connecting both major and minor cities across Italy. These trains offer a balance of speed and affordability, travelling at up to 100–125 miles per hour (160–200 km/h), with first- and second-class cars and 86 daily connections reaching more than 200 stations nationwide. While reservations are required and included with ticket purchases, rail pass holders can board without a reservation. Be that as it may, it is highly recommended to reserve a seat for a guaranteed place, particularly during peak travel times.
Regular and regional trains are indeed slower but provide a cost-effective option, ideal for short trips within cities or travelling between smaller towns. For those seeking the charm of undiscovered Italy, the intercity lines are a great way to explore the country's picturesque regions. Daytime and overnight trains cater to various schedules and destinations, including international routes to neighbouring countries.
Single tickets and rail passes offer flexibility and affordability for both frequent and occasional travellers. They can be purchased at train stations, through official vending machines or online, where reservations are automatically included with ticket purchases.
For more detailed information on schedules and fares and to purchase tickets, visit Trenitalia's official website.
Buses
In Italy, intercity buses provide an indispensable service linking cities and towns, particularly for those keen to explore a region in depth or travel economically. Diverse regional bus companies, rather than a nationalised network, offer these connections, with services tailored to the intricacies and demands of local transport needs.
Travelling by bus in Italy can be slower than other forms of transport yet remains a viable choice for budget-conscious travellers or those wishing to take scenic routes. In urban areas, the challenge is often navigating through traffic and the narrow streets of historic city centres, which can introduce delays.
When it comes to purchasing tickets, a variety of points of sale are available, including local bars, tobacconists and newsstands, as well as ticket machines at stations. Increasingly, companies are providing online sales, addressing the digital needs of modern travellers. Cities frequently offer 24-hour tickets, which are perfect for tourists looking to maximise their travel flexibility. It is essential to validate tickets once on the bus to avoid the possibility of fines.
Some of the most frequented bus companies, such as Flixbus and Megabus, extend their reach beyond regional confines. They are part of a larger European network favoured for its efficiency and affordability. Prospective travellers should conduct thorough research to ascertain the best bus options available for their itinerary, considering that online resources may be limited or in Italian only.
For more detailed information on routes, schedules and ticket purchases, visit the official websites of popular bus services like Flixbus and Megabus.
Metro
Metro networks provide an efficient and rapid transit system in seven of Italy's cities, including the bustling centres of Rome, Milan and Naples. Milan's network, in particular, stands out as the most extensive, boasting four lines and over 100 stations. Utilised by locals and visitors alike, the metro offers an economical, comfortable and reliable means to traverse Italy's urban landscapes. Tickets are readily available from automated machines or booths at metro stations.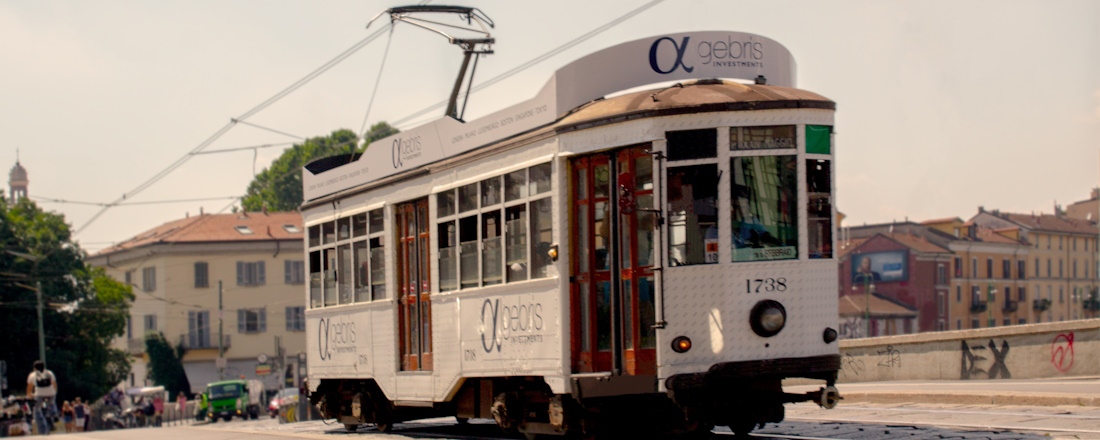 Trams
Trams offer a scenic and convenient way to travel above ground in Italy's major cities, such as Rome, Milan, Naples, Turin and Florence. Their routes are an integral part of the city's overall transport network, which operates in concert with digital navigation tools like Google Maps, ensuring efficient travel without the delays commonly associated with traffic congestion. Diverse ticket options cater to both short-term and long-term visitors, including single-use, daily and monthly passes.
Ferries
For connecting to Italy's myriad islands, such as the scenic Sardinia, the historic Sicily and the picturesque Elba, Aeolian and Pontine archipelagos, ferries are the transport mode of choice. They set sail from Italy to a range of coastal countries, including routes from Slovenia, Croatia, Montenegro, Albania and Greece in the Adriatic and Ionian Seas, as well as from Spain, Tunisia, Malta and Morocco. Regular ferry services ensure that island-hopping is both pleasurable and convenient, with additional local bus services providing the final link to more remote locales. Renowned for their high standards, ferry operators like Travelmar - Traghetti Salerno are well-regarded by travellers, contributing to a seamless sea journey.
For timetables, ticket purchases, or more details on ferry services, visit the official website of Travelmar – Traghetti Salerno.
---
Taxis in Italy
Metered taxis are an integral part of the transport landscape in Italian cities and are particularly well-suited for brief, local trips. It's standard practice for expats and tourists alike to ensure the meter is activated to avoid unexpected charges. If the driver refuses or claims that the meter is broken, it is essential to negotiate a flat fare before getting into the taxi.
In Italy, the thrill of the journey is sometimes in the drive itself, as taxi drivers have a penchant for speed, treating passengers to an energetic and swift ride.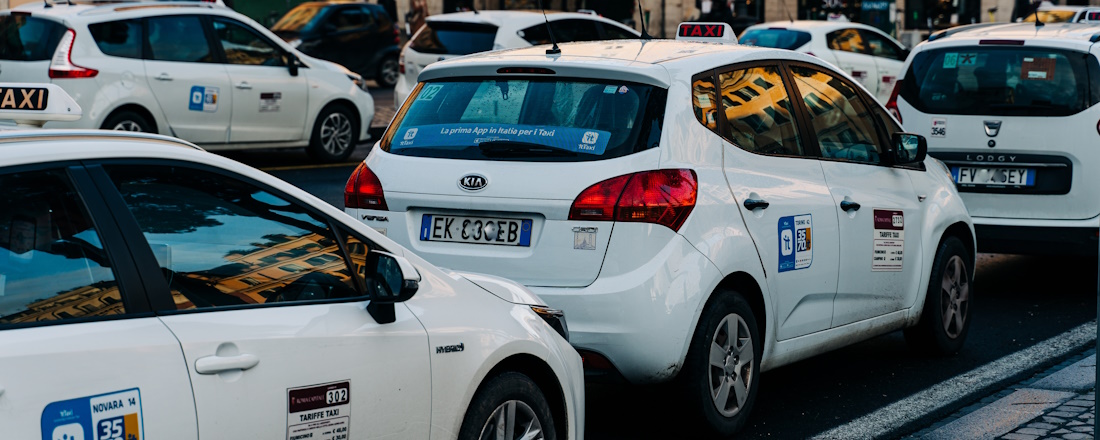 Taxis can be found at official taxi ranks, providing a layer of assurance and predictability. It's advisable that expats either catch a taxi only at these designated areas or order a taxi via phone from a reputable company. For added convenience, there are reputable taxi apps such as FreeNow and itTaxi, which streamline the process of hailing a cab.
Italian drivers are known for favouring speed over safety, and taxi drivers are no exception. So passengers should be prepared for a hair-raising drive with little regard for speed limits or rules of the road.
Visit FreeNow or itTaxi for more information or to book a taxi in Italy.
Rideshares
For those looking for alternative travel options, rideshare applications present an innovative solution. While traditional services like Uber are restricted, with only premium offerings in place due to local regulations, apps like BlaBlaCar and Scooterino offer unique travel experiences for city commuting and longer journeys. BlaBlaCar facilitates carpooling for intercity travel, encouraging a communal and eco-friendly approach, whereas Scooterino specialises in nimble scooter rides, perfect for navigating through bustling city traffic.
For information on shared rides or to book your next journey, visit BlaBlaCar or Scooterino.
---
Driving in Italy
Driving in Italy can be stressful as the Italian driving culture may be more aggressive than expats may be used to. Lack of parking is also a concern, especially within city centres. For this reason, as well as petrol expenses, most expats use public transport within the cities and use a car for country excursions or intercity trips.
Those looking for a faster way to get around while saving on petrol should consider driving a motorcycle or Vespa. These are popular modes of transport in Italy, especially in the summer months.
In the event of a breakdown or emergency, expats can call 116 from one of the emergency telephones situated every two kilometres along the highway. This will contact the Automobile Club d'Italia (ACI), Italy's breakdown service. Expats need not be a member and can pay per incident.
Expats can ship their cars to Italy, but foreign vehicles must be adjusted to meet Italian requirements. The costs may be dependent on the vehicle's characteristics as well as the shipping company.
Tolls
Fast, well-maintained highways span the country's landscape, but many operate on a toll system, which could become expensive if commuting every day. When on a toll road, motorists will pass through an Alt-Stazione (toll booth), where they collect a ticket. At the next exit, drivers submit the ticket at another Alt Stazione and pay the appropriate toll charge.
Payment methods include cash, credit cards and prepaid cards, for example through Telepass. Telepass is an electronic tolling system. It allows drivers to pass through toll points without stopping, either paying a flat rate or a rate dependent on distance.
Licences
Foreign expats can drive in Italy, although those with non-EU driving licences must apply for an International Driver's Permit. This permit is not a licence, merely a translation. Expats may be able to apply for this permit before leaving by checking their respective embassy websites. Alongside these items, expats should also be aware that they should carry proof of liability insurance in their vehicles.
---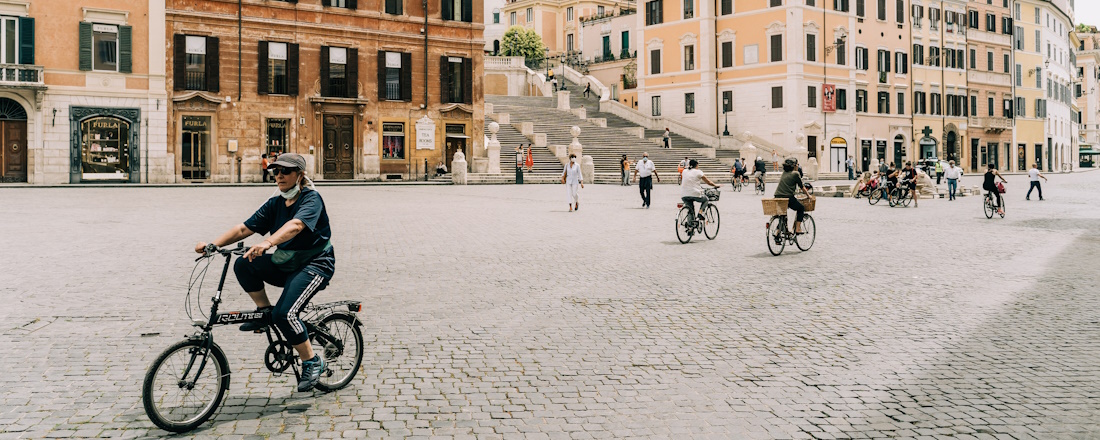 Cycling in Italy
Italy embraces cycling culture with both arms, offering bike enthusiasts a variety of urban and rural landscapes to traverse. Cities boast increasingly comprehensive networks of dedicated lanes and paths, while the countryside offers scenic routes rich with cultural landmarks. Many urban centres have embraced bike-sharing schemes, which have become a staple for both locals and tourists seeking a flexible and environmentally friendly mode of transport.
For those inclined to pedal their way through Italy, it's wise to remain vigilant, particularly when sharing roads with cars. Italian drivers are known for their dynamic driving style, which can be surprising to cyclists who are used to more predictable traffic patterns. Always wear appropriate safety gear and have good situational awareness to ensure a safe and enjoyable cycling experience.
---
Walking in Italy
Walking is not only the most economical mode of travel in Italy but also one of the most rewarding. The country's rich tapestry of history, art and natural beauty unfolds best at a pedestrian's pace, whether it's the cobbled streets of ancient city centres or the gentle countryside trails. Italy's robust safety record adds to the appeal, making it conducive for explorers to wander freely and soak in the sights, sounds, and aromas of Italian life.
Moreover, cities and small towns are often well-suited for pedestrians, with many pedestrian zones, particularly in historical areas where vehicular traffic is restricted. Wandering on foot also provides an unparalleled opportunity to discover hidden gems, from tucked-away trattorias to artisan workshops that are not always visible when travelling by other means.
---
Air travel in Italy
Air travel remains a swift and popular option for covering Italy's longer distances, connecting the boot from the Alpine north to the Mediterranean south. Major airports in cities like Rome, Milan, Naples and Venice cater to a vast array of domestic and international flights, making them hubs for travellers looking to maximise their time in this historically rich country.
The air network is bolstered by a mix of traditional and low-cost carriers, offering a range of options to suit various budgets and preferences. With the efficiency and frequency of flights, island destinations like Sicily and Sardinia are just a short trip away from the mainland, ensuring that even the most remote Italian charms are within easy reach.
For flight schedules, bookings, and travel advisories, passengers should check with the airlines directly or visit the official website of Aeroporti di Roma for the capital's airports at Aeroporti di Roma.
What do expats say about getting around in Italy?

"While many complain about the public buses, I have found that they are always on time with only the rare exception." Read some of Sarah's top tips on getting around in Bologna.

"The best way to get around is by car, but driving here can be rather dangerous. Insurance is also pricey." Amy has a different opinion living in Puglia, Italy. Read about her experiences.
---
Further reading
►For more on expat accommodation in Italy, read more here.
Image credits: Train near Framura by Claudio Carrozzo, Tram in Milan by Alessandro Ranica, Taxis in Rome and Cyclists in Piazza di Spagna by Gabriella Clare Marino, all on Unsplash
---
Are you an expat living in Italy?
Expat Arrivals is looking for locals to contribute to this guide, and answer forum questions from others planning their move to Italy. Please contact us if you'd like to contribute.
Expat Health Insurance
Cigna Global Health Insurance - 10% off any plans bought in November and December 2023

With Cigna, you won't have to rely on foreign public health care systems, which may not meet your needs. Cigna allows you to speak to a doctor on demand, for consultations or instant advice, wherever you are in the world. They also offer full cancer care across all levels of cover, and settle the cost of treatments directly with the provider. Cigna is currently offering a 10% discount for seniors (over 60) on their Silver package.
Moving Internationally?
International Movers. Get Quotes. Compare Prices.

Sirelo has a network of more than 500 international removal companies that can move your furniture and possessions to your new home. By filling in a form, you'll get up to 5 quotes from recommended movers. This service is free of charge and will help you select an international moving company that suits your needs and budget.

Get your free no-obligation quotes from select removal companies now!