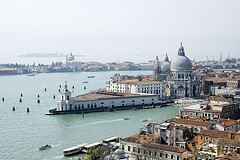 About Gabrielle
Q: Where are you originally from? 
A: Brooklyn NY, USA.
Q: Where are you living now? 
A: I live in Brooklyn for part of the year and then in Penna San Giovanni, Le Marche in Italy for the rest of the year.
Q: When did you move to Italy? 
A: I moved here in 2006.
Q: Did you move to Italy alone or with a spouse/family? 
A: With husband and daughter.
Q: Why did you move to Italy; what do you do? 
A:  We haven't actually moved to Italy permanently – at this point, we visit three times per year. Those visits are growing longer as we get older, adjust our working lives, and now that our daughter is in college.
Living in Italy
Q: What do you enjoy most about your Penna San Giovanni? How would you rate the quality of life compared to the USA? 
A: We think we have the best of both worlds – a lively urban experience in Brooklyn and the richness of small-town country life in Italy, not to mention all that Italy and the rest of Europe have to offer.
Q: Any negatives? What do you miss most about New York? 
A: Our American friends, our house, our pet, our family. 
Q: What are the biggest adjustments you had to make when settling into expat life in Italy? Did you experience any particular elements of culture shock? 
A: The hardest is language and the parts of your identity left behind when you can't express yourself fully. You lose your ability to express humour, to speak intelligently about politics and your professional life. And learning the customs of the country. Italy is a clannish place, and though we have wonderful friends who welcome us and include us, we still feel somewhat like outsiders.
Q: What's the cost of living compared to New York? What is cheap or expensive in particular? 
A: Food is cheaper. Energy is more expensive. That's as it should be in my mind.
Q: How would you rate the public transport? What are the different options? Do you need to own a car? 
A: We live in the country, and so we need a car. So far, we rent each time we visit. 
Q: How would you rate the healthcare in Penna San Giovanni? Have you had any particularly good/bad experiences with regards to doctors and hospitals? Are there any hospitals you would recommend? 
A: Knock wood, we haven't gotten sick yet. Since we spend more than half of our time in the US, we've maintained all our doctors here in the States.
Q: What are the biggest safety issues facing expats living in Italy? Are there any areas expats should avoid? 
A: Earthquakes. We live about 25 miles, as the crow flies, from the recent earthquakes in Umbria/Marche.
Q: How do you rate the standard of housing in the Penna San Giovanni? What different options are available for expats? 
A: Again, we live in the country, and small towns in Italy are not faring well economically. Young people move away for jobs and opportunities. So there is housing available in our town.
Meeting people and making friends in Italy
Q: How tolerant are the local Italian of foreigners? Is there any obvious discrimination against particular religions or women, etc.? 
A: We have formed wonderful friendships with Italians and other foreigners.  We hope to expand that and meet more people. People we know treat us with kindness, affection and interest. Older folks who don't know us still give us the evil eye!
Q: Was it easy meeting people and making friends in Italy? How did you go about meeting new people? 
A: We met most of our friends through the process of buying and restoring our house. Their circles have led us to others. 
Q: Have you made friends with locals, or do you mix mainly with other expats? What advice would you give to new expats looking to make friends? Are there any social/expat groups you can recommend? 
A: I'm going to try taking the yoga class on Tuesday nights. And we go to many of our small town's events – like concerts, markets and festivals. And we hang out at the bar.
Family and children in Italy 
 Q: Did your spouse or partner have problems adjusting to their new home? Do you think there are any specific challenges for a trailing spouse? 
A: We're in this together.
Q: Did your children settle in easily? What were the biggest challenges for your children during the move to Italy? 
A: It's been tough for our daughter to make friends because there are not so many young people around and because of the language barrier.
And finally…
Q: Is there any other advice you would like to offer new expat arrivals moving to Italy? 
A: Embrace this beautiful country with all its warmth, wonderful people, great food, culture, language, etc. Getting to know the customs and feeling at home is a thoroughly enjoyable process. Have projects you want to work on. Once you finish the enormous challenge of making a home for yourself, you'll need more to do! Bring projects with you!
~ Interviewed in October 2016