Stef is a Dutch expat who moved to Italy, accompanied by his husband and dog, to start their bed and breakfast, Villa I Due Padroni, in the Oltrepo Pavese wine region, just 30 miles (50km) south of Milan. He wrote a book about their adventures, Living in Italy: the Real Deal. Find out more on Stef's website or follow him on Instagram.
For more on expat life, see our Expat Arrivals essential guide, Moving to Italy.
About Stef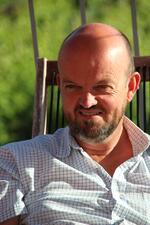 Q: Where are you originally from?
A: The Netherlands
Q: Where are you currently living?
A: Montecalvo Versiggia, Lombardy
Q: When did you move here?
A: 2008
Q: Is this your first expat experience?
A: Yes
Q: Did you move here alone or with a spouse/family?
A: With my spouse and dog
Q: Reason for moving?
A: Starting a new adventure, life
Living in Italy
Q: What do you enjoy most about your host city and Italy in general?
A: My host city hasn't much to offer, but the nearby villages and cities are lively with the typical Italian bars, shops and restaurants. Living outdoors is what we like most, enjoying the climate, the food, the landscape, the people and the funny Italian ways of doing things.
Q: Have you had any low points? What do you miss most about home?
A: Only one: During the renovation of our house, things became very stressful. Never live in a house with the builders in! We do not miss much about home – certain food items or the ability to cycle without having to master steep climbs.
Q: What are the biggest adjustments you had to make when settling into expat life here? Did you experience culture shock at all?
A: Not really; it's only when you have to do with official institutes that the real problems, bureaucracy, start.
Q: What are your favourite things to do on the weekend? Any particular places or experiences you'd recommend to fellow expats?
A: Try Sunday lunch at an agriturismo; hours of eating and drinking with entire three-generation families at large tables.
Q: What's the cost of living compared to home? Is there anything especially expensive or cheap in Italy?
A: Eating out and drinking a cup of coffee is cheap. In general, the cost of living is about 20 percent below that in the Netherlands. Expensive is energy, gas and electricity.
Q: What's public transport like in your city and across the country?
A: Non-existent unless you go to a city 15 kilometres (9.32 miles) distant, and then the service is sparse and not very reliable.
Q: What do you think about the healthcare available in Italy? What should expats expect from local doctors and hospitals?
A: In general, I am pleasantly surprised by the level of service and the cost, as this is for the main part covered by the government. It's only when you access a service that you pay a rather small contribution.
Q: What's the standard of housing like in your city? What different options are available?
A: Overall, there are mainly old family houses built for large families, so with many tiny rooms. With almost any house you buy, you'll want to renovate. Prices are not high though.
Q: Any areas or suburbs you'd recommend for expats to live in?
A: In the hills definitely. The plain is too hot and humid and suffers from air pollution a lot, not forgetting the mosquitoes!
Meeting people and making friends
Q: Was meeting people and making friends easy? How did you go about meeting new people?
A: Mainly through activities, going out, etc. If you want to talk with Italians, take a dog and enter a bar!
Q: Have you made friends with locals, or do you mix mainly with other expats? What advice would you give to new expats looking to make friends with the locals?
A: Both. As we run a bed and breakfast, the need to see friends isn't very urgent during the period we are receiving guests, which is about nine months a year.
Working in Italy
Q: Was getting a work permit or visa a relatively easy process? Did you tackle the visa process yourself, or did you enlist the services of an immigration consultant?
A: For European citizens this is all easy. The only thing you need is residency in the city where you live.
Q: What is the economic climate in the city like?
A: As in the whole of Italy, difficult, especially for young people. Getting a fixed contract job is extremely difficult. Growth falls behind the European average. Tourism is the main source of income, apart from agriculture (wine).
Q: How does the work culture differ from home?
A: Less stressful. Italians do work hard but consider it part of their life, which means that they take their time and do not adhere to fixed, tight working schedules.
Final thoughts
Q: Is there any advice you would like to offer new expat arrivals to Italy?
A: Learn the language beforehand! You'll enjoy life here so much more.