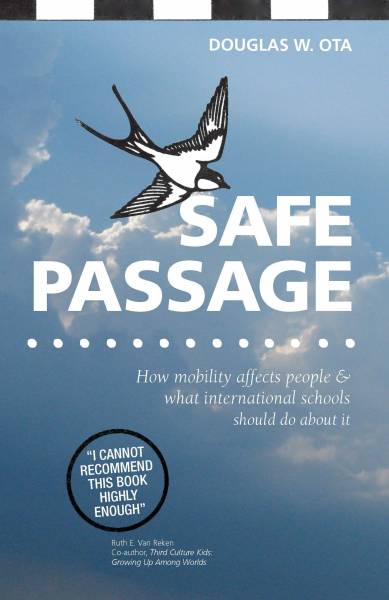 Regardless of how long someone has been an expat, mobility issues are a major part of their life. Many expats can quickly estimate how many boxes will be needed to pack their belongings. They know the routine of good-byes and hellos. From personal experience, they know the grief that trails after them from place to place.  They recognize this grief in their children, and may long for a 'quick-fix' to help them cope with this grief. 
A new book by Douglas W Ota, Safe Passage: How Mobility Affects People and What International Schools Should Do About It, might just be the essential resource needed for expats.
As an expat and experienced international school counsellor, Ota shares his knowledge on the topic with parents, teachers, administration – anyone who works with third culture kids. The book begins with what Ota calls The Six Laws of Transition. He firmly believes that these six laws are the framework required to build and maintain a programme to help expat children during transition periods – whether they are the movers or the stayers. 
This book was inspired by Ota identifying an unmet need he saw in students during transitional periods in the school year – and from existing research findings indicating that moving creates havoc with student learning. Ota and his colleagues at the American School of The Hague (ASH) developed the Safe Harbor programme to address the unmet needs of expats students facing transition. 
The book is divided into three sections. The first section discusses the challenges of moving across cultures. The second section presents a blueprint for building a mobility transition program for use in international schools. The last section reveals tips on how to maintain the program over the long term. Ideally Ota wants to see all international schools introducing a transition program, allowing all expat children a safe transition of between schools and countries – or a from 'harbor to harbor'.
This book is essential for any international school wanting to create their own transition program.  Not only for schools though as I also found it a helpful read for expat parents.  Ota offers parental tips aimed at easing your child transition – including assessing your own responses to making a new transition.  In summary, I highly recommend this book to anyone working with third culture kids. 
Review by MaDonna Mauer in April 2015