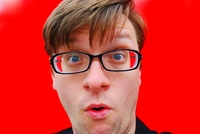 Chris, an American expat teaching English in South Korea, has made it a priority to absorb as much Korean culture as possible. When not grappling over grammar and pronunciation with students, he's a full-fledged traveller, writer and experiential explorer; in short, there's never a dull moment. Read what he has to say about life in Seoul.
Read more about South Korea in the Expat Arrivals South Korea country guide or read more expat experiences in South Korea.
About Chris
Q: Where are you originally from?
A: I last lived in Lexington, Kentucky, but I was born about an hour from Chicago, Illinois.
Q: Where are you living now?
A: I currently live close to Suwon, which is about an hour south of Seoul.
Q: How long you have you lived here?
A: I've lived in Korea since March of 2008.
Q: Did you move with a spouse/children?
A: Just me, myself, and I.
Q: Why did you move; what do you do?
A: I got bored – teaching computer classes at a local library was a pretty good job, but tedious. I was online one day and found an opportunity to teach English in Korea.
About Seoul, South Korea
Q: What do you enjoy most about Seoul, how's the quality of life in South Korea?
A: Seoul has plenty to offer – palaces, temples, shopping, nightlife, the whole nine yards (meters?).
Q: Any negatives? What do you miss most about home?
A: Seoul can be very crowded at times. Public transportation is available, but during peak times you'll feel like a sardine.
 
Q: Is Seoul safe?
A: Completely. In three years and carrying an untold any number of fancy devices and large amounts of cash, I've had zero problems with theft. Your common street smarts should still apply, of course, but I've left my DSLR bag with lenses in a public place while I went nearby to get pictures.
About living in Seoul
Q: Which are the best places/suburbs to live in Seoul as an expat?
A: The Itaewon and Haebangchon areas are central and filled with expats; the Gangnam area has plenty of foreigners around as well. Almost anywhere in the city will be fine, although where you live will likely depend on where your school is located.
Q: How do you rate the standard of accommodation in South Korea?
A: Typically good to very good – my current place is excellent. Since you can't always get a feel for the place ahead of time, you find yourself making do with the place you've been offered by your school.
Q: What's the cost of living in South Korea compared to home? What is cheap or expensive in particular?
A: Travel is cheaper than the western world; Alcohol is an easy way to blow your savings. While imported alcohol may be a good way to impress the ladies, it's not worth it.
Q: What are the locals like; do you mix mainly with other expats?
A: Locals run the spectrum, from very friendly to spit at your feet. Personally, I tend to mix with English speakers – gyopo (Koreans born overseas) and foreigners alike.
Q: Was it easy meeting people and making friends?
A: Sort of. If you're only interested in drinking and clubbing you won't be short of people around you. Networking-wise, there are plenty of places to meet people. For a boyfriend or girlfriend, you'll do well to consider the ways that have worked for you back home as well.
About working in South Korea
Q: Did you have a problem getting a work visa/permit?
A: No – the school handles much of the immigration paperwork. If you're an American, the FBI background check can take a few months to get sorted out – plan ahead for that one.
Q: What's the economic climate like in Seoul, is there plenty of work?
A: There are more opportunities than I have time to be a part of! While few jobs offer a premium for one's experience, there are other opportunities beyond teaching English.
Q: How does the work culture differ from home?
A: Since the typical Korean atmosphere is different from the typical public school or hagwon (private language school), I can only comment from the school side of things. People are hard-working, that's for sure, and drinking is a large part of the professional life as well as the personal life.
Q: Did a relocation company help you with your move?
A: No – in every case so far, the school has set up a moving truck at a preferred time to facilitate a move. Coming to Korea meant two suitcases and a carry-on – and I was met by a driver for the school.
Q: How would you rate the healthcare in South Korea?
A: Excellent – the biggest problem can be the language barrier.
And finally…
Q: Is there any other advice you like to offer new expat arrivals?
A: Get connected! It's too easy to go to the same three bars and the same five restaurants and think you're living it up. Also, travel – it's easy, cheap, convenient, and doable without planning in advance. My blog (chrisinsouthkorea.com) is all about travel and life in Korea, although it's far from the only source on the subject.
~ interviewed May 2011