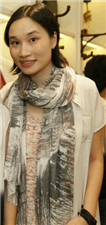 Gillian Chu, a third culture kid raised in Canada, made the move to her homeland of Hong Kong five years ago, and is still enamoured with the cultural intricacies of the land. She's an admitted fashionista and a prolific blogger, so if you find yourself hungry for more info even after absorbing the tips and tidbits of advice she's included in her interview below, check out her blog, Gillian Chu.
Read more about expat life in the Hong Kong guide or read more expat experiences in Hong Kong.
About Gillian
Q: Where are you originally from?
A: Hong Kong raised Canadian.
Q: Where are you living now?
A: Hong Kong.
Q: How long you have you lived here?
A: I have moved back for five years.
Q: Did you move with a spouse/children?
A: No.
Q: Why did you move; what do you do?
A: I am originally from Hong Kong.
About Hong Kong
Q: What do you enjoy most about Hong Kong, how's the quality of life?
A: It is a fast-paced city, and the upside is that everyone is so efficient you never need to wait a moment more than required. It makes a tremendous difference, especially with government and banks.
Q: Any negatives? What do you miss most about home?
A: How friends would prefer gatherings at karaoke over outdoor sports, because of how hot and humid it can get here during summer.
Q: Is Hong Kong safe?
A: Very safe on the Hong Kong Island. Hong Kong as a whole is probably one of the safest cities around the world.
Q: Which are the best places/suburbs to live in the city as an expat?
A: The usual choice would be Mid Levels or Hong Kong Island South (Shek O, Repulse Bay, Stanley). Some would prefer more spacious homes and opt for Sai Kung or Lamma Island, but it isn't so common for expats to choose to stay in Kowloon.
Q: How do you rate the standard of accommodation in Hong Kong?
A: Small. If you are used to living in huge houses with lawns and garages, the sizes and the prices of Hong Kong flats might be a nasty shock. With such a dense population, you can expect everybody to have a very small share of space.
Q: What's the cost of living compared to home? What is cheap or expensive in particular?
A: Expensive. The real estate prices have sky rocketed over recent years due to the financial situation.
Q: What are the locals like; do you mix mainly with other expats?
A: The locals are surprisingly well travelled, so their religious and cultural tolerance of those living here is quite broad. As a former colony of Britain, the locals are trained with a good proficiency of English, in addition to speaking their mother tongue, Cantonese. My friends are usually expats, but I have met lots of colleagues who are locals, and we get along rather well, mainly because I am local myself.
Q: Was it easy meeting people and making friends?
A: It was, but I think it is largely attributed to the fact that I grew up here and I speak fluent Cantonese. I can't say the same for others.
About working in Hong Kong
Q: What's the economic climate like in Hong Kong, is there plenty of work?
A: Lots more if you are comparing the job market to the States. If you were to be a banker and decide to take some time off, you would land a new job in around a month after you started searching for it. There are more finance related jobs around though, so I can't say the same for other industries.
Q: How does the work culture differ from home?
A: It is very hectic, and people practically camp out at the office every day.
Q: Did a relocation company help you with your move?
A: I just got the movers to ship my stuff over.
Family and children
Q: What are the schools in Hong Kong like, any particular suggestions?
A: If your kids are English monolinguals, and you are not particularly tight on the financial side, then put them in International Schools, such as Hong Kong International School, Chinese International School, or Canadian International School. If you are from a non-English speaking country, you might consider putting your kids into a school that speaks your mother tongue, such as the German Swiss International School, French International School, or Korean International School. If money is an issue, then put your kids into English Foundation Schools, such as Island School, Shatin College, or King George V School. Local schools probably aren't such a good idea; even though English is the primary teaching language, the level of Chinese expected in Chinese language class is much higher.
Q: How would you rate the healthcare in Hong Kong?
A: Very efficient, as with everything else in Hong Kong. The doctors tend to like to dish out a lot of medication. You also get to choose to adopt Chinese medicine, which is good for less lethal cases like allergies, or as an alternative to physiotherapy.
And finally…
Q: Is there any other advice you like to offer new expat arrivals?
A: Hong Kong is bang in the middle of Asia, so take advantage of your time here, and travel around!
► Interviewed October 2011