Jorge Juarez is an Argentinian-born American who moved back to the country of his birth to find a better life. He now lives in Cordoba Capital and is studying to be an English translator. He loves the combination of peaceful farm life and bustling city life that can be found in Cordoba Province, but misses his favourite restaurants back in the US. 
About Jorge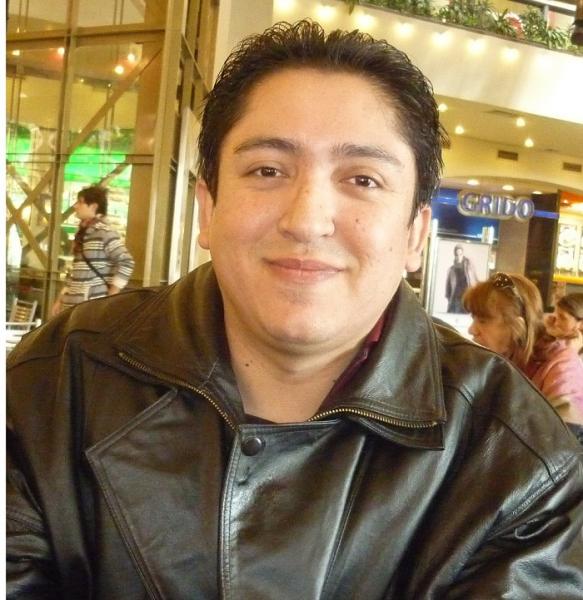 Q: Where are you originally from? 
A: The United States. Though I was originally born in Argentina, I was taken away at a very young age and raised as an American.
Q: Where are you living now? 
A: Cordoba Capital, Argentina
Q: When did you move here? 
A: June 18th, 2012
Q: Did you move with a spouse/children? 
A: I moved here with my spouse
Q: Why did you move; what do you do? 
A: I moved because the job outlook in the U.S. was poor and my living conditions were unacceptable. I worked in the administrative field in the States. In Argentina, I am a student at the University of Cordoba. I am also a fiction writer. 
About Cordoba
Q: What do you enjoy most about Cordoba, how's the quality of life? 
A: I enjoy how peaceful and quiet Cordoba is. There is an element of city life and farm life in this province. Everyone is very family-oriented, and most traditional old values are respected by all. People are more laid back here. The concept of time is money is irrelevant here so Argentinians are less stressed than people in the US. 
Q: Any negatives? What do you miss most about home? 
A: I miss the bookstores, DVD and music shops, and the restaurants like T.G.I.F. and IHOP.  There are a lot of foods that you won't find at the supermarkets around here like pizza rolls, hot pockets, Eggo Waffles or bacon. I also miss talking with other people in English.
There is also the siesta which occurs around 1pm and can last up to 6pm. The siesta is a rest period where most businesses shut down and the owners and the employees go home to be with their families. Most businesses are only open a few hours in the morning and a few hours in the evening. This makes it difficult if you want to go get a bite to eat or go to the convenience store. Supermarkets, malls and some restaurants in the downtown district are unaffected by the siesta however. I also dislike that I can't walk into a restaurant at 11.30am or at noon and ask for lunch because lunch here is usually served at 1pm.  
Q: Is Cordoba safe? Are there any areas expats should avoid?
A: Cordoba is relatively safe. The crime rate is low. There is a lot of graffiti in the city. Most of it is politically motivated. Unfortunately, certain people tend to graffiti buildings as well as homes. The thing I found odd about Cordoba is that there are sections that are really nice and yet the ghetto regions are mixed in. So one block could be decent and the next block could be a bad area and the next block could be decent. It's like a Rubik's cube.
I recommend touring the city with a native. I also recommend that you keep your purse close to your body and your wallet in your front pockets. There is a chance you will encounter someone who is pick-pocketing in downtown Cordoba and you don't want to become a victim of some random theft. 
Q: How would you rate public transport? What are the different options? Do you need to own a car? 
A: You don't need to own a car to get by in Cordoba but I cannot speak for the other provinces as I am unfamiliar with them. There are no trains here but there are bus routes that will take you just about anywhere you need to go. You do need a redbus card that you charge with cash in order to use the bus. There are also several taxis and remis that you can use. They are generally inexpensive. If you are touring or are here temporarily you may also rent a car. 
Q: How would you rate the healthcare?
A: Healthcare is free in Argentina. Yes, you will find places that will charge you if you are looking for a specialist. However, if you cannot pay for the treatment or surgery they will refer you to a hospital than can take care of you free of charge. Cancer treatment and HIV treatments are free in Argentina.
About living in Cordoba
Q: Which are the best places/suburbs to live in Cordoba as an expat?
A: I strongly recommend Cordoba Capital if you're a city person. New Cordoba is even better if you have lots of money and/or if you're an international student. There are several pubs and international restaurants nearby and a decent nightlife.  If you're interested in living a simple small-town life then I recommend Cordoba's neighbouring suburb Carlos Paz. The mountains are beautiful and the town and its people are similar to Kansas or Alabama. 
Q: How do you rate the standard of housing in Cordoba?
A: It varies. Renting an apartment can cost you anywhere from 1,200 to 2,400 ARS. This varies among provinces. There are several high-class apartments as well as cheaper-looking apartments. You can rent homes or you can buy your own property. Buying property is a matter of taste and the size of your family, the bigger the home, the higher the price.
I recommend checking what the currency rate of the money in your home country is versus Argentinian pesos. You might find yourself with a huge advantage if your currency is higher than pesos. You have to keep in mind though that if you buy property you still have to pay municipal and provincial taxes regardless of whether you have paid off the property or not. 
Q: What's the cost of living compared to home? What is cheap or expensive in particular?
A:  Food is relatively inexpensive. The most expensive thing here is meat and poultry. Everything else is very reasonable as far as food is concerned. Clothes and shoes are a bit expensive. So if you plan on coming over I recommend you bring as many clothes or shoes as you can. Electronics are horribly expensive due to the import taxes that are in place. I was able to sneak my Wii, my laptop and my Blu-ray player without a problem. However, I did encounter several import taxes when I went to pick up the boxes I shipped over from the States which contained electronic items and DVDs. 
Q: What are the locals like; do you mix mainly with other expats?
A:  The local people are laid back, simple and friendly. I have tried reaching out to other expats but so far I've only been successful in communicating through Facebook or my expat blog. 
Q: Was it easy meeting people and making friends?
A:  It has been difficult making friends. It's not that Argentinians aren't friendly. They are quite helpful and understanding. The difference is that the people here have a completely different philosophy to life than any other Caucasian or Latin-American culture I've encountered in the USA. The other thing that makes it difficult is that this isn't an English-speaking country. While I can speak Castilian (Argentinian Spanish) I am not accustomed to it and I tend to stutter when I don't know how to say a word or express myself well. 
About working in Cordoba
Q: Did you have a problem getting a work visa/permit?
A:  No. I did not need a work visa because my parents are from Argentina and I was technically born here. However, if you were born in another country you will have to get a work visa or student visa before coming to Argentina. You are allowed two visas per trip. You need to approach the immigration building in the province you are staying at a week before your original visa expires and ask for another visa. Afterwards, you may leave the country and return. It is not necessary for you to return to your home country. You can slip into Chile or Uruguay and return the same day. Then you will be granted two more visas.
Q: What's the economic climate like in Cordoba; is there plenty of work?
A: The economy is tricky in the entire country. Some residents say it's bad while others say it's fine. I've noticed people buying groceries as if the end of the world was coming and that requires cash. I've also observed people going on expensive vacations throughout the summer months (January – February in Argentina). The malls are packed with people purchasing clothes and household items. So obviously the economy can't be that bad if people are spending.
As far as there being plenty of work? I would say that it depends on your age and gender. There is a great deal more industrial work as opposed to administrative work which is what I do. Doctors, teachers and anyone who knows how to programme or repair computers will do well. Being a lawyer is probably the worst career to pick in Argentina because the concept of lawsuits is not common here. Most people prefer to resolve things diplomatically rather than taking someone to court. 
Q: How does the work culture differ from home?
A:  Age and gender discrimination is very legal in Argentina. If you are over 31 years of age you will find it difficult to find a job as they consider you too old to start a career. The best way to work here is to either start your own business or get referred by someone.
Family and children
Q: Did your spouse or partner have problems adjusting to their new home?
A:  My spouse struggles with the language a bit, but he is more open to change and a new environment than I am. He has had very little trouble walking up to someone and asking for directions or asking for a price check on a product.
Q: What are the schools like, any particular suggestions?
A:  Universities in Argentina are free. However, you are responsible for purchasing your own books and materials. There are also private universities but they are expensive. I recommend the National University of Cordoba (UNC). Keep in mind that the primary language in class is Castilian. There is no "Spanglish" of any kind. You may wish to enroll in the language centre as I have. This is the only place where you are likely to find Argentinians who speak English. I am going for my degree as an English translator, but there are other languages you can choose from.
And finally…
Q: Is there any other advice you would like to offer new expat arrivals?
A:  Make sure to familiarize yourself with the language and the culture. Go on YouTube and see if you can find video tours of the country or the province you will be living in. Try to find people who are native to the country online or in your hometown and ask questions before you go.
Most importantly, make sure you have your birth certificate, wedding licence, high school and college diplomas and transcripts apostilled before leaving the country. You will also need a criminal background check from your home country. If you're from the US, you can get this from the FBI. Without these items, it will be difficult for you to obtain a visa or permanent residency regardless of where you move to in the world. You will also find it difficult to go to school or work without these items apostilled.
~ Interviewed February 2013