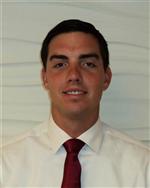 Michael Kinkoph is an America expat who has been living in Kuala Lumpur, Malaysia, since October 2014.
He's there on a short-term contract and transferred to Malaysia with his American employer.

Michael tells us about the city's food scene and grabbing any opportunity to travel with both hands. 
About Michael
Q: Where are you originally from?
A: Indianapolis, Indiana
 
Q: Where are you living now?
A:  Kuala Lumpur, Malaysia
 
Q: When did you move to Malaysia?
A:  October 2014
 
Q: Why did you move to Malaysia?
A:  I am stationed here for six months for my current project as an IT consultant.
Living in Malaysia
Q: What do you enjoy most about Kuala Lumpur?
A:  I enjoy the new experiences that come from living in Kuala Lumpur. I see something new every day and as a foodie I get to try new foods on a daily basis.
 
Q: What do you miss most about the USA?
A: Of course there are pros and cons to this situation such as missing family and dealing with cultural differences such as language barriers. I am from Texas so I miss the Tex-Mex food and the great weather – less rain than Malaysia as it is currently monsoon season!
 
Q: What are the biggest adjustments you had to make when settling into expat life in Malaysia?
A: I rented a car when I first got here, so driving on the opposite side of the road and obeying different traffic signals/laws was interesting. There are many different customs when it comes to business and religion in Malaysia that made me feel a little bit of culture shock.
 
Q: What's the cost of living in Malaysia compared to home?
A:  Cost of living is much cheaper here. Food is extremely cheap - if you eat at local restaurants most meals are around 3 USD. Gas is very cheap as well, but other than that everything is about the same.
 
Q: How would you rate the public transport in Malaysia?
A: Public transport is good for most locations. However, hailing a cab can be dangerous and it is easy to get stranded if you don't have a set plan for transport.
 
Q: How would you rate the healthcare in Kuala Lumpur?
A:  I have yet to go to the doctor or hospital, however I have heard the restrictions on prescriptions are more lenient here. When I helped a Malaysian go to the doctor in the USA he was very surprised how expensive the medicine was for such low dosage.
 
Q: What are the biggest safety issues facing expats living in Kuala Lumpur and Malaysia?
A: Kidnapping for ransom is a threat, especially for Americans. If you hang out in safe areas and are always aware of surroundings, this should never be a problem though.
 
Q: How do you rate the standard of housing in Kuala Lumpur?
A:  There are many universities around the area, so there are many different options from very cheap to luxury.
 
Q: Any areas of Kuala Lumpur you'd recommend for expats to live in?
A:  I am about 30 minutes south of Kuala Lumpur in Cyberjaya and it's very safe. A lot of the big companies are located here and there are a lot of friendly people (many being expats) living here.
Meeting people in Malaysia
Q: How tolerant are the locals of foreigners?
A: Malaysians are very tolerant for the most part. In the work environment, they are respectful and find Americans interesting. However, some locals see Americans as spoiled rich people. The country is mostly Muslim, but Malaysia is very open to any religion.

Q: Was it easy meeting people and making friends? How did you go about meeting new people?
A: I have yet to meet many new people besides work friends. I have been trying to travel almost every weekend so I haven't put myself in the best situation to meet people. But, this past weekend I went to a local Christian church and that was a great way to meet new people.
 
Q: Have you made friends with locals or do you mix mainly with other expats?
A:  There are some locals at the church that are very friendly. I have also met a few playing basketball and at the gym. A lot of times, the language barrier becomes an issue and conversations are ended awkwardly.  
Working in Malaysia
Q: Did you have a problem getting a visa or work permit?
A: Getting the visa was a rather extensive process, but my company has an outsourcing company doing most of the work. Still, there was a lot of document retrieval and email communication.
 
Q: What's the economic climate like in the Kuala Lumpur? Do you have any tips for expats looking to find a job in Malaysia?
A: I got transferred here, so I did not have to worry about finding a job. But, in Cyberjaya the economy is growing like crazy so finding a job in any industry should not be a problem. Although getting the correct visa is vital.
 
Q: How does the work culture in Malaysia differ from home?
A:  I am used to working a normal 8am to 5pm shift back in the States. Here we have calls late at night with American counterparts, so we get into the office around 9 or 10am, then leave around 6pm. We then usually have calls anywhere from 8pm to midnight each night.
Family and children in Malaysia
Q: Did your spouse or partner have problems adjusting to their new home? Do you think there are any specific challenges for a trailing spouse?
A:  My girlfriend is coming along with me for a couple months on a visitor's visa. Since we are not legally partners, she cannot get a working visa and finding work for her might be difficult. She will be completing an internship at some of the nearby universities as part of her practical for grad school though.
And finally…
Q: Is there any other advice you would like to offer new expat arrivals?
A:  Just say yes. At first I was wary about committing to certain things (basketball membership, going to dinner, attending church). This is the best way to meet people. Even though you might be out of your comfort zone, this is what travelling and living in another country is all about. Whether you know it or not, those uncomfortable spontaneous experiences change and mould you into a different person. There are going to be ups and downs and at times you will find yourself frustrated by the simplest things. But I try to relate my frustration to similar experiences back home and that always makes me feel better.

~ Interviewed in November 2014