Phil has been many things. A university English instructor, a picker-upper of dead bodies, a musician, and a sales guy. His work brought him and his family from Vancouver, Canada to Pretoria, South Africa in September 2016, and he's still wondering how that happened. Phil started Maple and Marula mostly because his friends back in Canada kept asking him how things were in South Africa, and posting about his experiences seemed more efficient than repeating himself hundreds of times. His blog is a way for him to make sense of his new surroundings as an expat who has no idea what he's doing.
About Phil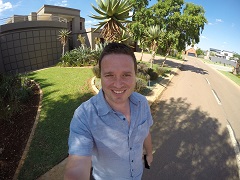 Q: Where are you originally from?
A: Vancouver, Canada
Q: Where are you living now?
A: Pretoria, South Africa
Q: When did you move to Pretoria?
A: September 3, 2016
Q: Did you move here alone or with a family?
A: I'm here with my seven-year-old son, my four-year-old daughter, and my long-suffering wife.
Q: Why did you move; what do you do?
A: I moved here for work. If I told you what I did, I'd have to kill you. So you can pretend I'm a hand model.
Living abroad in Pretoria
Q: What do you enjoy most about Pretoria? How would you rate the quality of life compared to Canada?
A: I love the unbridled craziness of South Africa. Nothing seems to make sense, even after living here for almost a year. I get frustrated often, I laugh a lot, and I'm NEVER bored. My quality of life has improved vastly from Vancouver. We live in a nicer house, eat better food, etc.
Q: Any negatives? What do you miss most about home?
A: Obviously I miss my family and friends. That part is tough, but I think it's much easier now than maybe even 10 years ago before Skype, FaceTime, etc. The kids can interact with family back home, so it doesn't feel like we're totally out of the loop.
Q: What are the biggest adjustments you had to make when settling into expat life in South Africa? Did you experience any particular elements of culture shock?
A: By far the biggest shock to me has been the staggering lack of efficiency in South Africa. It seems to span across all sectors and all walks of life. If you have any "Type-A" tendencies whatsoever and you move to South Africa, you're going to be in for a world of hurt. I'm STARTING to adjust, but I still have moments when it feels like my head's going to explode. At the end of the day, though, it's my issue and mine alone. I'm not going to change South Africa.
Q: What's the cost of living compared to Vancouver? What is cheap or expensive in particular?
A: The cost of living here is both cheap and expensive at the same time. If you're going to move here, don't let your company convince you to take a pay cut because things will be so affordable. Housing, food, and entertainment are all much less than you'd pay in North America. But cars, electronics, and toys are mind-bogglingly expensive, while clothes are a bit more expensive. So if your company pays for your house, but you're on the hook for everything else, you'll find you won't really be saving a lot of money.
Q: How would you rate the public transport? What are the different options? Do you need to own a car?
A: There isn't really a traditional public transport system here. There are no (or very few) buses or light rail systems that are convenient. Many locals take taxis, but they're not the taxis we have in North America. The taxis here are minibuses that are usually packed way over capacity, and they don't follow any rules of the road. At all. They're essentially big, white death tubes, and unless you're a local who knows exactly how they work, you may well end up nowhere near your intended destination. Avoid them at all costs.
Having a car is pretty much essential here. That being said, Uber works great in South Africa, and it's generally your best and safest option if you're not driving.
Q: How would you rate the healthcare in Pretoria? Have you had any particularly good/bad experiences with regards to doctors and hospitals? Are there any hospitals you would recommend?
A: Let's start by saying unless you have a good health plan, you're screwed. The public health system here is in shambles, and even some of the private plans aren't great. If you or your company springs for a good private plan, though, the healthcare here is much better than what I was used to in Canada.
I had a bum toe because apparently I'm getting old and I'm falling apart. I saw a doctor the same day I made an appointment, then got X-rays in the same building, then consulted the doctor again and got referred to a specialist. This was all in about one hour's time! I saw the specialist two days later and had my surgery less than a week after that.
In Canada, I would have had to see the doctor, go to the hospital for X-rays (for which I would have had to wait hours), then make ANOTHER appointment with the doctor several days later, THEN get referred to a specialist, for which I would wait months. And then I would wait months after that for a surgery.
That being said, the cost here is almost double what I was paying in Canada for premium care there (basic healthcare is free in Canada, but you can buy more to get medication paid for, private rooms in hospitals, etc).
Any of the private clinics and hospitals here are fine. It's well worth it to pay for a good private plan.
Q: What are the biggest safety issues facing expats living in South Africa? Are there any areas in Pretoria expats should avoid?
A: South Africa has a terrible reputation for crime. And if you listen to any South Africans who have moved away, they'll be the first to tell you that you will absolutely get murdered within a week of landing here. But take that with a grain of salt. It's true that crime here IS worse than you'll probably be used to. But you likely won't be affected by it. The sad reality is that most of the crime hits the poor here. You'll be living in a bit of an expat bubble. Because it's such a huge topic, I wrote a post about what to expect regarding crime in South Africa on my blog. As an expat, you're probably going to be fine.
Q: How do you rate the standard of housing in Pretoria? What different options are available for expats?
A: You'll probably end up in a house much larger and nicer than you're used to. To give you a little more peace of mind, I'd highly recommend finding a house in a security estate. Most of these have boom gates and security guards, and while nothing is a 100 percent guarantee of safety here, security estates are as close as you're likely to get. We give our son a walkie-talkie to communicate with us, and he roams around the estate with his friends. We'd never have done that back home.
You can also find nice houses with your own gates, and if you're coming alone, you'll get along fine in a secure apartment.
Q: Any areas/suburbs you'd recommend for expats to live in?
A: In Pretoria, there are several nice estates in the Silverlakes area, which is where I live. Also good are the houses in Waterkloof Ridge, Faerie Glen, Brooklyn, and Irene. If you look a little further south (closer to Joburg), you'll find nice places in Centurion, Midrand, and Sandton.
Q: How much should I tip?
A: You'll be tipping EVERYWHERE here, so this is a good thing to keep in mind. There will be car guards (they stand directly in your blind spot as they guide you out of parking spots, and they will be the first to run away if anything bad happens, but they ARE helpful when you're trying to load your groceries and juggle your kids at the same time), gas station attendants, and all the usual places you would tip back home.
Locals will tell you that a car guard should get one or two rand, and same with gas station attendants. It's normal to tip 10 percent at restaurants, and nothing for things like haircuts.
That being said, I'd recommend you ignore the locals on this. You're a representative of your country, and you will probably be making more than the locals. A little bit more won't kill you. My custom here is to tip what I would back home, so I generally give 20 percent at restaurants, which I get in crap for all the time from locals. I usually give five rand to gas station attendants, and two to twenty rand to car guards, with my average being five, and only two if they simply show up right as you're pulling out and haven't offered to help with your groceries. But if, like the other day happened to me, they see you struggling with 30 bags of topsoil, and they come running to you and do all the work, I have no problem giving 10 to 20 rand. They earned it. A little bit of extra is nothing to you, but it means the world to the people who need it.
Q: Should I hire domestic help?
A: This entirely depends on your situation, but for most expats, the answer will be yes. Not only is it really nice to have all your housework done, but you'll also be helping out somebody who could really use the money. You can either find a live-in or live-out domestic helper. If yours is live-out, keep in mind they have to pay additional transportation, food, etc, and pay accordingly. Locals will advise you to pay far too little. Don't be one of those people who exploits their domestic help. If you can't afford to pay a decent wage, consider part-time help or just doing it yourself.
Meeting people and making friends in Pretoria
Q: How tolerant are the locals of foreigners? Is there any obvious discrimination against particular religions or women?
A: I think a lot depends on WHERE in the world you come from. I know that we've been welcomed with open arms. As soon as people hear our North American accent, they're incredibly friendly. In fact, our social life is much more active here than it ever was back home, and we threw a Canada Day Party at our house in July that more than 30 people attended. I was surprised when most people showed up wearing red or white (the colours of the Canadian flag) or plaid (the unofficial uniform of Canadians), and some of our friends had even ordered customised T-shirts with the Canadian Flag on them just for the party! Other friends made me a custom shirt that had both the Canadian and South African flags on it. So ya, I'd say people here are pretty tolerant of foreigners!
It's a very Christian country here, but I haven't witnessed any real discrimination based on religion or gender. At social functions, people do tend to separate into groups of men and women, which we find strange, but they also don't mind if someone from the opposite sex infiltrates their group.
Race is a whole other story. There are still many glaring vestiges of apartheid all over the place. No matter what your background, you'll find yourself in incredibly awkward conversations. I'll just leave it at that for now.
Q: Was it easy meeting people and making friends? How did you go about meeting new people?
A: It was incredibly easy to make friends in South Africa. Again, I think having a foreign accent will help you out here, as everyone will want to have you over for a braai (the South African version of a BBQ, but much better). We got lucky because we have young kids, so we were able to find several great friends in other parents from the school. Once your kid gets invited to his or her first birthday party, you'll be off to the races.
If that isn't an option for you, there are lots of websites for expats and Facebook groups. We've made friends with other expats, tons of locals, and even our relocation agent and her husband!
Once you start meeting a few people, you'll become friends with THEIR friends, and so on. Before you know it, your weekends will be booked up months in advance,
Q: Have you made friends with locals or do you mix mainly with other expats? What advice would you give to new expats looking to make friends? Any social/expat groups you can recommend?
A: We have a few expat friends, but most of our friends are local. I know InterNations has monthly meetups for expats. I've never been to one, but I know they exist! I also know embassies sometimes have events, so make sure you check there. We went to a trivia night at the Canadian High Commission in Pretoria and had a great time.
That being said, don't restrict yourself to hanging out with expats! Yes, you may all have similar frustrations and worldviews, but locals are your BEST source to find out the hidden gems that make South Africa so wonderful.
A little tip though – if possible, don't get too close with people from work, unless you're all expats. Your standard of living will likely be much higher than local colleagues, and if they ever see your house or anything, it could create resentment. That's more common than you might think. Keep them at arm's length, and you'll be fine.
About working in Pretoria
Q: Did you have a problem getting a visa or work permit? Did you tackle the visa process yourself or did you enlist the services of an immigration consultant?
A: My company used Crown Relocations for everything, from putting together our visa applications, to shipping our household goods, to getting us settled in with a relocation agent. I'm sure there are other companies, but I'd highly recommend Crown. And also ensure you have a relocation agent when you arrive. They will help you with everything – answering any questions you have, setting up house viewings, getting you registered with a doctor, showing you where essential services are in your area, etc.
Q: How does the work culture differ from Canada? Do you have any tips for expats doing business in South Africa?
A: In the beginning of this interview, I talked about the lack of efficiency. People here like to work long hours to show how hard they work, but they will spend about half the day socialising and not being productive. It still drives me bananas, but I'm acclimatising.
As far as tips – learn to accept it. You're not going to change the way South Africans do business. Keep doing your thing, and let them do theirs. You'll go crazy if you try to do anything different.
Family and children
Q: Did your spouse or partner have problems adjusting to their new home? Do you think there are any specific challenges for a trailing spouse?
A: My wife was fortunate enough to find a position at a local university (she's much brighter than I am), so that was an easy adjustment. She loves it here!
Q: Did your children settle in easily? What were the biggest challenges for your children during the move?
A: Our kids were six and three when we moved here. One thing you need to consider is that the seasons are different here – their school year ends in December. My son finished kindergarten in Canada in June, then we put him in kindergarten again for the last few months when we got here because it was that or have him sit at home until Grade 1 started in January. And when we move home, the kids will have to adjust again, but we'll burn that bridge when we get to it.
Other than that, because the kids are so young, they settled in very easily. They love walking around barefoot (it's a thing here) and exploring all the amazing places that are near us.
Q: What are the schools like? Any particular suggestions?
A: There are public schools (don't put your kids in them), private schools that follow the South African holidays (our kids are in one of these, and it's great), and international schools, which follow the school schedule and holidays from your home country. These are perfect if you want a seamless transition in their schedule, but keep in mind they will have holidays that you don't (they won't follow South African public holidays), so be prepared for that. Also, they are MUCH more expensive than regular private schools.
And finally…
Q: Do you have any resources you would recommend for new expats in South Africa?
A: One of the most informative blogs I've had, and one that helped me get settled in, was JoburgExpat While it focuses on Johannesburg specifically, there's a TON of useful info there. Another good blog is 2Summers. That one gives a ton of ideas if you're looking for things to do.
Q: Is there any other advice you would like to offer new expat arrivals?
A: Breathe. There will come a time as a new expat in South Africa when you can't get your internet connected, your power is out, nobody is replying to emails or phone calls, and you question every single decision you've ever made that brought you here. Mine was at about month three. You'll get over it, I promise you. If you find yourself about to lose it, go explore a nearby game reserve (Pilanesberg is one of our favourites – it's less than two hours away, so it's an easy day trip), watch some wild elephants and remember why you decided to take on this challenge in the first place.
If you're planning to move here and have any questions I haven't covered, please feel free to contact me through my blog!
~Interviewed August 2017