Randy "Ace" Parker is originally from the Southeastern US and after a short career as a military officer, he began a series of boring technical jobs with marriage and settling down thrown into the mix. Several years later his old nomadic urges took hold so he got divorced early in 2008 (mutual agreement, no kids) and soon thereafter received an offer to work in Abu Dhabi. Here he relates his experiences so far of life in Abu Dhabi.
About Randy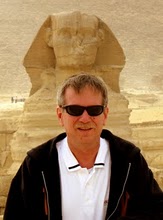 Q: Where are you originally from?
A: I was raised in a medium-sized Northwest Florida resort town on the Gulf of Mexico coast, AKA the Redneck Riviera. However, I spent the last 10 years before moving to Abu Dhabi in Southwest Utah. Zion National Park and the North Rim of the Grand Canyon were within an easy drive. I have been very fortunate to live in beautiful places.
Q: Where are you living now?
A:  I am living in an up-and-coming suburb of Abu Dhabi called Khalifa City. This place is about 25 km West of Abu Dhabi City. Abu Dhabi City is on an island much like New York's Manhattan and has no more room for the massive new projects that are typical of the region.
KC is the future of Abu Dhabi. It is located just off the highway to Dubai. There is a lot of development here such as the Yas Island Formula One race track, the environmentally responsible Masdar City, the massive Al Raha Beach Resort and Ferrari World. Yes, an automotive theme park in association with Warner Brothers.
Q: How long you have you lived in Abu Dhabi?
A:  Since August of 2008.
Q: Did you move with a spouse/children?
A:  Recently divorced, so by myself.
It is more of a gamble if you relocate here with a spouse and family. Suppose your significant other hates it here after a few months? What will you do then if he/she decides to move back home?
Something to think about: this is no place to repair a weak relationship. Make sure it is strong before making the decision!
Q: Why did you move; what do you do?
A:  I work for a prominent Abu Dhabi Airline. I accepted the position because I felt stale after 10 years at my old position and I craved some adventure. I was offered the opportunity and I took it!
About Abu Dhabi
Q: What do you enjoy most about your host city, how's the quality of life as an American expat linving in the UAE?
A:  I cannot complain about the quality of life here. I feel very comfortable. There are many things to do here from exploring malls, driving in the desert dunes, fishing and world-class entertainment. There is something here for everyone!
Q: Any negatives? What do you miss most about home?
A:  Internet censorship here and VOIP blocking. I also miss the secure feeling of living in the United States. The Middle East is a volatile region and anything can happen at anytime. You never know!
Also, there are local laws here that one can land in real trouble if ignored or were not aware of. Best learn and be careful..... Individual rights are not so important here as in Western countries.
Traffic accidents make up a large percentage of deaths in Abu Dhabi!
Q: Is the city safe?
A:  On a scale of 1 to 10, with 10 being the safest rating, Abu Dhabi ranks a solid 8. The -2 points is the hazardous driving. There is no crime to speak of, one is safe anywhere, anytime. This is because most folks here are expats and anyone suspected of a crime is either jailed or deported immediately.
About living in Abu Dhabi
Q: Which are the best places/suburbs to live in Abu Dhabi as an expat?
A:  Downtown is always fun. If I had my wish, I would live in Khalifa City during the work week and in the city on my days off. Things get rustic very quick when one leaves the city island.
Q: How do you rate the standard of accommodation in Abu Dhabi?
A:  I live in a very nice flat, but it is gratis my employer. It is tougher if you have to secure a residence on your own. They run the gamut but are usually good to excellent.
Q: What's the cost of living in Abu Dhabi compared to home? What is cheap or expensive in particular?
A:  Food and booze are very expensive, everything is imported. Internet and cable TV are very expensive too as there is a government run monopoly that is the only supplier. The service sucks!
Q: What are the locals like; do you mix mainly with other expats?
A:  I find the local Emirati citizens hard to mix with and I hang mostly with other expats. Maybe that is a culture thing but there seems a class system here with the Emiratis on top (it is their country after all!) and Western expat professionals second. The majority of residents here are from the sub-continent and everyone seems to socialize with their fellow countrymen.
Q: Was it easy meeting people and making friends?
A:  Very easy here, see above! One thing I enjoy is meeting and working with people from other cultures and countries. This is an opportunity I would not have had in the USA and I feel my life is richer for it!
About working in Abu Dhabi
Q: Did you have a problem getting a work visa/permit?
A:  No, employers are tasked with that by UAE government law. There is a basic medical exam for HIV and tuberculosis but that is it. If you are concerned about this, get these tests back home before you quit your current job as only tests conducted in the UAE are considered! Surprises are to be avoided! A prospective expat has to do very little leg or paperwork.
Q: What's the economic climate like in Abu Dhabi, is there plenty of work?
A:  With the worldwide recession, things have slowed down a bit and salaries aren't what they used to be. Abu Dhabi is faring better than Dubai as AD has most of the oil wealth and is the center of government in the UAE, it is more stable here. Dubai is in much worse financial shape due to its reliance on the global financial and real estate markets.
Q: How does the work culture differ from home?
A:  As opposed the Western work cultures, you have no rights here and you can be sacked or made redundant at anytime for any reason. If this happens, you have 30 days before you are deported. It's best if you snag a position with a Western firm and get sent here rather than work for a local company. At least you will get Western style management. The alternative is not as worker friendly.
Q: Did a relocation company help you with your move?
A:  No, not really needed if you travel light. Kids, cars, furniture and large amounts of possessions to be moved might require these services.
Q: How would you rate the healthcare in Abu Dhabi?
A:  I haven't had to try that out, thank goodness, but I understand expats are covered by a heavily subsidized or free system provided by most employers and the government at no cost.
And finally…
Q: Is there any other advice you like to offer new expat arrivals?
A:  Take it from me, try to have as few financial entanglements back home as possible before you move to Abu Dhabi. Sell the cars, the house, settle the debt, and get everything else doable online from AD. It is much harder to deal with everyday stuff back home when living overseas. I did not do this and it is a real struggle for me at times. School of Hard Knocks! Also, keep your debt in Abu Dhabi as minimal as possible.