Jacques Boonen moved to Lusaka in Zambia in 2013 because he felt like he needed a change in his life. Several years on, he says there is very little he misses about his home country of Belgium, and he has embraced his new life in Africa.
For more on the expat lifestyle in Zambia, read our Expat Arrivals Zambia country guide. 
About Jacques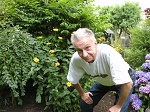 Q: Where are you originally from? 
A: Antwerp, Belgium
Q: Where are you living now? 
A: Lusaka, Zambia
Q: When did you move here? 
A: October 2013  
Q: Did you move here alone or with family? 
A: Alone
Q: Why did you move; what do you do? 
A: I really like the country, I work here and needed some change in my life.
Living in Lusaka
Q: What do you enjoy most about Zambia? How would you rate the quality of life compared to your home country? 
A: I do not have to compare with my home country, because Zambia is my home country now.
Q: What do you miss most about home? 
A: I do not miss Belgium at all.
Q: What are the biggest adjustments you had to make when settling into expat life in Zambia?
A: I am well travelled, so I didn't experience culture shock when I moved to Zambia. With all the necessary precautions and experience, everybody can manage a lot. 
Q: What's the cost of living compared to home? 
A: Comparing to Belgium, Zambia is cheap, even if it is more expensive than neighbouring countries. Being organised is very important to save a lot of money.
Q: How would you rate the public transport? 
A: The best is having your own car or a company car. I do not use public transport.
Q: What are the biggest safety issues facing expats living in Zambia?
A: You find criminality everywhere, and there are certain areas to avoid. I also always lock the car when I'm driving, but this is the same behaviour seen in other capitals around the world. 
Q: How do you rate the standard of housing in the city? 
A: Every option is there – real estate in Lusaka is a booming sector. But it depends on what you want to pay for it. 
Q: Any areas/suburbs you'd recommend for expats to live in?
A: Chilanga, where I live, is splendid. Lilaya is also very nice.
Meeting people and making friends
Q: Is there any obvious discrimination against particular religions or women etc.?
A: No, absolutely not.
Q: Was it easy meeting people and making friends? 
A: Meeting people is pretty easy, even when you are travelling in Zambia, and there are lots of possibilities through sports like golf and bars and cafés – or even just making an enquiry in the supermarket. Zambians are very friendly. 
About working in Zambia
Q: Did you have a problem getting a visa or work permit? 
A: I was very well informed, so I did not have any problems. By law, work permits must be obtained by employers. I have an official investor passport, so that makes a very big difference. But Zambia immigration is very strict on the issue, so do not underestimate their controls.
And finally…
Q: Is there any other advice you would like to offer new expat arrivals?
A: This is a very difficult question because everybody experiences such a move very personally – there is no manual here. But prepare yourself before you move, and know that nothing is easy in the world and that each challenge will make your day.