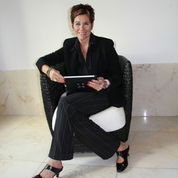 American Lynn Stravecky moved to Puerto Rico with her husband and children more than 15 years ago. She says it took her a while to get over the culture shock of living in a new country, but her perseverance paid off and her family loves their lives in the Puerto Rican capital of San Juan.
Nowadays, Lynn, a psychotherapist and certified cross-cultural trainer, provides expats and their families with support during and after the relocation process (www.journeyandbeyond.com).
About Lynn
Q: Where are you originally from? 
A: Stratford, Connecticut
Q: Where are you living now? 
A: San Juan, Puerto Rico
Q: When did you move here? 
A: July 1998
Q: Did you move here alone or with a spouse/family? 
A: I moved with my spouse and family and was pregnant with my second child.
Q: Why did you move? 
A: My spouse relocated for his job.
Living in Puerto Rico
Q: What do you enjoy most about San Juan?
A: The weather and the friendly culture.
Q: What do you miss most about home? 
A: Settling in is challenging for a North American, as cultures differ considerably and dealing with any government agencies is very difficult.
Q: What are the biggest adjustments you had to make when settling into expat life in Puerto Rico? 
A: Total culture shock! Even after living in South America/Brazil previously for two years. Language was a problem in the beginning, as was finding work due to my lack of Spanish.
Q: What's the cost of living compared to the USA? 
A: I relocated from Florida, where the cost of living and housing was much cheaper. Housing in Puerto Rico is very expensive, as are cars and food.  
Q: How would you rate the public transport in Puerto Rico? 
A: Public transport is available, but I've never used it. You can get around by bus, but most people that have the means do not.
Q: How would you rate the healthcare in San Juan?
A: Generally very good. But, if I had a major health concern or needed surgery, I'd go back to the US.
Q: What are the biggest safety issues facing expats living in Puerto Rico?
A: Like any other place in the world, you have to avoid certain areas, especially late at night. The key is to be aware of your surroundings and not be a target, and you will be fine.  Most people that relocate here live in gated communities with guards at the entrances.
Q: How do you rate the standard of housing in San Juan?
A:  Standard of living can be very good, but expensive. Most expats have a housing allowance, which means they can live in an exclusive, gated community. They can also send their children to expensive private schools, as companies usually allow for that expense as well.
Meeting people and making friends in Puerto Rico
Q: How tolerant are the locals of foreigners? 
A: Locals are very friendly and will attempt to speak English if you aren't demanding about it.  Everything is relationships based and no real discrimination exists. But if you're an aggressive foreigner, they won't want to deal with you.
Q: Was it easy meeting people? 
A: Once I became familiar with various clubs – such as the Newcomers Club of Puerto Rico – and started working, my social network grew as did my comfort level of living here.  
Q: Have you made friends with locals or do you mix mainly with other expats? 
A: I mix with locals and expats.
About working in Puerto Rico
Q: What's the economic climate like in San Juan?
A:  Finding work can be challenging if you don't speak Spanish. But many volunteer opportunities exist that can be rewarding. 
Family and children in Puerto Rico 
Q: Did your spouse or partner have problems adjusting to their new home? 
A: My spouse had no problem, as he was Puerto Rican. Most trailing spouses have great challenges due to cultural and language issues, as well as the lack of a support network.
Q: Did your children settle in easily? 
A: Both my children are fully bilingual and love it here.
Q: What are the schools in San Juan like? 
A: Schools are expensive, as you must send your child to a private school. You can get information about schools on the Newcomers of Puerto Rico website.
And finally…
Q: Is there any other advice you'd like to offer new expat arrivals?
A: Yes, if they are being relocated, they MUST participate in a cultural training programme. Most companies today offer these as part of the relocation package. I didn't have the opportunity 16 years ago and, ultimately, I suffered with my marriage, emotions and overall wellbeing for about two years.  Eventually, I found a job, learned the language some and started to adjust.
►Interviewed in December 2014