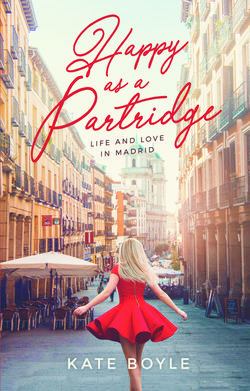 After growing bored with her life in England, Kate Boyle left to work as a TEFL teacher in Madrid, Spain. Years later, she returned with a wealth of experiences under her belt. In her debut novel, Happy as a Partridge: Life and Love in Madrid, Kate shares her adventures.
Happy as a Partridge follows the fictitious character Evie Fuller as she navigates her way around a new culture, language and sea of Spanish suitors. In a moment of chaos, Evie makes the decision to pack her bags and throw herself head first into a Spanish adventure. Almost thirty years old, single, and unemployed, she finds herself without anything tying her down to the monotony of life in dreary Fulham and trades it in for the adventure of a lifetime. 
However, she soon finds that her jump into the deep end is not everything she expected. Adapting to expat life is harder than she anticipated, and learning to appreciate the slower pace of life takes its time. Despite the bumpy start, Evie puts her best foot forward and her 'fake it 'till you make it' attitude helps her win the hearts of all those around her. In no time at all, Evie is learning to let down her hair and live 'la vida loca' like a true Madrileña.
Happy as a Partridge will give potential expats an insight into what it is truly like to pack up your life and start over in a new place. It doesn't skirt around the uncomfortable truths of expat life, but rather embraces these as the opportunities for growth and self-discovery that they are. The novel covers many of the struggles that seasoned expats will find all too familiar, including issues of cabin fever, homesickness, and the difficulties of making friends and finding a home in an unfamiliar city.
Expats looking for an insider's perspective of Madrid will appreciate Boyle's light-hearted take on life in the sunny Spanish capital. Those who picture life in Madrid as a series of afternoon siestas and late-night dinners at local cervecerías will be in for a surprise as Evie learns to deal with the more challenging aspects of living in Spain. Happy as a Partridge will give expats the insider track on settling down in Spain, and readers will have no difficulty understanding how Boyle fell in love with the city during her stay. 
Those familiar with Madrid will enjoy reliving their first experiences of the Spanish capital through Evie's eyes as she explores the city and gradually finds her feet. And anyone who has done a stint as a TEFL teacher will also undoubtedly enjoy Boyle's charming take on Evie's many entertaining misunderstandings with her students and her struggles to get to grips with the local language and culture.
From the grand art deco buildings of the Gran Vía to the quaint and quirky side streets of Huertas, trace Evie's serendipitous journey of self-discovery through the Spanish capital as she truly gets to know her new home.