Meet Vicki Franz: once a tourism manager, now a dedicated travel writer. When she's not exploring the vibrant corners of Spain or jet-setting around the globe, Vicki's likely soaking up a captivating book by the beach, cooking something, or trying to navigate the complexities of Catalan grammar. Keep up with Vicki by visiting her website or following her on Twitter.
About Vicki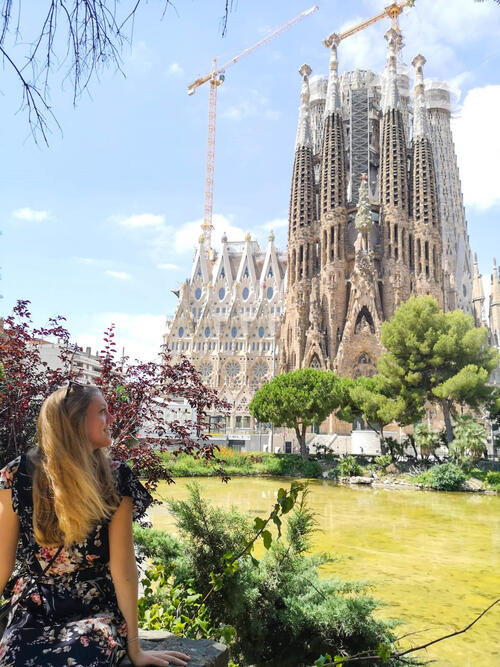 Q: Where are you originally from?
A: Germany
Q: Where are you currently living?
A: Barcelona, Spain
Q: When did you move here?
A: In April 2016
Q: Is this your first expat experience?
A: No. I have lived, studied, and worked in three other countries before moving to Spain.
Q: Did you move here alone or with a spouse/family?
A: Alone but to live with my Spanish partner.
Q: Why did you move? What do you do?
A: I met my now-husband on a trip to Barcelona a year earlier.
Living in Barcelona
Q: What do you enjoy most about Barcelona? How would you rate the quality of life compared to Germany?
A: I looove the wonderful sunny weather all year long. Even in winter, most of the social life takes place outside. In Germany, I was used to long grey winters. You only really realize how much the weather affects your mood once you spend one whole sunny winter in Spain. And then, you can never go back. Besides that, I never get bored with Spanish food, wine, culture, language and landscapes.
Q: Any negative experiences? What do you miss most about home?
A: Moving to Spain and getting all my paperwork was more exhausting than I had previously pictured. Many processes are overcomplicated and take way longer than expected. Besides that, of course, it's not always easy being so far away from family and friends.
Q: What are the biggest adjustments you had to make when settling into expat life here? Did you experience any particular elements of culture shock?
A: German and Spanish cultures seem to be the most opposite when it comes to European countries. It took me a while to get used to the somewhat chaotic Spanish lifestyle, new schedules (Spaniards love to eat late), and mastering the Spanish language.
Q: What's the cost of living compared to Germany? Is there anything particularly expensive or particularly cheap in Spain?
A: Living in Spain is way more affordable than living in Germany. I especially enjoy the prices of fresh fruit and vegetables. However, I was quite surprised by how high the rents in Barcelona are compared to what people earn here.
Q: How would you rate the public transport in Barcelona?
A: The public transport in Barcelona is great. In Germany, I had always depended on my car while after moving to Barcelona, I could get anywhere by public transport. However, in Spanish cities, you always have to be on the lookout for pickpockets when taking public transportation.
Q: How would you rate the healthcare in Barcelona?
A: If you work for a Spanish company, the healthcare in Spain is free. Spain has surprised me with an excellent healthcare system. However, since the pandemic, waiting times have become annoyingly long.
Q: What are the biggest safety issues facing expats living in Barcelona?
A: Pickpockets!
Q: How do you rate the standard of housing in Barcelona? What different options are available for expats?
A: The demand for housing in Barcelona is very high, so you will find a lot of scams and overpriced flats. Make sure to take your time and visit the place before signing a contract or transferring any money.
Meeting people and making friends in Barcelona
Q: How tolerant are the locals of foreigners?
A: Barcelona is a very popular city for expats, and unfortunately, not all of them behave well and try to integrate. So naturally, some locals are not particularly welcoming towards foreigners. However, if you try to speak the language and are interested in the Catalan culture, the locals will be happy to take you in.
Q: Was meeting people and making friends easy? How did you go about meeting new people?
A: One thing to know before moving to Spain is that the English level is not very high. So, it can be difficult to make local friends before being fluent in either Spanish or Catalan. However, expats often stay only for a short time, so it can be challenging to make long-term friends.
Q: Have you made friends with locals, or do you mix mainly with other expats? What advice would you give to new expats looking to make friends with the locals?
A: Throughout the years, I have made local and expat friends. However, most of the expats I met have returned to their country at some point. Now, my friends are mostly locals or Spaniards from other regions staying long term in Barcelona. My advice is to start learning Spanish as fast as possible.
Working in Barcelona
Q: Was getting a work permit or visa a relatively easy process? Did you tackle the visa process yourself, or did you enlist the services of an immigration consultant?
A: Luckily, as a European citizen, I don't need a visa to stay in Spain. However, the process of getting my NIE (the number you need to be able to work in Spain) was quite tedious.
Q: What is the economic climate in the city like? Do you have any tips for expats looking to find a job?
A: Finding a good job in Barcelona can be quite challenging. I recommend you use apps and online services to look for job offers around the city.
Family and children in Barcelona
Q: How has your spouse or partner adjusted to your new home? Do you think there are any specific challenges for an accompanying spouse?
A: My husband is Spanish and grew up in Barcelona. So, he was already living there when I moved to Barcelona. While it was a great feeling not having to do the whole long-distance relationship thing any more, moving in with someone from a different culture and adapting to each other's customs and language always comes with its own challenges. But today, I am so happy we took this step.
Final thoughts
Q: Is there any advice you would like to offer new expat arrivals to Spain?
A: The biggest advice I can give to expats moving to Spain is to plan ahead! The Spanish bureaucracy can be unnecessarily complicated, and a lot of information out there is out of date or simply wrong. But you can save so much valuable time by doing the proper research before arriving in Spain and preparing your paperwork in advance. Feel free to use my book "Successfully Moving to Spain" (available for free for Kindle Unlimited at Amazon) to find help that guides you step-by-step through Spanish bureaucracy and includes links to every document you need along the way, starting with your visa.