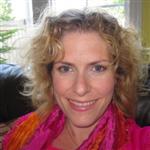 Aisha Ashraf and her husband first thought about moving to Canada in January 2010. "We've never been the type to let opportunities pass us by, so, when Canada made an offer, six months later we touched down in Toronto to start our Canadian life. I never imagined that we would pack up and move three small children and the contents of a house three and a half thousand miles and just start all over again, but there you go... funny where life takes you." Aisha writes an irreverent and fascinating blog about her new life at www.expatlog.com.

Read more about Canada in the Expat Arrivals Canada Country Guide or read more expat experiences of Canada.
About Aisha
Q: Where are you originally from?
A: I was born in Dublin, Eire in the same hospital as Paul Hewson, better known as Bono from U2. I grew up on a farm, near the small market town of Athy in Co. Kildare, until my family moved to Oxfordshire in England, when I was eight. From then on, we moved house a lot…As a result I have an enthusiasm for travel but I don't have particularly strong national ties. Patriotism, for me, is being proud of where you call home, and that can be more than one place.
Q: Where are you living now?
A:  I currently live in Whitby, 50km east of Toronto, Ontario
Q: How long you have you lived here?
A:  I have lived here for fourteen months, fortunately, at the same rental address.
Q: Did you move with a spouse/ children?
A:  I came to Canada for the first time in July 2010, with my husband, on a house-hunting mission. He stayed on and started in his new post, while I flew home to tie up loose ends, and bring our three children over.
Q: Why did you move; what do you do?
A:  I look after the kids and keep things running smoothly at home while my husband keeps us in nappies and apple-juice. He's a civil and transportation engineer with a global engineering consultancy and applied for a transfer to Canada. We had always discussed working and living abroad, but, obviously, it made so much more sense to wait until we were loaded with a newborn, two small children and a couple of mortgages!
About Whitby
Q: What do you enjoy most about living in Whitby, how's the quality of life?
A: Whitby is on the shores of Lake Ontario and a train ride away from Toronto. It's family orientated, with parks and splash pads wherever you turn, and plenty of picturesque outdoor trails to explore.
I am always amazed that we ended up in a place that was so suited to our situation. We found a house a few minutes walk from the lake and close to a local shopping plaza, with a supermarket, chemist, dentist, gym, hairdressers, and pizza place. My eldest daughter goes to the school on our sub-division, a five-minute walk away, and my husband's office is nearby too. All this was amazingly lucky, as we had no car for our first year. In summer the 25-minute walk to the town centre can be a pleasant experience but not so much in winter.
The best thing about Whitby, in my opinion, is its lakeshore. It's a beautiful place to spend time, there's a marina, yacht club, sandy beach and park (with excellent washroom and changing room facilities). You can spend the whole day there, pack a picnic, bring something to barbeque, swim and relax and listen to the waves. A close second is it's proximity to Toronto. A day trip to the Big Smoke and all it's delights is easily accomplished without having to live there and pay the exorbitant rents.
Q: Any negatives? What do you miss most about home?
A: I probably missed British supermarkets and the public transport system the most when we first got here. The supermarkets here do not have as big a range of choice as you would find back home. They also don't have internet grocery shopping, which would have been a HUGE help in our early days without a car. But the quality of the fresh produce, on the whole, is better.
Public transport is very basic and not tailored to the customers' needs. Different municipalities operate independently and do not integrate their services as well as they could.
Q: Is the city safe?
A: Whitby feels pretty safe and crime levels are low compared to the UK. People leave their homes unlocked when they pop out and the keys in their car while they pick something up. It is common to see women out walking or jogging after dark or walking alone on the trails.
Q: Describe an ideal way to spend a weekend in Whitby?
A: My ideal weekend would be in summer at the beach. I love being by the water. But a trip to Toronto is always good because there is so much to see and do. Lawrence Market is great for foodies, children will love a trip to Centreville on Centre Island (and the ferry ride over there!), the Eaton Center should keep shoppers happy, the CN Tower's Skywalk is a must for thrill seekers, Hanlans Point is (apparently) great for nudists….there's something for everyone! There are also loads of pick-your-own farms around here. There's nothing more peaceful than standing in the middle of a field, picking ripe, jewel-like berries in the sun, not a soul around…
About living in Canada and Whitby
Q: Which are the best places/suburbs to live in Whitby as an expat?
A:  There are very few places in Whitby that are undesirable in terms of accommodation. In fact only one high-rise area springs to mind on the west side of the city. I guess it depends what your needs are. If you have to commute, being close to the GO Station (rail & bus) and the 401 is a plus. You may want to be close to the lake, or you may want to live further out of town. As an expat, it doesn't really matter, you are not confined because of safety or cultural barriers, (almost 50% of Canadians are from another country) there are no expat enclaves in Whitby, though being close to the Scottish bakery or Dutch store/pattisserie may be very important to some! Personally I'd rather acclimatise to the "Canadian Way" than pay for expensive imports ($10 for a small bottle of Robinsons squash? I don't think so!)
Q: How do you rate the standard of accommodation?
A: Where accommodation is concerned, you get what you pay for. Cheap generally means in need of some love and attention - older décor, fixtures and fittings. If you go mid-range, you will find more of the comforts of home. Houses tend to have more bathrooms here and walk-in wardrobes and ensuites are common features of the master bedroom. But back gardens in the new sub-divisions are small. We moved directly after finishing a major renovation on our home in England, so it was "goodbye" to stainless steel, brushed chrome and soft-close everything - "hello" prehistoric washing machine, plastic, formica and "interesting" colour scheme! That was a BIG factor in my homesickness for a while.
Q: What's the cost of living compared to home? What is cheap or expensive in particular?
A: There wasn't as big a difference in the cost of living here compared to back home as we had anticipated.  Electrical goods are cheaper (and batteries! Who knew??) Anything to do with babies is expensive, nappies, wipes, milk and food… Dairy products (for reasons we can't deduce) are more expensive. 
Overall, wages are higher and taxes are lower so you do come out better off. Although property is cheaper, it could be argued that it is not built to as high a standard/finish as back home, timber being the core construction material as opposed to brick/concrete. To rent a house of comparable size back home would cost us more. Internet, phone and cable are all fiendishly expensive. Apparently this is because of the large area but lower population to share the cost. Utilities are also more expensive. This is due to Ontario's debt run up by a previous utility company which everyone is now paying towards to clear. I know…just don't ask!
Q: What are the locals like; do you mix mainly with other expats?
A: Canadians are a friendly and welcoming people with a quiet pride in their country. They are very polite and highly germ-conscious (hand sanitiser is EVERYWHERE). They are less reserved than in Britain. It's common to say "Hello" to people you pass, and having a chat with a complete stranger who happens to be in the same place as you, sure beats trying to pretend you hadn't noticed each other. Most people are relaxed and easy-going. If there is an expat community here, I haven't heard about it. I have a handful of fellow Brits, among the rest of my friends and I know where to buy imported British Dairy milk (but choose not go the "fat & bankrupt" route). The majority of my friends are Canadian. They are an active, fun bunch and we've shared some great times, among them, going out for drinks, hot-tubbing, raspberry picking and eating at each other's houses.
Q: Was it easy meeting people and making friends?
A:  Meeting people and making friends is incredibly easy here. People are friendly and open. They will give you their cell-phone number within minutes of meeting you and are sensitive to any ways they can be of help. Where I live, there is an online community forum where disussions are held, queries are aired, services offered and recommended and clubs and gatherings listed. If you participate, it's a great way to start to feel part of the community, and it's a lifeline in the winter months when everyone doesn't get out so much.
About working in Canada
Q: Did you have a problem getting a work visa/permit?
A: My husbands company arranged the visa. It's a 3-year work permit, and covers myself and the children also. Though in my current, temporary status some jobs, like those in healthcare and education, are excluded.
Q: How does the work culture differ from home?
A:  My husband reports that people dress casual in the office here. The building is open 24/7, whereas back home it closed at 8pm. People stay on until the work is done. Business is conducted with more of a face -to-face approach., and contacts and networking are a key part.  Here, it's not about your qualifications for the job so much as who reccommends you, or who you know. Your reputation and track record is what wins you work, not necessarily the company you work for.
Q: Did a relocation company help you with your move?
A: No. We like a challenge!
Family and children
Q: Did your spouse or partner have problems adjusting to their new home?
A:  My husband is a Vulcan and lives by reason and logic with no interference from emotion, so I had the adjustment problems for both of us! I missed our lovely home in England, I fretted that we had come to a country 20 years behind in terms of efficiency of washing machines (I now know it IS possible to find fully functional, modern appliances here - just not in MY rental home). I hated the tea and loathed all the restaurants that only served different types of fast food.
But, I got out, met people, organised play-dates and joined friends at the park. After a while, I didn't notice the accent. I'm still learning about how the whole healthcare system operates and the health insurance we have, but I'm starting to ask the right questions when I make appointments. Now that we have a car, my biggest challenge is staying on the right side of the road!
Q: Did your children settle in easily?
A: The children took it all in their stride, including my eldest who had to start at a new school full of people "talking funny". My youngest was three months when we arrived so was oblivious as long as her basic needs were met. My son was 2 and a half , so it was relatively easy for him too. My eldest was 5 and had to deal with leaving behind friends made during her six months in Reception. She had to adjust from going to school full-time (9-3, mon-fri) to going part-time (9-3, 2 days a week) to Kindergarten, as Canada's formal education system starts from 6 years old. A tough demotion.
Q: What are the schools like, any particular suggestions?
A: I can only speak from our experience of the new school on our sub-division. Staff are friendly and open. The school is spacious and well equipped with a field, baseball diamond, etc. On the whole, parents are asked to contribute more towards class materials than in Britain, but so far it doesn't seem too bad.
Q: How would you rate the healthcare?
A: The healthcare system seems a little dated compared to what we're used to in the UK. There is no central computer system that holds patient files, and paper files are still in use in my surgery. The surgery and consulting rooms are small and dated with old looking equipment. I had no problems getting the family registered with a GP, and we seem to have happened upon a doctor who takes her time and doesn't rush through the appointment. However, the same cannot be said when we have attended the walk-in clinic as opposed to making an appointment with our own GP.
Our healthcare costs are covered by insurance through my husbands work. We haven't had a lot of experience with it as we are a pretty healthy lot, but I know that we pay 20% of the cost of any prescription we get. Also, prescription charges are high. It is a far cry from the luxury of the NHS system in the UK. Here, everything is about the money, so you need to question the necessity of things before blithely accepting them at face value.
And finally…
Q: Is there any other advice you like to offer new expat arrivals?
A: Get out there and speak to people. It's the biggest advantage you can give yourself. Don't expect people to come to you. Make yourself known, get involved and ask questions, people love to talk about their country so give them the opportunity - you'll make friends and get to know people and learn at the same time. Be patient throughout the culture-shock/homesick period, it will pass. Keep going out and mixing, put yourself in situations that test your comfort zone, you'll get a buzz when they work out and a major boost to your confidence!
Always remember, that you can't go backwards. If you do return to your home country after a period spent living abroad, things will have changed and so will you. Becoming an expatriate changes you and your perception, you won't fit back into your old space.
~ Interviewed October 2011