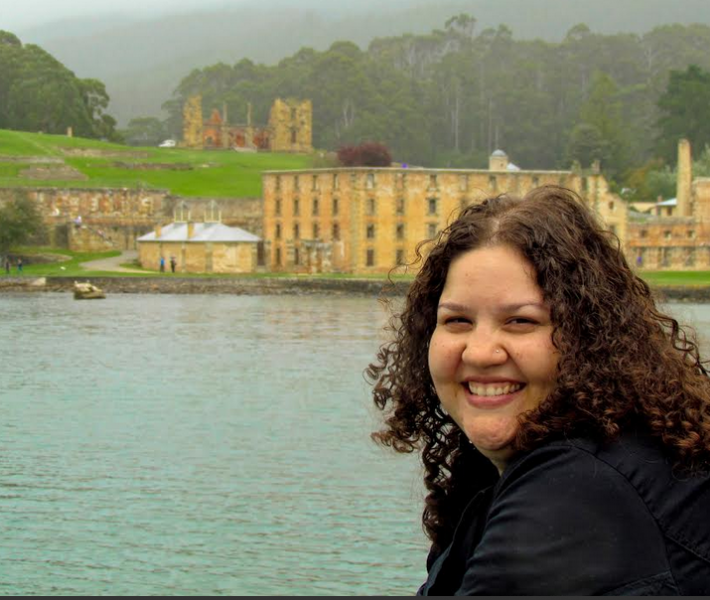 Cosette Palenque is an American expat who left sunny Miami and moved to Melbourne to be with her Australian partner. Despite Melbourne's temperamental weather, Cosette is enjoying all the opportunities that expat life in Melbourne offers. 
About Cosette
Q: Where are you originally from?
A: I was born in Havana, Cuba and raised in Miami, Florida.
Q: Where are you living now?
A: Currently, I'm living in Melbourne, Australia.
Q: When did you move to Melbourne?
A: I first came to Melbourne in February 2012.
Q: Did you move to Australia alone or with a spouse/family?
A: I came to Melbourne alone, but my partner was already here waiting for me.
Q: Why did you move to Melbourne and what do you do?
A: I came to Melbourne to be with my Australian partner.
Living in Australia
Q: What do you enjoy most about Melbourne? How would you rate the quality of life compared to your home country?
A: I love that there's always something fun and exciting to do in Melbourne. It's a beautiful city with a lot to explore and discover. The quality of life in Australia is comparable to that in the United States, but Melbourne is definitely very different from Miami.
Q: Any negatives? What do you miss most about home?
A: I don't love Melbourne's weather. It's very changeable and this tropical gal isn't used to the cold. I miss the warm, salty air of Miami, the beaches, and, of course, my family and friends.
Q: What are the biggest adjustments you had to make when settling into expat life in Australia? Did you experience any particular elements of culture shock in Australia?
A: There is so much that takes getting used to. Almost everything is different – the food, the way we shop, the way we eat, the way we drive. Halloween is in the spring, Christmas is in the summer, and Easter is in the fall.
Q: What's the cost of living in Melbourne compared to home? What is cheap or expensive in particular?
A:  Melbourne is much more expensive than Miami. Clothing, shoes, cosmetics, and linens are easily three times as much.
Q: How would you rate the public transport in Australia? What are the different options? Do you need to own a car?
A: Melbourne has excellent public transport. It has a railway network, the world's largest tram network, and buses. It also has a wonderful bicycle culture and even a public bike-hire system. A car isn't really necessary for daily getting around and you may not want one anyway considering how congested the road and freeways can get. I don't currently own a car though my partner does.
Q: How would you rate the healthcare in Melbourne? Have you had any particularly good/bad experiences with regards to doctors and hospitals? Are there any hospitals you would recommend?
A: Australia's healthcare system, known as Medicare, is provided by both private and government institutions. I'm not eligible for it at this time, but I have visited the clinic on two occasions. I was seen very quickly and it was very affordable. Additionally, I've received healthcare from Family Planning Victoria that was excellent and inexpensive. Healthcare in Australia appears to be excellent.
Q: What are the biggest safety issues facing expats living in Australia? Are there any areas expats should avoid?
A: Melbourne is a pretty safe city. Australia has reasonably strict firearms laws and shootings are rare. This is the kind of place where people still sleep with their doors unlocked. Still, like any big city, caution is advised especially after dark. Assaults still happen just as they do everywhere.
Q: How do you rate the standard of housing in the city? What different options are available for expats?
A:  Expats in Melbourne have about the same housing options that are available in their home countries. You'll find apartments and houses of various sizes and styles. Melbourne has some really lovely and charming old homes such as the California bungalows of the 1920s and sleek contemporary homes. The closer you get to the city centre, the more expensive housing gets.
Q: Any areas/suburbs you'd recommend for expats to live in?
A: There are few areas in Melbourne that are unpleasant to live in, but I'd keep an eye on the railway lines. It's good to be close to one so you can get around easily.
Meeting people and making friends
Q: How tolerant are the locals of foreigners? Is there any obvious discrimination against particular religions or women etc.?
A: Melbourne is wonderfully diverse and I think anyone from just about anywhere could feel at home here. Racism exists, of course, as it does everywhere, and sometimes rears its ugly head in unexpected ways particularly around the issues of asylum-seeking and the treatment of Aboriginal peoples.
Q: Was it easy meeting people and making friends? How did you go about meeting new people?
A: Meeting people and making new friends is one of the biggest challenges expats face. I suggest taking up a social hobby that will put you in contact with people who share your interests. Take up a sport, find a Meetup, or join a Facebook group on something that interests you. There are many expat groups, but if you want to meet the locals, join a local book club, sports club, take a class on something that interests you, etc.
Q: Have you made friends with locals or do you mix mainly with other expats? What advice would you give to new expats looking to make friends in Melbourne? Any social/expat groups you can recommend?
A: Most of my new friends in Melbourne are locals, either friends or family members of my partner's, or people I've met mainly through Facebook while looking for others that share my interests. Two great Facebook groups for expats are Yanks Down Under and Americans in Melbourne.
About working in Melbourne
Q: Did you have a problem getting a visa or work permit? Did you tackle the visa process yourself or did you enlist the services of an immigration consultant?
A: I'm currently in the process of applying for a visa that will ultimately grant me permanent residency and the ability to work in Australia. At first, I thought I would tackle the visa process alone, but I ended up going with Hamilton Watts International Migration Services, and I'm so glad I did. The visa process is daunting and more complicated than it appears. My migration agent has caught things that I didn't and that could have delayed and complicated the process. I highly recommend enlisting the services of an immigration agent.
Q: What's the economic climate like in Melbourne? Do you have any tips for expats looking to find a job there? Which resources did you find most useful?
A: I'm not really sure. I've talked with some expats who have said it's difficult to find a job in Melbourne, but then it can be difficult to find a job back in the US as well.
Q: How does the work culture in Australia differ from home? Do you have any tips for expats doing business in Australia?
A: I don't know yet how the work culture differs. For any expat looking to find work in Melbourne, I'd recommend researching the work culture, what kind of resume formats are acceptable, what kind of interview questions you might be typically asked, etc.
Family and children in Melbourne
Q: Did your spouse or partner have problems adjusting to their new home? Do you think there are any specific challenges for a trailing spouse?
A: My partner is Australian and was already here. I moved in with him, but, of course, there was an adjustment period. I think one of the biggest challenges for him has been trying to understand what it's like to leave everything you know behind and move across the world, and dealing with my bouts of homesickness.
Q: Did your children settle in easily? What were the biggest challenges for your children during the move?
A: My partner and I don't have children together, but he has two grown children from a previous relationship, and they were already here in Melbourne. Getting to know them has been a pleasure and they've both given me a lot of tips about what to see and do in Melbourne.
 
Q: What are the schools like in Melbourne, any particular suggestions?
A: I have no idea, but I love the school uniforms for young children, which include hats to protect them from Australia's harsh sun.
And finally…
Q: Is there any other advice you would like to offer new expat arrivals in Melbourne?
A: Give it time. It will be exciting and fun and wonderful, but also lonely and infuriating. You'll love and hate it and that's ok. Try to meet new people and find something to do – volunteer, take a class, join a sports or social club – anything to get you out and about and making friends.