Ersatz is a Dutch-Irish expat currently living in Astana, the capital of Kazakhstan. She is a seasoned expat having spent time in Norway, Nigeria, Turkey, Venezuela and the UK. In her interview with Expat Arrivals, she gives us insight into expat life in Astana, the welcoming Kazakh locals and the icy cold winters. 
You can find out more about Ersatz Expat's experiences on her blog, Ersatz Expat.
For more detailed information on Kazakhstan, see the Expat Arrivals Kazakhstan Country Guide or read more expat experiences in Kazakhstan.
About Ersatz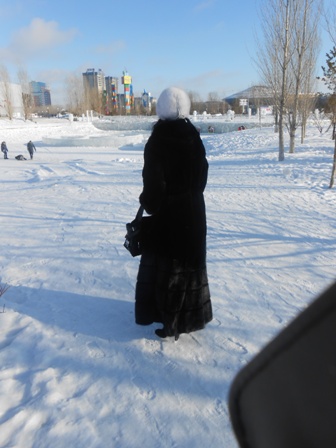 Q: Where are you originally from?
A: It is complicated – I'm a global soul.  I was born in the Netherlands to a Dutch/Irish Family. Since then, I have lived in Norway, Nigeria, Turkey and Venezuela. I went to school and university in the UK and settled there for some years, married an English man and had a very normal English life for a few years before relocating to Kazakhstan.
Q: Where are you living now?
A: Astana, Kazakhstan
Q: How long have you lived in Kazakhstan?
A:  We have lived here in Astana for nearly two years.
Q: Did you move to Astana with a spouse/children?
A: Yes, my husband, two children and our dog.
Q: Why did you move to Kazakhstan; what do you do in Astana?
A: My husband was offered a job in Astana. I am a lawyer, a commercial litigator, by background. I work remotely in a management consultancy business; highly portable work.
About Astana
Q: What do you enjoy most about Astana, how's the quality of life?
A: Astana is a wonderful place to live. The Kazakh people are warm, friendly and welcoming and the city is beautiful.  I am surprised by how easily we adapted to the extreme weather here.  The city has a temperature range of between -30 to +30 degrees Celsius.

Q: Any negatives about Kazakhstan? What do you miss most about home?
A: There is not much, I have been an expatriate from birth, so home is my family, not a place.
Q: Is Astana safe? Are there any areas expats should avoid?
A: Astana is a very safe city.  Like all places, there are some parts of the city where you need to take extra care – I would not walk around near the station in the middle of the night, but I feel very safe walking home alone after a night out in my part of the city.
Q: How would you rate the public transport in Kazakhstan? What are the different options? Do you need to own a car in Astana?
A: Buses are frequent and cheap. Taxis are available for hire, but can be complicated to order before you have learnt Russian. You can go just about anywhere by hailing a street or 'gypsy cab'. Although expats do not need to drive in Astana, we bought a car because we have children, and we wanted them to travel in proper child seats. 
Q: How would you rate the healthcare in Kazakhstan?
A: Expats need good quality international insurance to access better healthcare facilities in Kazakhstan. 
About living in Astana

Q: Which are the best places/suburbs to live in Astana as an expat?
A: Many expatriates choose to live in Samal, an area in the old town next to the river. Others prefer to live in the new city centre. The new centre has beautiful parks and gardens, stunning architecture and has everything you need (supermarkets, fitness clubs, shops, cafes etc) in easy walking distance, even when it is -30 degrees outside. Highvill, a relatively new development near the 'Pyramid' is one of the favourite places for expatriates to live, you need a car to live there though as it is not within walking distance of any other amenities.
Q: How do you rate the standard of housing in Astana?
A: New housing is being built all the time in Astana, but the quality and standards do vary.
Q: What's the cost of living in Astana compared to home? What is cheap or expensive in particular?
A: Basic foodstuffs and petrol are cheap. Everything else is imported and carries a hefty price tag. Cars are ruinously expensive to buy.
Q: What are the locals like in Kazakhstan; do you mix mainly with other expats?
A: Kazakh people are warm and welcoming. Our neighbours wasted no time in introducing themselves to us as soon as we moved in, and people are always stopping to chat in the shops or on the street. Our friendship groups are fairly mixed.
Family and children in Kazakhstan
Q: Did your children settle in easily to life in Astana?
A: Our children missed their grandparents and friends a little to start with, but Skype allows them to keep in contact very easily. The children see more of us here than they did in our previous posting in the UK. Kazakhstan is a very family-oriented country and children are seen as part of society. Our children love living here; they learn Kazakh and Russian at school and are able to converse quite confidently. 
Q: What are the schools in Astana like, any particular suggestions?
A: Our children go to Haileybury Astana – a sister school to a British Independent school. It teaches the British curriculum, so our children are getting exactly the same education they would in England. There are two schools, QSI and MIRAS, that teach the American curriculum and a Turkish international school called Nuroda.
Final thoughts on Kazakhstan
Q: Is there any other advice you would like to offer new expat arrivals in Astana?
A: Embrace Astana and all that it and Kazakhstan have to offer. It is a young, vibrant city and a fabulous place to live.

– Interviewed in May 2013