Gemma is a British expat living in Kuwait. She moved to Kuwait City when her husband started teaching at an international school there. They have subsequently had two children while living in Kuwait, and Gemma is now enjoying life as a stay-at-home mom.
Learn more about Kuwait in the Expat Arrivals Kuwait guide and read more expat experiences in Kuwait.
About Gemma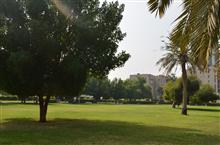 Q: Where are you originally from? 
A: England
Q: Where are you living now? 
A: Kuwait City, Kuwait
Q: When did you move to Kuwait? 
A: May 2010
Q: Did you move here alone or with a spouse/family? 
A: I moved here to be with my husband, who had moved here nine months previously.
Q: Why did you move to Kuwait; what do you do? 
A: I moved to Kuwait to be with my husband who was teaching here. In Kuwait I have worked as a teaching assistant and a teacher and now I am a stay-at-home mum. 
Living in Kuwait
Q: What do you enjoy most about Kuwait? How would you rate the quality of life compared to England? 
A: I love the sunny skies of Kuwait, and being able for most of the year to wear summer clothes and not have to worry about rain!  Quality of life is pretty good overall.
Q: Any negatives? What do you miss most about home? 
A:  Not much greenery or outdoor activities to do in Kuwait and it can look quite messy in some areas – rubbish and old, run-down buildings. Also the crazy driving and traffic! I miss family of course and being able to get around via public transport more easily. And grass!
Q: What are the biggest adjustments you had to make when settling into expat life in Kuwait? Did you experience any particular elements of culture shock?
A: The biggest adjustment for me was not being able to walk anywhere. I used to walk a lot in the UK and struggled with the fact they have hardly any pavements in Kuwait and walking to places is considered rather unusual!
Q: What's the cost of living compared to home? What is cheap or expensive in particular? 
A: Petrol is extremely cheap. To fill our car up it costs around 3.500KD and local produce is very cheap. Imported food tends to be roughly double the price and the same with clothes. Accommodation is very expensive for what you get for your money.
Q: How would you rate the public transport in Kuwait? What are the different options? Do you need to own a car?
A: If someone can recommend a good driver or taxi service then you could survive without a car but life is much easier with one. Some expats don't like to drive over here so will have full or part-time drivers.
Buses are very old and don't have a timetable but very cheap – about 250 fils per ride.
It is very easy to get a taxi on the street; however, most aren't metered so it is best to agree a price before riding and a lot of the taxis don't have seatbelts. 
Q: How would you rate the healthcare in Kuwait? Have you had any particularly good/bad experiences with regards to doctors and hospitals? Are there any hospitals you would recommend?
A: Private healthcare is very good and there are numerous different clinics and hospitals to choose from. Results from any tests you have (i.e. blood tests) are given a lot quicker than back in the UK and appointments can be made really easily and for within a short space of time. 
Both my children were born in Kuwait and I would highly recommend the standard of care I received. Appointments are more regular and the aftercare after having both my children at the hospital was fantastic – however, be warned that the likes of midwives and health visitors don't exist here. 
When being prescribed any medication ask if it is necessary. They tend to overprescribe a lot in Kuwait.
I have no experience of public healthcare other than vaccinations for my children that have to be done at your local government clinic. There can be big queues and odd opening hours so be warned!
I would recommend the International Clinic in the Salmiya area. You can always get an appointment quickly with them.
Q: What are the biggest safety issues facing expats living in Kuwait? Are there any areas expats should avoid?
A: It is advised that expats should avoid areas far out like Jahra and to stay at home when there are the odd political protests. 
Q: How do you rate the standard of housing in Kuwait? What different options are available for expats?
A:  Housing is very expensive for what you get for your money. A two-bedroomed apartment will cost at least 350KD and above for something half decent and villas will be around the 1,000KD mark. Building quality isn't fantastic and plumbing tends to be a problem wherever you move.
Q: Any areas/suburbs in Kuwait City you'd recommend for expats to live in?
A: It depends on what you are looking for. If you like being near the centre of everything then Salmiya is best. If you would prefer quieter and more residential areas, then in the north there is Salwa and Rumathiya, and in the south there is Egaila and Fintas. 
Meeting people and making friends in Kuwait
Q: How tolerant are the locals of foreigners? Is there any obvious discrimination against particular religions or women etc.?
A: Western expats are generally treated quite well; however, you will get the odd 'it's my country, don't like leave' attitude. Workers from Asia are treated poorly and are paid very low salaries.  
Q: Was it easy meeting people and making friends? How did you go about meeting new people? 
A: It is really easy to meet new people. Expats are really welcoming to each other and will go out of their way to say hello and introduce themselves. We met people through my husband's job and I also met other mums from attending different classes and playgroups.
Q: Have you made friends with locals or do you mix mainly with other expats? What advice would you give to new expats looking to make friends? Any social/expat groups you can recommend?
A: My friends are mainly other expats. I would advise new expats to say yes to any invites they get to events and join any expat groups that appeal to them. I would recommend any mums to join Expat Mums in Kuwait. The group has a forum to ask for advice on things in Kuwait or motherhood in general and mums volunteer to host play dates, mums dinners and coffee mornings. 
Working in Kuwait
Q: Did you have a problem getting a visa or work permit for Kuwait? Did you tackle the visa process yourself or did you enlist the services of an immigration consultant?
A: It can be a nightmare with a lot of ministries having strange opening hours, not speaking much English and generally not being that helpful.  My husband completed our son's residency; however, it was really stressful so now we use a mandoub to help us.
Q: What's the economic climate like in Kuwait? Do you have any tips for expats looking to find a job there? Which resources did you find most useful?
A: There are lots of jobs for teachers and the oil and engineer industries but you need a job before you come to Kuwait to get a visa. The pay is good and more than you would get in your home country.
Q: How does the work culture differ from home? Do you have any tips for expats doing business in Kuwait?
A: Work tends to be far more relaxed than back home – more tea breaks etc. and working hours finish earlier than the UK – most working days are roughly 7am-3.30pm. Weekends are Friday and Saturday. 
Family and children in Kuwait
Q: Did your husband have problems adjusting to his new home? Do you think there are any specific challenges for a trailing spouse?
A: My husband moved to Kuwait before me so had already set up home and had made some friends through work. Any challenges for trailing spouses may be that they may want to work which can be difficult if they are on their partner's visa/residency.
Q: Did your children settle in easily? What were the biggest challenges for your children during the move?
A: Both of my children were born in Kuwait so they have no experience of moving or of living in any other country. 
Q: What are the schools in Kuwait like, any particular suggestions? 
A: Expats send their children to private schools. There are a lot of British and American private schools in Kuwait and they vary in quality. The big British schools for expats are The English School (TES), Kuwait English School (KES), New English School (NES) and BSK (British School of Kuwait). And the American schools are American School of Kuwait (ASK) and American International School (AIS). Some good nurseries are Happy Chappies, Learning Steps and The Sunshine Kindergarten. Avoid any smaller nurseries as they tend to be a day care set up in someone's house and run by unqualified people with limited English language!
Schools tend to fill up quickly and will have a waiting list so it is best to get in touch early.
There are also groups and classes for those children that are too young for school. Bright Minds has an excellent schedule of classes that the parent attends with their child. And BLS has Mums and Tots and music classes.
And finally…
Q: Is there any other advice you would like to offer new expat arrivals?
A: Say yes to invites from people, as they will likely become a big part of your life for your time in Kuwait. Sign up to expat groups that appeal to you – British Ladies Society, Expat Mums in Kuwait, and numerous sports groups and teams.

~ Interviewed November 2013