Harini and Eric are an expat couple living in the Netherlands. They moved to Amsterdam because they wanted to live in Europe. They find Amsterdam a very easy city to live in, and enjoy documenting their expat life in the Netherlands on their blog.
Read more about expat life in the Netherlands in our Expat Arrivals country guide to the Netherlands or read more expat experiences in the Netherlands.
About Harini and Eric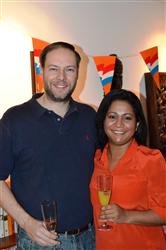 Q: Where are you originally from? 
Eric: I was born in New York, grew up in Nashville and I have spent most of my adult life between the two coasts – in the Northeast and Seattle.
Harini: I was born in Calcutta (one of my favorite cities), lived all over India, came to the US to go to school, met Eric and stayed on! 
Q: Where are you living now? 
A: City centre – Keizersgracht, Amsterdam, the Netherlands
Q: How long have you lived in the Netherlands? 
A: 18 months
Q: Did you move with a spouse/children? 
A:  We (husband and wife) moved together. We have no kids.
Q: Why did you move; what do you do? 
A:  We moved because we wanted to live in Europe and specifically Amsterdam. We both work in marketing for Microsoft and found jobs within Microsoft Europe before we moved. 
About Amsterdam
Q: What do you enjoy most about Amsterdam, how's the quality of life?
A:  Amsterdam is a very easy city to live in, with walking and biking the primary modes of transportation. It combines big city attractions like museums, concerts, etc. with a small town community vibe. The city generally feels very active, energetic and embracing. And, of course it is very scenic with the beautiful century-old houses along canals.
Q: Any negatives? What do you miss most about home? 
A:  The Netherlands is very flat. We miss the mountains!
Q: Is Amsterdam safe?
A:  YES! We have often walked home late at night and feel completely safe. 
About living in Amsterdam
Q: Which are the best places/suburbs to live in Amsterdam as an expat?
A:  "The Canals" (city centre) are very attractive. Oud Zuid is another popular neighbourhood for expats. 
Q: How do you rate the standard of housing in Amsterdam?
A:  Because most housing in the city is considered to be "historic monuments," expats often find apartments small and dated. There's a lot of variation from run-down to luxurious renovations. 
Q: What's the cost of living compared to home? What is cheap or expensive in particular?
A:  The city is definitely more expensive from food to housing.
Q: What are the locals like; do you mix mainly with other expats?
A:  It is easier to mix with expats because we are all new here and looking to make friends. The Dutch friends we have made are all very nice and friendly. It takes a while to make Dutch friends, so be warned!  It is difficult because the Dutch do not really need to reach out and make friends with strangers. We are the ones that have moved, left family and friends behind and are starting anew. We made our Dutch friends via common connections. I do not think they are unfriendly, just that they already have a group established. 
Q: Was it easy meeting people and making friends in Amsterdam?
A:  Yes. The American Women's Club and the British Society helped us get settled and make friends
Q: How would you rate the healthcare in Amsterdam?
A:  Harini – I've had limited experience with the Dutch health care system; the couple of times I have been to the doctor, it feels like they do not want you to come unless you are really, really sick. Also, generally Dutch doctors are not big on vitamins and do not prescribe them. 
About working Amsterdam
Q: Did you have a problem getting a work visa/permit?
A:  No problems. The Dutch government has opened "Expat Centers" to streamline the work visa process.
Q: What's the economic climate like in Amsterdam, is there plenty of work?
A: The Netherlands has one of the stronger economies and the atmosphere generally feels very positive. However, we are starting to see some of the greater Eurozone crisis creep in here. Belts are starting to get tightened. 
Q: How does the work culture differ from home?
A:  The biggest difference we have noticed is boundaries between work and home are more clearly defined here. People are more protective of their personal time (e.g. not working on weekends, not working irregular hours during the week). We have more flexibility to work from home. The work culture also seems less hierarchical and prefers consensus. 
Q: Did a relocation company help you with your move?
A:  Yes. We absolutely recommend using a relocation company. It helped us tremendously the first 90 days when we were setting up home, bank account, cable, etc. 
And finally…
Q: Is there any other advice you like to offer new expat arrivals?
A:  Be open to new experiences; show up for a Borrel (Happy Hour) even if you do not know anyone. And get a bike!
– Interviewed August 2012