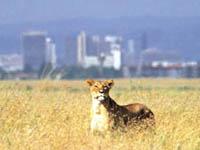 Jerry Riley is a Canadian expat who moved from Toronto to the Kenyan capital of Nairobi in 2007. While he misses his friends and family back in Canada, the diverse people and landscapes of Kenya provide great opportunities for Jerry to pursue his professional photography. To see some stunning images of Kenya and learn more about Jerry's expat experience through his photography check out his website, Jerry Riley Photography.
Read more about Kenya in the Nairobi City Guide and more expat experiences in Kenya. 
About you
Q: Where are you originally from?
A:  Toronto, Ontario, Canada

Q: Where are you living now?
A:  I live in Nairobi (Westlands)

Q: When did you move to Kenya?
A:  2007

Q: Did you move to Nairobi with a spouse/children?
A:  Yes, I moved with my spouse

Q: Why did you move to Kenya; what do you do?
A:  I was a professional photographer in pursuit of developing markets and interest in Africa that brought me to Kenya.
About Nairobi 
Q: What do you enjoy most about your host city, how's the quality of life?
A:  Nairobi is a big city that is always busy, vibrant, interesting.  The great outdoors are not far away.  Most expats living here enjoy a good quality of life.

Q: Any negatives about Nairobi? What do you miss most about home?
A:  I only really miss my friends and family.  Oh, and those long twilights in summer.

Q: Is the city safe? Are there any areas expats should avoid?
A:  Like all cities, there are areas to be avoided, mostly at night.  Many activities now in the Central Business District so things are improving. I have always felt relatively safe in Nairobi.
 
Q: How would you rate the public transport in Nairobi? What are the different options? Do you need to own a car?   
Local transport is plentiful in Nairobi, as are taxis. Cars are good to have, but fuel is expensive and traffic is usually a problem.  I work from home so don't really have to travel at rush hour.

Q: How would you rate the healthcare in Kenya?
A:  You're on your own when it comes to healthcare provision in Kenya is concerned.  There is nothing offered by the state here for expats, so you pay for everything from a regular checkup to serious surgery.  Large companies employing expats usually offer some form of health insurance, but self-employed expats like myself need to invest in a health insurance policy themselves.
About living in Nairobi
Q: Which are the best places/suburbs to live in Nairobi as an expat?
A:  There are many good parts of Nairobi to reside, especially with expat income.

Q: How do you rate the standard of housing in Nairobi?
A:  Housing in Nairobi is getting expensive with many new modern apartment buildings going up.  Houses are available in Nairobi but its pretty pricey if you want your own property.

Q: What's the cost of living in Kenya compared to home? What is cheap or expensive in particular in Kenya?
A:  The cost of living in Nairobi is not that different from home.  Imported goods are expensive, electrity and water are expensive too. There are a large variety of fresh produce from the fields, which can be bought inexpensivley at local markets (as opposed to supermarkets).  Casual labor is cheap for example hiring a maid, driver or gardener, but this keeps people poor in Kenya.
 
Q: What are the locals like in Nairobi; do you mix mainly with other expats?
A:  Although I know expats (people from everywhere actually) I wouldn't mix mainly with them.  I am here to learn about other cultures and Kenya, and know people from all walks of life.

Q: Was it easy meeting people and making friends?
A:  Yes.  Nairobi is a very social place.
About working in Kenya
Q: What's the economic climate like in Nairobi - is there plenty of work?
A:  Depends on the industry.  Like everywhere, some sectors booming, others suffering.  The global economic situation is very bad these days.

Q: How does the work culture in Kenya differ from home?
A:  The work culture is not too different from back home. Business is business.

Q: Did a relocation company help you with your move?
A:  No.
And finally…
Q: Is there any other advice you would like to offer new expat arrivals?
A: My advice to expats moving to Kenya would be really to prepare for some adjusting.  Learn about the Kenyan culture. Always be patient as Kenya is not like home.

~ Interviewed September 2013