Karen Bleakley moved to Brisbane from the UK in 2014 with her husband, four-year-old twin boys and her two-year-old daughter. She is a travel writer and helps expats navigate their new lives in Australia through her blog. She and her family love their outdoor lifestyle in Australia and can often be found at the local surf club, in the pool, or having fun at one of the many local parks. 
Follow Karen's journey on her blog, Smart Steps to Australia, or catch her on Twitter as @smartstepstoaus.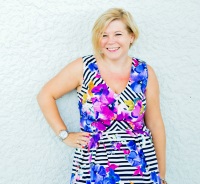 About Karen
Q: Where are you originally from? 
A: Hampshire in the UK.
Q: Where are you living now?
A: Brisbane, Australia
Q: When did you move to Brisbane?
A: September 2014
Q: Did you move to Australia alone or with a spouse/family?
A: With my husband, our twin boys (who were four at the time) and our two-year-old daughter.
Q: Why did you move; what do you do?
A: In 2008, before having kids, my husband and I went on a world trip and we fell in love with Australia. We kept discussing whether to move over permanently but when we found out we were expecting twins we put our plans on hold for a few years. Later, when my husband found out he was going to lose his job, we decided it was the right time to make the move. In the UK, he worked as an aircraft technician on military helicopters and now, here in Brisbane, he works as an aircraft maintenance engineer for an international airline. In the UK, I worked as a freelance writer. In Brisbane, I do travel writing, I've published a book and I run my migration website – Smart Steps to Australia. 
Living in Australia
Q: What do you enjoy most about Brisbane? How would you rate the quality of life compared to the UK?
A: The quality of life here is outstanding. There is so much space, the weather means we can be outdoors whenever we like, and it feels less chaotic. In the UK, our kids were scared of water but now they adore it and our boys have just completed their first season at the local surf club. Financially, things here feel easier. Although our expenditure is much higher, so is our income. We have a larger house which means we can all have our own space, and for the first time I have my own office to run my business from. There are parks and free barbeque points everywhere, and they're all so well-maintained – everything is set up for families. 
Q: Any negatives? What do you miss most about the UK?
A: We miss friends and family but that is it really. We've been lucky to have had lots of visitors already. The only food we missed was British fish and chips, but last year we moved to a suburb with a fantastic UK chippie, so we're sorted!
If I had to choose one negative, it would be the distance – if anyone in the UK fell ill it would take us time to get back there. And we know living here is going to mean we miss things like family parties and events because we don't have the time or money to go back for every occasion.  
Q: What are the biggest adjustments you had to make when settling into expat life in Australia? Did you experience any particular elements of culture shock?
A: Because we'd spent time travelling in Australia, we had an idea what to expect, but there are still words that are different here and even now, two and a half years on, we still get caught out by things we don't understand. The heat has been an adjustment, especially for my husband as he works outdoors a lot. It still feels strange celebrating Christmas in the sun, but we just embrace the differences instead of comparing it to the UK.
Q: What's the cost of living compared to the UK? What is cheap or expensive, in particular?
A: Living costs are more expensive here, without a doubt, but income is higher to compensate for this, so we're no worse off than we were. 
Our council rates are cheaper here but water bills cost more. Our electricity bill is much higher here but then we now own a five-bedroom house with pool compared with a small three-bed house in the UK. We need to run a second car as we have to drive everywhere (whereas I used to walk everywhere in the UK), and our kids go to a private school now. It is much cheaper to choose private schooling here – we definitely couldn't have afforded that in the UK. Days out are cheaper in Brisbane, and so is eating out. We also pick up good hotel deals for weekends away, so we get to enjoy our free time more. 
Q: How would you rate the public transport in Brisbane? What are the different options? Do you need to own a car?
A: We haven't really explored public transport as we own two cars. The train network isn't as extensive as it is in the UK but then distances are much greater so people tend to fly between cities. 
Q: How would you rate the healthcare in Brisbane? Have you had any particularly good/bad experiences with regards to doctors and hospitals? Are there any hospitals you would recommend?
A: I read a lot of expats talking about how they miss the NHS, but we find the healthcare system here to be fantastic. We choose to pay for private health insurance but much of our experience has been with the state system and it has been really fast and efficient. We can always get an appointment to see a GP (in the UK we could be waiting two weeks), and we can get after-hours doctors to come to our home (for a small fee, or free on your health insurance) which anyone with young kids knows is such a valuable service. Since we've been here we've had X-rays, MRI scans and optical appointments – all for free. I hear that dental can be very expensive, though, so I'm hoping none of my kids ever need braces!  
Q: How do you rate the standard of housing in Australia? What different options are available for expats?
A: Houses here are incredible. You can choose older properties that need work, run down properties on large plots that are ripe for knocking down and rebuilding, houses that are ten years or more old which are built on larger plots and are great value or you can buy a smaller plot from a development and have a builder put a house up for you. There's also the option of acreage if you're looking for space. Whatever you're looking for, you can find it here.  
Q: Any areas/suburbs you'd recommend for expats to live in?
A: With Brisbane, it all comes down to which side of the river you work on. You don't want to have to commute over the river every day, so try to plan your job first, if you can. We ended up moving to the suburb that is lovingly referred to as 'Little Britain' as so many expats live here. It wasn't a conscious decision (we actually avoided the suburb for a while because we didn't want to follow the trend) but house prices here were such good value and we found a perfect home so that was the driving factor for us. 
Meeting people and making friends
Q: How tolerant are Australians of foreigners? Is there any obvious discrimination against particular religions or women etc.?
A: Australia is really friendly and it is full of people who have moved from another part of the country or people who have moved over from the UK, New Zealand, South Africa and lots of other countries. My husband's work employs more migrants than Aussies! 
Q: Was it easy meeting people and making friends in Brisbane? How did you go about meeting new people?
A: We met other UK families through local poms meet ups - that was a great support as everyone in the group understands what you're going through. And we met lots of families through school. Aussies are so friendly so it is easy to make new friends at parks and in local suburb Facebook groups too. 
Q: Have you made friends with Australians, or do you mix mainly with other expats? What advice would you give to new expats looking to make friends? Any social/expat groups you can recommend?
A: I have a mix of friends: some are expats and others are from Australia but new to Brisbane - so we all have something in common - as well as locals who have made us feel very welcome. There is a great local meet up that happens at North Lakes every three months for expat families looking to make new friends.                             
Working in Australia
Q: Did you have a problem getting a visa or work permit for Australia? Did you tackle the visa process yourself or did you enlist the services of an immigration consultant?
A: The visa process was expensive and slow. We used a migration agent and that helped to keep it simple. We came in on permanent residency visas and will apply for citizenship when we've been here for four years. 
Q: What's the economic climate like in Brisbane? Do you have any tips for expats looking to find a job there? Which resources did you find most useful?
A: The job market in Australia is definitely different to in the UK – it is often about who you know rather than what you know, so making connections in person and online is essential. Sites such as Seek, Indeed, Gumtree and LinkedIn are great places to do initial research but it's important to try to drop CVs off in person and meet people so they remember you and think of you when a position becomes available. The economic outlook varies in different cities, and it also depends on what industry you work in. 
Q: How does the work culture differ from the UK? Do you have any tips for expats doing business in the Australia?
A: Jobs here often start much earlier – it's not unusual for people to start work before 5am so they can finish early afternoon. As it gets dark here early (you don't change the clocks in Queensland), people like to finish early to make the most of the afternoon. I know a lot of people who work shifts here – a lot more than in the UK.
Moreover, people here drive a lot further to work. It isn't unusual for people to drive from the Sunshine Coast to work in the city. Travelling an hour and a half/two hours each way would have seemed like a lot in the UK but here people accept it as it means they get the best of both worlds – a great lifestyle location and a city job. 
Family and children
Q: Did your children settle in easily? What were the biggest challenges for your children during the move to Australia?
A: Our three kids settled in instantly. By our second day here they declared that Australia was their home and they now even sound Aussie. 
Q: What are the schools like, any particular suggestions?
A: We've found a fantastic school. We hadn't intended on picking a private school, but so many people kept recommending this school so we decided to view it. We instantly knew it was the right school for us. In the UK private schools are unaffordable for most families, but in Australia private (church) schools can be really good value. 
It's important to do lots of research online before making the move, but nothing can replace the research you can do when you arrive. Meeting families in the local parks is a great way to get recommendations, and it's so important to view the school in person as it's impossible to know if you're going to like it when you look on a website. 
And finally…
Q: Is there any other advice you would like to offer new expat arrivals? 
A: Maintaining a positive mindset is so important, especially when things are challenging, or you're having a bad day, or missing family. Try to find positive people to hang around with as negative people can drain your mood and limit your beliefs. Focus on what you have achieved and think about how much you've changed and grown with the experience - this will give you a great confidence boost. 
Even though you'll be busy when you arrive, make time to enjoy your local surroundings. Take a day trip to an attraction with the kids, lay on the beach for an afternoon, cook a barbeque at the park – keep doing things that remind you of the reasons you made the move, because Australia is all about lifestyle. 
– Interviewed April 2017