Rose Moore is an Australian expat living in Poland. She is married to a Polish man, and after living in Australia for a few years, they decided to move to Poland. Rose works as an English teacher, freelance writer, editor and translator, all while adjusting to life as an expat  and mother of infant twins.
Learn more about Poland in our 
Poland expat guide
 or read more 
expat experiences in Poland
.  
About you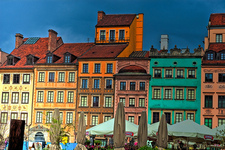 Q: Where are you originally from? 
A: I'm from Australia, originally from a small town in the country, but I moved to Sydney to study and lived there for about 10 years.
 
Q: Where are you living now?
A: I live in Dolny Mokotów in Warsaw, Poland.

Q: How long have you lived in Poland?
A: I have been in Poland for about two and a half years.

Q: Did you move with a spouse/children? 
A: I moved with my husband, and we have since produced some children.

Q: Why did you move; what do you do? 
A: My husband is Polish and we had been living in Australia for four years, and decided to spend some time in Poland to be fair to him. We left Australia in 2009 and cycled from Japan to Poland where we arrived in early 2011. I had been working as a social worker in Australia, but did my CELTA course there so I would be qualified to teach English when we came to Poland.
 
About Warsaw

Q: What do you enjoy most about Warsaw, how's the quality of life? 
A: I love the Warsaw public transport, the parks, the bike trails and the river. It's a very liveable city, although long winters can play havoc with morale.

Q: Any negatives? What do you miss most about home? 
A: Grumpy customer service and general grumpiness in public places. But what I miss about home is sunshine and access to nature, rather than any characteristics of the natives.

Q: Is Warsaw safe? Are there any areas expats should avoid?
A: My Warsaw is very safe, though I live on the 'right' side of the river. Praga has a bad reputation but is also gentrifying. 

Q: How would you rate the public transport in Warsaw? Do you need to own a car, or is the public transport sufficient for getting around? What are the different options?
A: Warsaw's public transport is great, though a lot of routes get suspended during summer holidays. We don't own a car and don't feel any need for one in the city- it would be more handy for going away. I mainly use the bus, since I generally have my kids with me in the pram and it's easy to get on and off- some trams have steps and to get into the metro you need to use a lift to get onto the platform. But trams are also a good option (though can be slow) and the metro is very fast (though limited in its reach).

Q: How would you rate the healthcare in Warsaw?
A: It depends on whether or not you're using the public system. If you are, expect surliness and a general lack of sympathy, as well as long waits for appointments. If you have private insurance, things look better. You can still expect doctors to be surprised and often defensive if you question them or want to get more information about treatments and conditions, but generally you can also expect a less abrasive bedside manner. Equipment is generally of a high quality.
 
About living in Warsaw

Q: Which are the best places/suburbs to live in Warsaw as an expat?
A: A lot of expats live in the downtown or old city areas - it really depends on what you're looking for. Powiśle and Żoliborz are nice areas, and if you have children or just want more space, expect to live a bit further out.

Q: How do you rate the standard of housing in Warsaw?
A: Flats in Poland are small, but well heated and comfortable. For Australians or Americans who might be used to living in houses on a block of land, the amount of space might be surprisingly small.

Q: What's the cost of living compared to home? What is cheap or expensive in particular?
A: At 3 zloties to the Australian dollar, the cost of living is more or less the same in zloties as in Australian dollars. Objectively cheaper, but salaries are also commensurately smaller. Two things are incredibly expensive are petrol and coffee in coffee shops.

Q: What are the locals like; do you mix mainly with other expats?
A: My friends are almost all local, and I know them through my husband or my mothers' group. Poles are often a bit suspicious of strangers and closed to making new contacts, but also often suspend this trait when confronted with a foreigner. 

Q: Was it easy meeting people and making friends in Warsaw?
A: I already had a social network through Marcin - I just had to pick and choose from amongst his friends. Having babies has also been an unexpected gift for me in this respect - after attending a mothers' group, I started to have my own circle of friends.
About working in Warsaw

Q: Did you have a problem getting a work visa/permit for Poland?
A: It took a couple of months for me to get my residency, which also allowed me to work. It involved a lot of paperwork and a bit of expense, but there was no issue with getting it granted.

Q: What's the economic climate like in Warsaw, is there plenty of work?
A: It depends on your profession - native English speakers are always in demand, and IT experts can be sure of finding something to do. 

Q: How does the work culture differ from home?
A: I teach English, so the whole system is completely different - lots of my clients want classes in their workplace, outside working hours, whereas in Australia people often study at language schools in the daytime. Preparation time is not paid here, so you are expected to prepare lessons on your own time. There is also a marked lack of contact with colleagues unless you manage to land a job teaching classes in a school itself
And finally…

Q: Is there any other advice you like to offer new expat arrivals?
A: Plan a trip for some part of the winter, if possible. It will give you something to look forward to and break up the long spell of cold and indoor life.
> Are you an expat living in Poland? We'd love to hear from you, so please 
contact us
 to share your story.