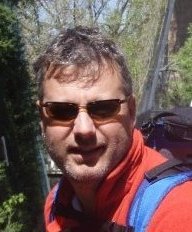 Steve, an American expat living in Argentina, finds life in pastoral Patagonia simple but rich. After eight years of extended visits, he finally bit the bullet and relocated permanently in 2011, and has since settled into a slower, more laid-back way of living.
Read more about expat life in Argentina in our Expat Arrivals country guide to Argentina or read more expat experiences in Argentina.
About Steve
Q: Where are you originally from?
A: Boise, Idaho USA
Q: Where are you living now?
A: Trevelin, Argentina (Province of Chubut). The nearest big airport is 30 minutes away in Esquel. Trevelin has about 6,000 residents while Esquel has closer to 45,000. Trevelin is about a 45-minute drive from the Chilean border.
Q: How long have you lived here?
A: Eight years on and off and 13 months full-time.
Q: Did you move with a spouse/children?
A: Yes
Q: Why did you move; what do you do?
A: To be with my son who was born here. I am a fly-fishing/hunting guide and own a relocation assistance company.
About Argentina
Q: What do you enjoy most about Trevelin; how's the quality of life?
A: The quality of life is incredible. It is a quiet valley surrounded by mountains… A dream come true. If you don't need a Wal-Mart or Home Depot you may like it here…
Q: Any negatives? What do you miss most about home?
A: I've been here a while and have become accustomed to life here… I don't allow myself to indulge in "missing" things from home… This IS my home; although, it's hard to not miss my family and friends.
Q: Is Trevelin safe?
A: The town is safe. Like anywhere one needs to use common sense… but it is safe.
About living in Argentina
Q: Which are the best places/suburbs to live in Trevelin as an expat?
A: It depends on your expectations. There is a mix of nice and not-so-nice homes throughout the town. There isn't really one place that is considered nicer than the others. I personally prefer living outside of town.
Q: How do you rate the standard of accommodation?
A: I live in a fishing lodge, so the accommodations are outstanding. However, most of the construction in this region is 'shoddy'. You will have everything you need, but it won't make you feel like you are living in luxury.
Q: What's the cost of living in Argentina compared to the US? What is cheap or expensive in particular?
A: The cost of living in Argentina is actually comparable to the US… Perhaps slightly less. However, taxes are generally less.
Q: What are the locals like; do you mix mainly with other expats?
A: I try to mix with everyone including expats and locals. The locals are friendly and accepting.
Q: Was it easy meeting people and making friends?
A: It wasn't easy nor is it easy in most other places I've lived. Networking is the key. Don't expect the neighbours to beat your door down asking you to stop by for coffee. Get out there!
About working in Argentina
Q: Did you have a problem getting a work visa/permit?
A: It's a pain in the butt… It's best to get assistance or at least guidance.
Q: What's the economic climate like in Trevelin, is there plenty of work?
A: It's a farming community. There aren't many opportunities for gringos. It's best if you can bring your own work/business with you.
Q: How does the work culture differ from home?
A: The work culture is much different. Argentines, in general, aren't too worried if something doesn't get done 'today'. Work and expectations are more relaxed. My particular area consists of over 70 percent government workers who are NEVER in a hurry to get anything done.
Q: Did a relocation company help you with your move?
A: No… I struggled through it for a long time by myself… I wish I had hired someone to help.
And finally…
Q: Is there any other advice you would like to offer new expat arrivals?
A: While the Argentines are kind and accepting people, don't expect them to roll out the red carpet for you in regards to getting work. It's difficult… so be prepared for it.
~ Interviewed January 2012