Steven Hermans is a Belgian expat living in Almaty, Kazakhstan. He moved to Almaty in July 2011 with his wife and is enjoying the good weather and outdoor lifestyle that Kazakhstan offers. You can read more about Kazakhstan on Steven's website, Caravanistan.

For more detailed information on Kazakhstan, see the Expat Arrivals Kazakhstan Country Guide or read more expat experiences in Kazakhstan.

About Steven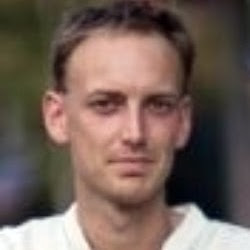 Q: Where are you originally from?
A: Belgium.
Q: Where are you living now?
A: Almaty.
Q: When did you move to Almaty?
A: I moved to Kazakhstan in July 2011.

Q: Did you move with a spouse/children?
A: I moved with my wife. 

Q: Why did you move; what do you do?
A: I married a woman from Kazakhstan, and we felt Kazakhstan offered more opportunities than Belgium for us to live the way we want to.

About Almaty

Q: What do you enjoy most about Almaty, how's the quality of life?
A: Lots of sunshine and the ability to get out into nature quickly are the highlights of living in Almaty. It's a cosmopolitan city with a European feel at half the price.
Q: Any negatives? What do you miss most about Belgium?
A: Air pollution is a problem in Almaty if you live in the centre of town. Traffic can be dense at times. In terms of cultural events, it's not up to par with European or Western cities of its size.
Q: Is Almaty safe? Are there any areas expats should avoid?
A: In general, it's very safe. There is a big divide between the rich and poor, which leads to burglaries, but there are few robberies or violent crime.
Q: How would you rate the public transport in Almaty? What are the different options? Do you need to own a car?
A: You can get around with the bus and metro. Although at night, you will need to rely on taxis. Cars are good to get out of the city to remote places, but not necessary in the city for those willing to sit on the bus or tram for a while.
Q: How would you rate the healthcare in Almaty?
A: Doctors are very qualified and hospitals have high standards, especially private ones. You pay for the service, though.

About living in Almaty

Q: Which are the best places/suburbs to live in Almaty as an expat?
A: Almaty lies on a slope. The higher you go, the more exclusive the living gets, as the air gets fresher. The centre of the city also has expat housing for those people who like to have all amenities and nightlife close.
Q: How do you rate the standard of housing in Almaty?
A: Expat housing is of a high standard. For those less fortunate, houses are sometimes in a state of disrepair.
Q: What's the cost of living compared to home? What is cheap or expensive in particular?
A: Restaurants, fuel, electricity and food are not expensive in Kazakhstan, perhaps half of Western prices. Luxury things like coffee bars and going out are pricey.
Q: What are the locals like; do you mix mainly with other expats?
A: Those who want to mix with expats can do so easily, there are many foreigners here in Almaty. If you want to get to know the locals, that is easy too, the Kazakh people, especially women, are happy to get to know foreigners.
Q: Was it easy meeting people and making friends?
A: Yes, everyone is friendly to Westerners and happy to make friends with foreigners.

About working in Almaty

Q: Did you have a problem getting a work visa/permit?
A: Yes, getting a work permit can definitely be a problem if you are not working for a big company in Almaty. If you are in the oil and gas sector, it shouldn't be a problem.
Q: What's the economic climate like in the city, is there plenty of work?
A: There is definitely a lot of work for qualified people. English speakers are in high demand.

Q: How does the work culture differ from home?
A: It's a lot more about personal relations in Kazakh companies than it is about competence. In multinational companies, you will find an atmosphere similar to that in Western companies.

Final thoughts on Almaty

Q: Is there any other advice you would like to offer new expat arrivals?
A: Come and see for yourself. Many have come and found themselves unwittingly falling in love with Almaty, a city that defies all the clichés about Kazakhstan.

– Interviewed in December 2012