Velvet is an Australian expat living in Qatar with her husband. They moved to Doha when she pursued a job opportunity as a Managing Editor of a publication. Despite the dust and the unpredictable drivers, Velvet enjoys life in Qatar; with the best part of living in Qatar being her job. Velvet shares her experiences and advice for 'newbies' in Qatar in her blog, Must Love Dust. 
Read more expat experiences of Qatar, and see the full Qatar expat guide.
About Velvet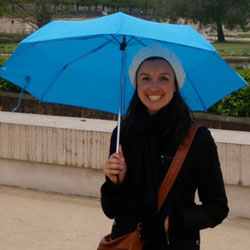 Q: Where are you originally from?
A: Sydney, Australia
Q: Where are you living now? 
A:  Doha, Qatar
Q: How long have you lived in Doha? 
A:  15 months
Q: Did you move with a spouse/children? 
A:  Yes, my husband moved with me.
Q: Why did you move; what do you do? 
A:  I moved for a job opportunity. I am the Managing Editor of a publication. 
About Doha
Q: What do you enjoy most about Doha, how's the quality of life? 
A:  Believe it or not, I love the weather!  Summers are hot but for me, the pool or air-con is never far away! The best part of Doha is my job – I have a great job in a great organisation.
Q: Any negatives? What do you miss most about home? 
A:  The negatives vary on any given day, but the two consistent things I dislike about Qatar are the terrible driving (and lack of footpaths, bicycle paths etc.) and the fact that people can smoke anywhere they like.
I miss my family and friends the most. Having family in Australia is particularly difficult because we are so far away so a trip home is always a big deal, as opposed to people whose families are in Europe who can fly home for a long weekend if they want. Also the time difference makes it difficult to talk over Skype etc.
Q: Is Doha safe? Are there any areas expats should avoid?
A: Yes, it is safe in the sense that there is very little crime that you hear of. I have never felt unsafe (except on the roads!). People leave the doors to their homes and cars unlocked, move freely at night and are very trustworthy.
Q: How would you rate the public transport in Doha? What are the different options? Do you need to own a car? 
A:  Public transport is non-existent so it's car or nothing. Many people use a driver as opposed to driving themselves but I really think you can't beat the independence of having your own car.
Q: How would you rate the healthcare in Qatar?
A:  So far so good! I hear varying reports. If I needed any kind of major treatment I would probably seek it in another country.
About living in Doha
Q: Which are the best places/suburbs to live in Doha as an expat?
A:  That really depends on where you work and where your children go to school. Traffic is terrible here so the closer you are to your daily destinations, the better. 
Q: How do you rate the standard of housing in Doha?
A:  It varies. There are some very old compounds which can cause problems for residents as they require nearly constant maintenance. There are some very new, modern apartments in areas like The Pearl or West Bay which seem to really suit people without young families. In my experience, people with kids tend to prefer compounds or areas with at least a small garden.
Q: What's the cost of living in Qatar compared to home? What is cheap or expensive in particular?
A:  Accommodation is expensive but everything else is relatively cheap. There are plenty of expensive restaurants etc. but I find that my day to day living is cheaper than back home.
Q: What are the locals like; do you mix mainly with other expats?
A:  I work with a few Qatari nationals who are all kind, friendly people who are genuinely excited about sharing their culture.  Socially I mix mainly with expats.
Q: Was it easy meeting people and making friends in Doha?
A:  Yes, it's quite easy. I found that, because there are so many expats, everyone can relate to what you're going through as a new arrival and they are eager to help you settle in. Doha is small so there is quite a community feel. I often see a familiar face when I go to the shops or out to dinner.  Although, I should say that we arrived at the beginning of summer when many people were out of the country so it did take a few months before we met friends outside of work.
Q: Did your spouse or partner have problems adjusting to their new home?
A:  No, he settled in well. The simplicity of life here suits him. Although he really misses surfing and the bush.
About working in Doha
Q: Did you have a problem getting a work visa/permit for Qatar?
A:  No but it is a very lengthy process (about six months).
Q: What's the economic climate like in Doha, is there plenty of work?
A: There is plenty of work (Qatar is booming) but from what I can see it is quite difficult to find a job if you have not been specifically recruited for it.
Q: How does the work culture in Qatar differ from home?
A:  In my company there are people from 56 different countries so that's quite different to my last job! Things tend to be slightly less structured here and processes take a long time. 
And finally…
Q: Is there any other advice you would like to offer new expat arrivals?
A:  Don't let someone else's opinion of Qatar cloud your own impressions. Try to focus on the positive things. Don't be in too much of a rush to make friends – it will come. And make sure you have a valid driving license because if not you'll have to take lessons which is a complete pain!
~ Interviewed November 2012
Are you an expat living in Qatar? We'd love to hear your story, so please contact us.