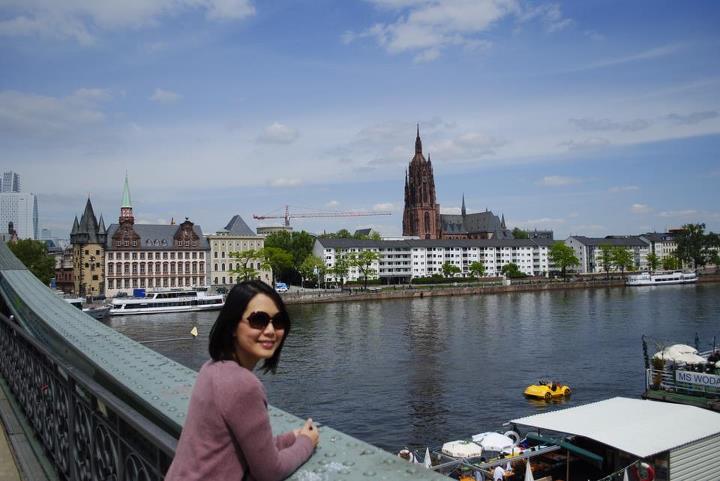 Yolande Campbell, is originally from Singapore but spent two years in Oxford before relocating to Frankfurt with her husband. She loves the simplicity of getting around Frankfurt on public transport and the fact that the city is so cosmopolitan. Yolande has found mixing with other expats an important factor in allowing her to settle down quickly into her new life in Frankfurt.
Learn about living in Frankfurt in the Expat Arrival's Frankfurt City Guide or expat experiences in Germany.
About Yolande
Q: Where are you originally from? 
A: I'm originally from Singapore. I lived in Oxford, UK, for two years before relocating.
Q: Where are you living now? 
A:  Sachsenhausen in Frankfurt
Q: How long have you lived Frankfurt? 
A:  We've been in Frankfurt for almost four months now.
Q: Did you move with spouse/children? 
A:  I moved with my husband.
Q: Why did you move to Frankfurt; what do you do? 
A:  My husband was offered a job here. I do freelance assignments (such as market research).
About Frankfurt
Q: What do you enjoy most about your Frankfurt? How's the quality of life? 
A:  Compared to Oxford, we get more for our money in Frankfurt. Being an international city, we get to meet people from all over the world. It is definitely not difficult to meet people in similar shoes. I love the fact that it's just so easy to travel around Frankfurt. Having a good public transport network is very important to me.
Q: Any negatives? What do you miss most about home? 
A: Not really as it's still early days and we haven't fully settled in. But I might have a few after a year or so. However, I really do miss chilli crab (Singaporean food) and British supermarkets (especially Waitrose!)
Q: Is the Frankfurt safe? Are there any areas expats should avoid?
A: Generally, Frankfurt is safe. Although I  haveheard from others that it would be best to avoid the main train station and Gallus at night.
Q: How would you rate the public transport in Frankfurt? What are the different options? Do you need to own a car? 
A: I am very impressed with public transport in Frankfurt. A monthly ticket gives you unlimited rides on buses, trains and trams. Services are very punctual and reliable. There are also many train connections to other cities and nearby countries. My husband's work is only a 10 minutes bus ride away and I'm really fortunate to be able to work from home on most occasions so we don't own a car.  And here's a great tip for new expats - with a monthly ticket, you can bring along an adult traveller after 7pm on weekdays and all day on weekends!.
Q: How would you rate the healthcare in Frankfurt?
A:  I haven't had to experience the healthcare system in Frankfurt yet but I've heard from a few fellow expats (who are using public insurance) that the medical facilities are pretty good. 
About living in Frankfurt
Q: Which are the best places/suburbs to live in Frankfurt as an expat?
A:  If you want to live in the city and be surrounded by restaurants and pubs, live in Bornheim. Westend and Nordend are nice places too but can get pricey. Sachsenhausen is a lovely place to live in too and there is always Schweizer Platz to hang out in.
Q: How do you rate the standard of housing in Frankfurt?
A:  It depends on how much you're willing to spend. We've seen a good deal of nice and not so nice housing when apartment hunting. 
Q: What's the cost of living compared to home? What is cheap or expensive in particular?
A:  Compared to Singapore, Frankfurt is definitely expensive in almost every single aspect you can think of. Compared to Oxford, the cost of living in Frankfurt is slightly cheaper. Rent is definitely a lot cheaper in Frankfurt. Grocery shopping can be cheaper in Frankfurt too since there are plenty of budget supermarkets around. Although, my husband complains that PG Tips are more expensive in Frankfurt 
Q: What are the locals like in Frankfurt ? Do you mix mainly with other expats?
A:  Majority of our friends are fellow British expats. Based on my experience with the locals, I reckon they aren't as cold as people make them out to be. The Germans actually do have a great sense of humour and are very friendly people when you get to know them. A lot of my friends say that the Germans are very blunt. I kind of appreciate that because it means they don't pretend to be nice and are generally honest.
Q: Was it easy meeting people and making friends?
A:  I've made quite a few friends here in Frankfurt.
About working in Frankfurt
Q: Did you have a problem getting a work visa/permit for Germany?
A:  Thanks to EU law I don't need one. Always check with the relevant embassies if you have any working restrictions!
Q: What's the economic climate like in Frankfurt? Is there plenty of work?
A: There are plenty of jobs listed in the classified ads. But I think it helps if you speak fluent German
Q: How does the work culture differ from home?
A: I am not best placed to answer this question as I do freelance work from home.  
Q: Did a relocation company help you with your move? 
A:  Yes, we used Europe Remove to help with the relocation from the UK to Frankfurt.
And finally…
Q: Is there any other advice you'd like to offer new expat arrivals?
A: Get out there and meet fellow expats. They are the people best placed to help you adjust to life in a new city. They always have really useful tips to share. Sometimes we can't help but make comparisons of Frankfurt to other places we have lived in too. However, I've learnt that no one city is perfect and there is probably no place like home. Living life out of your comfort zone may be a challenge but if you try to embrace the differences, you might actually appreciate Frankfurt more.
~ interviewed August 2012
Are you an expat living in Germany? We'd love to hear your story. Open the questionnaire here, copy into an email and send it back to info@expatarrivals.com