Susan Adkins speaks with author and International Life Coach Simone T. Costa Eriksson about how to help children transition during a move abroad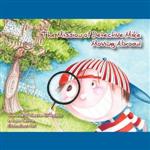 Brazilian born businesswoman Simone T. Costa Eriksson was a successful mother of two. She thoroughly enjoyed her work and family, but her life was in perpetual upheaval. Over a span of 13 years, she and her Swedish husband had relocated to five countries on three different continents.
'I remember often being so frustrated with expatriate life that I could not even plan our future as a family,' says Simone. Repeatedly uprooting her children and trying to find work in this cultural and linguistic whirlwind was exhausting. She felt particularly discouraged when her older son voiced unhappiness about the frequent moves.
Simone's quest to overcome these problems led to a portable career as a psychologist and international life coach. Her business in Brazil thrived, but she realized that there were families all over the world in need of guidance with transition issues.
Inspired by her own situation, she found the perfect solution in the form of a children's book, "The Mission of Detective Mike: Moving Abroad", co-written with award-winning author Ana Serra. It tells of eight-year-old Mike's determined search for information about his upcoming departure to an unfamiliar land. Mike and his best friend Ikem explore move-related questions such as 'What About My Things?' and 'Who Will Disappear?'
Children of expats can identify with Mike and his struggles to understand what is happening to him. The answers Mike finds are illuminating, comforting and empowering. His journey of discovery is meant to inspire kids to ask questions, seek support from adults and to give them a sense of influence on their own experiences.
The loss of familiar faces and surroundings can be frightening for children. By reading Detective Mike, Simone hopes that kids realize that they are never alone in their moves abroad, or in their lives in general. '. . .your old friends. . . will not disappear. They are just invisible to our eyes, not our hearts.' (p.52)
The book is equally instructive for adults, who often struggle to identify with the issues children are having coping with a move abroad. Simone believes that reading about Detective Mike's questions and concerns will help illuminate for adults how a child views such a transition.
'By better understanding their perceptions, we, adults, can fill in the gaps with the information children need but seldom ask for,' says Simone.
Simone continues to expand her understanding of the transitional processes expatriate children experience. She and Ana invite their young readers to e-mail them with ideas and input. Simone anticipates that Mike's adventures will continue as he grows up and faces different challenges in his life abroad.
Simone's book, workshops and her enterprise as an International Life Coach have helped many families adjust to life abroad. When asked what one thing parents can do to help their children with an expatriate move, Simone was clear. 'Respect and validate your children's unique perception and take the time to explore it with each child separately. Take the time to listen to children's concerns without making them feel awkward.'
Travel and the inner journey of self-discovery is a familiar metaphor, but in Simone T. Costa Eriksson's case it is no cliché. She used the challenges of living abroad to transform her career and her life and in doing so found a way.