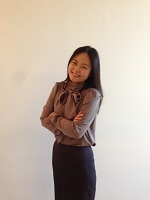 Alice Kim moved to Milan three years ago, starting out as a student of fashion and design and now running her own company helping other expats settle into their new Italian life.
Having been through the culture shock of moving to a new country, she is in a good position to give others advice to make settling in that much easier.
For more insights into what expat life in Italy is like, read about other expat experiences.
About Alice
Q: Where are you originally from? 
A: South Korea, Seoul
Q: Where are you living now? 
A: Milan, Italy
Q: When did you move here? 
A: January 2012
Q: Did you move here with a family? 
A: I moved alone.
Q: What do you do? 
A: I'm a luxury and fashion brand management master at Istituto Marangoni, a school of fashion and design.
Living abroad
Q: What do you enjoy most about Milan? 
A: The food, fashion and design (my main interests) are just amazing. Italy has a strong culture and the people are very passionate and creative. The quality of life is very different to what I'm used to – there are many upsides and some downsides, but overall, I'm very satisfied with my choice to live here.
Q: What do you miss most about home? 
A: Italy is a hard country, especially for expats. The bureaucracy is crazy and transport and general organisation are very chaotic compared to Asia. You can't always trust Italians – which is why I assist my customers deal with locals. And I miss Korean food!
Q: What are the biggest adjustments you had to make when settling into expat life in Milan? 
A: The bureaucracy and accommodation are the main issues. It took a long time to obtain my permit of stay, to open a bank account and to fulfil all the legal obligations for a foreign citizen moving to Italy.
Q: What's the cost of living compared to home? 
A: I would say the cost of living in Milan is similar to Seoul. Restaurants, taxis and taxation are more convenient in Korea, but fashion, design, cars and real estate are the same or cheaper. Pizza is cheap and delicious!
Q: How would you rate the public transport in Milan? 
A: The public transport is not very efficient. At night, there are only a few bus lines, but they're not very reliable and safe. Plus there are frequent strikes. Taxis are super expensive compared to the cost of life. The metro is definitely the best way to get around. Milan recently launched a car-sharing service that is very efficient. Also getting around by bike is a good option in warmer months, even if there aren't many bike lanes. Owning a car is unnecessary unless living outside the city (parking, traffic and restricted areas are big issues). Milan is quite small, especially the city centre.
Q: How would you rate the healthcare in Milan?
A: My personal experience is that hospitals have insane waiting times and often doctors don't speak English. When I or my clients have healthcare issues, I always rely on a private clinic (great service, affordable and all staff speak English).
Q: What are the biggest safety issues facing expats living in Milan?
A: There are some suburbs you don't want to step into, especially at night. Pickpockets and drunk people are quite common, especially near the central station and in the big tourist areas. You should always keep your eyes open.
Q: How do you rate the standard of housing in Milan?
A: The accommodation situation in Milan was a big shock for me – it's very expensive and Italian contracts have strict regulations. It took me a long time to find decent accommodation. Short- and medium-term accommodation (for businesspeople or students) is particularly hard to find – and it will be even more diffficult to come by in 2015 of the international Expo event.
After going through all the processes myself, I have become an expert in accommodation and I now have a big network of apartments for both short- and medium-term stays, plus I offer an assistance programme that is very useful for longer stays.
Q: Any areas or suburbs you'd recommend to expats?
A: The city centre is safe and nice, but also very expensive. There are some areas just outside the city centre that are more affordable and really lovely. I'd recommend Romolo, De Angeli, Primaticcio, Isola, Città Studi. Also, there are some cities well-connected to Milan that can be a cost-effective solution and a great alternative for families (Monza or Trezzano sul Naviglio are both good options).
Meeting people and making friends
Q: How tolerant are the locals of foreigners? 
A: Italy had a massive immigration over the past few years. Milan is the most international city and is very open-minded. I'd describe Milan as tolerant, but there might be a bit of indifference towards Arabs and Easter Europeans because of the high number of immigrants from those areas.
Q: Was it easy meeting people and making friends? 
A: Italians are very outgoing, and it's quite easy to make contacts (especially for female expats). Often the relations are superficial, and it takes a while to make real friends that you can trust. Language can sometimes be a barrier. I have both local and expat friends. I'd recommend going to social events, sport (soccer is very popular in Italy) or language classes. The nightlife in Milan is very entertaining, and it's a good way of meeting new people. I'd also recommend going to happy hours, which is where people meet after work.
About working here
Q: Did you have a problem getting a visa or work permit? 
A: Getting a working visa is very hard. As I said previously, bureaucracy makes the process very complicated and if you don't speak Italian it's almost impossible. At first I got a student visa, which I had to convert it to a working visa. I got help from a local relocation company (www.y-nos.com) – I've been very satisfied with their service.
Q: What's the economic climate like in Milan?
A: Italy has been strongly affected by the economic crisis, and finding a job isn't easy, especially for less skilled workers. Milan is Italy's financial and economic capital and there are good opportunities in the design and fashion industries. Also, expats coming from emerging markets like China, Russia, Korea and Arabian countries can have good working opportunities.
Definitely having a lot of experience, language skills (Italian is not mandatory, but helps a lot) and being open-minded (big companies can require formal manners at work) are valuable assets to find a job in Italy.
Q: How does the work culture differ from home? 
A: The Milanese are in general hard-working and professional. Unfortunately you do find exceptions, and you can have trouble with service providers, government institutions and bad clients. I have many tips for expats that want to do business in Italy (helping companies doing business in Italy is my job), but there's one piece of advice I think is most important: find a good local partner! Italy can be very hard to understand, and dealing with Italians and Italian institutions can be challenging for an outsider. Finding a reliable local partner can make your life much easier.
Family and children
Q: Did your spouse have problems adjusting to their new home? 
A: I don't have a partner/spouse (my fiancé is Italian). I know many families find moving to Milan tough. The main challenge for a trailing spouse is building a network of contacts; learning the language is very important to do this.
Q: What are the schools like? 
A: In Milan there are plenty of international schools. Many expat children go to the American School or a private institute that offers courses in English (Leone XIII is the most prestigious).
Talking about universities and masters, Milan is a very popular destination for education; I went to Marangoni, which is the most popular fashion and luxury institute, and I have assisted many students before, during and after their stay in Milan.
And finally…
Q: Is there any other advice you would like to offer new expat arrivals?
A: Italy is a great choice. It can be hard and difficult to understand sometimes, but if you have an open mind and are adaptable to new cultures, it offers great opportunities. Milan is a very charming, medium-sized city; it's international but still keeps its Italian identity, and it's a good place for working, living and doing business – and also having good times!
~ Interviewed in January 2015