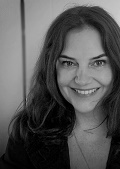 Diana Skok Corridori is an American expat who has been living in Milan, in Italy's northern Lombardy region, for almost a decade. She says she loves the international character of the city and reckons the quality of life it offers is fantastic. You can read her blog at vinovitaviaggi.com.
About you
Q: Where are you originally from? 
A: Texas, USA
Q: Where are you living now? 
A: Milan, Italy
Q: When did you move here? 
A: 2006
Q: Did you move here alone or with a spouse/family? 
A: I came with my husband, three-year old and three-month old, who are 12 and nine now.  
Q: What do you do? 
A: I am a freelance writer, blogger and English teacher.
Living abroad
Q: What do you enjoy most about Milan? How would you rate the quality of life compared to your home country? 
A: I enjoy the diversity of the people in Milan. It is a very international and open city. The quality of life is good, as I think Milan is the Italian city most aligned with the American way of life. Things are relatively well-organised and efficient. It's also very strategically located. Places like Florence, Lugano, Nice, Como, Cinque Terre are only one to three hours away.  
Q: Any negatives? What do you miss most about home? 
A: Milan is a big city, it can be a little chaotic at times.  Parking can be a challenge.  Which brings me to one of the things I miss about home – space!  The wide open spaces we have in Texas – I miss that feeling of freedom.
Q: What are the biggest adjustments you had to make when settling into expat life in Italy? 
A: Opening hours of business and shops. In the United States, opening hours are pretty standard, and there is always someone there to help you or take your call. In Italy, you must be very patient for these things. Hours vary from shop to shop – but also for places like doctors' offices. You cannot get as many things done in a day as you can in the United States.  
Q: What's the cost of living compared to home? 
A: The cost of living is about the same overall. However, housing per square foot is a lot more in Italy relative to a place like Texas. Groceries cost less in Italy, and small pleasures like a glass of wine at a café will cost only 2 to 4 USD. Breakfast at a café (a cappuccino and a croissant) will cost about 2.50 USD. Gasoline will set you back 6.40 USD a gallon. 
Q: How would you rate the public transport? 
A: We lived the first year in Milan without a car. Public transportation citywide, but also travelling around the country, is efficient and reliable (unless there is a strike). There are many options to travel. Obviously, trains are the way to get from city to city, although at times, you can also use bus services. City transport includes trams, buses, metros and even bike and car shares.   
Q: How would you rate the healthcare in Milan?
A: We have had mostly positive experiences with healthcare. Facilities are good, but the hospitals will not look like what an American is used to. They are older and space is limited. It is normal to have to share your room with 6 other people. Privacy is limited. But the level of care is good. Children are always given precedence in any circumstance (apart from a critical situation). This includes any clinic or emergency room. 
Q: What are the biggest safety issues facing expats living in Milan?
A: Safety issues relate mostly to being robbed – either on the street or having your home broken into. Just be aware of those around you. As far as physical safety, I always feel secure.  
Q: How do you rate the standard of housing in Milan?
A: Milan is apartment living. The standard apartment for an Italian family of four is two bedrooms and one bathroom and about 900 square feet. Many buildings do not have elevators either. This is just a generalisation, though, and Milan is a big city with lots of options depending on budget.  
Q: Any areas you'd recommend for expats to live in?
A: Brera is a beautiful area to live in. Very central and quaint. Porta Venezia is nice for families because there is a big park there and easy access to a main shopping street. For young people, Navigli is great as there are lots of bars and nightlife. Again, coming from Texas where life is very spread out, I consider the suburbs a 45 to 60-minute drive away. If you apply this mindset to Milan, the suburbs are actually other towns with train service to Milan. Those would include Lecco, Como, Bergamo, Pavia and Varese. All of these are beautiful.
Meeting people and making friends
Q: How tolerant are the locals of foreigners? 
A: Locals are very open to foreigners in Milan, as it is an international city.  My children go to school with kids from Australia, Albania, China, South America and Africa.    
Q: Was it easy making friends? How did you go about meeting new people? 
A: I met mostly mothers from my kids' schools and colleagues of my husband's. All of these people have been so supportive and kind. Always trying to show me around and make me feel comfortable. People are very easy to meet in Italy because they are curious about other cultures and like to try to speak English.  
Q: Have you made friends with locals or do you mix mainly with other expats? 
A: Most of my friends are Italian, although I do have some expat friends too. I never joined any expat groups. I just made friends through my daily life. But again, in Italy this is a relatively easy thing to do. Italians are very open.  
About working in Italy
Q: Did you have a problem getting a visa or work permit?  
A: Luckily, I am of Italian descent and was able to get Italian citizenship before I ever even made my first trip to Italy.
Q: What's the economic climate like in the city? 
A: The job scene is tough in Italy. Lots of competition. However, with determination, you can find the job you are looking for. LinkedIn is a great resource.
Q: How does the work culture differ from home?  
A: Socializing is big in Italy – even at work. Expect to go to take a coffee break at the local café with your colleagues every day at 10am. And expect to eat lunch with them as well. And not a sandwich – but a real meal. Italians are hard workers and put in long hours, contrary to the dolce vita stereotype. They do take long vacations. So expect an entire company to close down for most of the month of August.  
Family and children
Q: Did your spouse or partner have problems adjusting to their new home? 
A: Well, my husband is Italian, but he lived in the US for nine years, so I guess he experienced some repatriation issues. It was difficult for him to get used to the inefficiencies in his country after living in America for so long.   
Q: Did your children settle in easily? 
A: My children were very little when we moved here and have basically grown up Italian.  
Q: What are the schools like? 
A: The Italian schools are excellent. They do not have extracurricular activities though. It is all about the books. The teachers are very vested in their students and keep open communication with families.  
And finally…
Q: Is there any other advice you would like to offer new expat arrivals?
A: The best advice I have is to be open-minded and patient. Yes, just be patient because things move much slower in Italy. But also enjoy this slower pace of life and get out and explore. Italy is a beautiful country.
~ Interviewed in May 2015