Jessica is an American expat living in Italy. She moved to Casarano in the southeastern province of Lecce in 2012 to be with her Italian fiancé, who is now her husband. Although Jessica finds Casarano a bit small at times, she enjoys the fact that she gets to experience the real Italian life, as opposed to just life in another big city like Rome.
Read more about Italy in the Expat Arrivals Italy country guide, or read more expat experiences in Italy.
About Jessica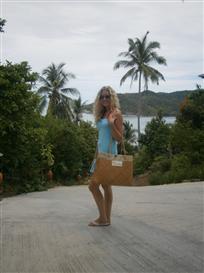 Q: Where are you originally from?  
A: Pensacola, Florida, USA
Q: Where are you living now?  
A: Casarano (Lecce), Italy
Q: When did you move to Italy?  
A: In January 2012
Q: Did you move with a spouse/children?  
A: No
Q: Why did you move to Italy; what do you do?  
A: I moved because my fiancé is from Italy, and he came to pick me up basically. We flew into Italy together, brought all my stuff and got married a year later. I now teach English at a private English school.
About Casarano
Q: What do you enjoy most about Casarano, how's the quality of life?  
A: I like the way that Casarano is the biggest of the small cities in my area. It's not even a city in my eyes, but more like a town. Everyone knows everyone. Everything is close by. I enjoy that I get to experience the real Italian life, unlike if I were living in Rome or some other major city.
Q: Any negatives? What do you miss most about home?  
A: The negative about Casarano is that it is so small. There are no international restaurants, the beach is a 30-minute drive, and people from this city are very culturally uneducated. Many people from this area have never been outside of their region.
Q: Is Casarano safe? Are there any areas expats should avoid? 
A: Yes, Casarano is safe. No bad areas.
Q: How would you rate the public transport in Casarano? What are the different options? Do you need to own a car? 
There is no bus or taxi system. You do need a car. You can walk around the city like in all places in Italy, but if you want to go to the beach you must take a car.
Q: How would you rate the healthcare? 
A: The healthcare on a scale of 1-10 is probably a 5. I say that just because most people I know go to the hospital in another city close by for all the serious stuff. I have been to the hospital in Casarano once, and it was fine, but it is not funded like other bigger hospitals.
About living in Casarano
Q: Which are the best places/suburbs to live in Casarano as an expat? 
A: I couldn't really say, I don't know real estate all that well.
Q: How do you rate the standard of housing in the city?
A: I'd say that people can afford more spacious houses, be it that we are in the South. The housing looks the same here as it does in other parts of Italy.
Q: What's the cost of living compared to home? What is cheap or expensive in particular? 
A: The rent is about 300-400 euro a month; however, the electric expenses are very costly. To buy an average house in Italy is around 250,000 euro. Gas is more expensive, but you don't have health bills or education bills. Honestly, I think it really depends on how you live and where you're coming from! In America, we could afford a very nice house, in Italy it's almost impossible to have the same thing. We save a lot of money here because we don't have health insurance and edu bills. In America, we would save on gas and electricity.
Q: What are the locals like; do you mix mainly with other expats?
A: The locals are friendly people who normally have never interacted with foreigners. It's a big deal if they meet me because many people have never met an American, so it's funny. The only expats I mix with are from work – there are no others!
Q: Was it easy meeting people and making friends?
A: Yes.
About working in Casarano
Q: Did you have a problem getting a work visa/permit for Italy? 
A: No. I'm married to an Italian, so I never needed one.
Q: What's the economic climate like in Casarano, is there plenty of work? 
A: The economics of Casarano have been diminished and is very slowly climbing back up. There is not a lot of work; many people have to work full-time for part-time pay, don't get benefits, or are laid off entirely.
Q: How does the work culture differ from home? 
A: Everything is different about the work culture, all negative aspects unfortunately. Basically, they are always late in everything, it's never done to American standards, usually sloppy, not as professional…the list goes on. If you move here, just expect to be the leader.
Q: Did a relocation company help you with your move?  
A: No.
Family and children
Q: Did your spouse or partner have problems adjusting to their new home? 
A: I'm the one who adjusted. Yes, I did have problems and still struggle. The language is the number one difficult thing to conquer. The Italian culture overall is very difficult for any American to adjust to – it's almost like going back in time 50 years. It's frustrating, you're limited, the economy is worse, nothing is the same here, so it takes a lot of patience and passion.
And finally…
Q: Is there any other advice you would like to offer new expat arrivals? 
A: If you decide to move to Casarano or any small city in Italy, then just remember the reason you came here. Try to enjoy the differences, learn every moment you can, and take the positive outlook on every situation. Without this attitude, you will simply not make it. Don't be a bitter immigrant who doesn't know anything about where you're living. Be the immigrant you would want to be friends with in your own country.
~Interviewed June 2013