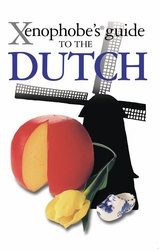 How would you sum up the Dutch race to an alien being? Where would you start, and what on earth would you say?

If you're an expat new to these shores you might start by describing their quaint penchant for tulips, windmills and uncomfortable wooden shoes, or maybe you'd begin with their obsession for bicycles?

Rodney Bolt, author of a "Xenophobe's Guide to the Dutch", saves you the trouble in deciding just what's worth mentioning and what's not in his fun-loving account of local culture. He somehow captures the essence of the Dutch in less than 90 pages of humorous, but ruthlessly accurate observations, and supplements these tidbits with factual information on just about everything that makes the people tick.

Bolt is more than qualified to cast his beady journalistic eye over the Dutch having lived and worked all over Europe before finally coming to roost in Amsterdam where, in his own words, "such hybrid creatures still pass unnoticed, and even feel themselves at home."

It's a playful perspective for the uninitiated expat that provides an amusing analysis of how deeply entrenched Calvinistic values are in nearly every inglenook of Dutch culture. The result, as Bolt describes, is the creation of a teutonically efficient and abrasively blunt, but endearingly tolerant people that many will be unfamiliar with.

He even manages to unravel some of the myriad of contradictions that make up the Dutch, such as their unstoppable drive for wealth, power and success, but their equal passionate distaste for formal hierarchy, showy decadence… and Germans.

Without some kind of instruction manual for life in the Netherlands expats may be baffled by the 'gezellig' birthday customs and coffee rituals, never mind the Dutch propensity for Benny Hill style comedy. And then there's the difficulties in pronouncing the lingo - which inexplicably sounds completely different at either ends of this tiny country.

So if you're about to be posted to the Netherlands and you don't want to come a cropper "in de Buurt", buy yourself a copy of the "Xenophobe's Guide" before you arrive and study it carefully. And when the neighbour invites you round for a coffee, just don't forget to leave your bling at home, and whatever else you may do, never ever mention the war.