Originally from Lithuania, Rasa is a journalist, freelance blogger, cinema zealot, communication manager, ideas generator and slow traveller.
Rasa had visited Morocco many times before deciding to call the country her home. An expert on Morrocan travel, she currently lives in Marrakesh, a city that somehow maintains her love for it even when the temperature hits 112°F (50°C).
Rasa's blog, Blondie in Morocco, is a meticulously detailed guide for those seeking to visit or live in Morocco. For the more visually minded, Rasa also runs an Instagram account.
Read more about Morocco in the Expat Arrivals Morocco country guide or read more expat experiences in Morocco.
About Rasa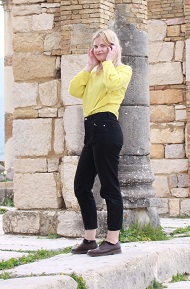 Q: Where are you originally from?
A: I am originally from Lithuania. But before moving to Morocco, I lived in the Netherlands for a couple of years. 
Q: Where are you living now?
A:  I live in Marrakesh, Morocco.
Q: When did you move to Morocco?
A: Although I finally settled in Morocco a year ago, I had been living between Morocco and the Netherlands for the past five years. 
Q: Did you move to Morocco alone or with a spouse/family?
A: I moved to Marrakesh alone. 
Q: Why did you move to Morocco and what do you do?
A: The first time that I came to Morocco was as a visitor 10 years ago. After the trip, I fell in love with the place and became fond of everything related to the country, including its culture, food and, of course, its people. I eventually discovered so many places in Morocco that soon, even my Moroccan friends started asking me for travel advice. For example, can you imagine that so many Moroccans have never been to the Sahara desert? 
For a while, I was struggling with my affection for Morocco, trying to figure out how I could settle here. Finally, after another long stay in Marrakesh, I began a blog, writing about my experiences in Morocco from an insider's perspective. After receiving some emails with questions about Morocco, I realised that this might be a sign! So, a year ago I moved to Marrakesh with the idea of turning my blog into a small travel consulting business. 
For a living, I am working as a freelance digital media manager. 
Living in Morocco
Q: What do you enjoy most about Marrakesh? 
A:   Marrakesh is a great and diverse city to live in! When I miss the bustling streets and traditional culture, I go to the Medina – which is the historical 'old town' of Marrakesh. When I want to feel like I'm in Europe, I walk in my neighbourhood, the modern Gueliz district, which was designed and built by French architects. This district has wide boulevards, many chic restaurants and newly built shopping malls. In Marrakesh, I enjoy the local food vendors and the fact that people don't care too much if you walk in the streets in your pyjamas. The locals are also extremely friendly. Unfortunately, this means that I may, especially as a blonde girl, receive too much attention.
Q: How would you rate the quality of life in Morocco compared to Lithuania?
A: The first great thing that popped into my head was the food here! In Morocco, food is much cheaper, fresher and healthier. Secondly, I spend less money on travelling but I seem to discover more by only journeying within Morocco. There's so much to explore here! I visit new places almost every weekend. If I want to enjoy the beach, I go to Essaouira or Agadir, for hiking, I go to the High Atlas mountains and to empty my head I choose the limitless dunes of the Sahara desert. 
Q: Are there any negatives to life in Morocco? What do you miss most about home?
A: Cultural life in Marrakesh is still poor, but that's slowly changing. This year, the first Contemporary African Art Fair came to Marrakesh and a few new museums have opened. I hope in the near future that Marrakesh will have more live music concerts and even a theatre! I miss open parks where you can have picnics, or just sit on the grass. There are many parks in Marrakesh, however, most of them are more like botanical gardens or museums. There's also a lack of spaces for alternative culture.
Q: What are the biggest adjustments that you had to make when settling into expat life in Marrakesh? Did you experience any particular elements of culture shock?
A: There were plenty of adjustments that I had to make when settling in Morocco. I moved from a Western culture to a completely different one and I had to change my way of thinking, while also needing to learn some of the French and Moroccan dialects.
Moroccans are not very punctual and their conception of time is very different from a Western conception. Moroccans don't seem to keep time commitments and if you make an appointment with someone, it doesn't guarantee that they will show up. 
I also had to adapt to all of the small talk. I am more of an introverted person, while Moroccans love talking. If you wish to rent a house, you can spend hours talking with the owner about your life, but in the end, they can still reject you. If you try to be direct and efficient, Moroccans will not like it, as they want to get to know you by making chit-chat. 
Q: What's the cost of living in Morocco compared to Lithuania? What is cheap or expensive in Morocco in particular?
A:  Costs in Morocco are more reasonable than in Europe. I already mentioned that food is better and cheaper and, depending on where you live, rent is also inexpensive. In winter, in Lithuania, we pay a lot for the centralised heating, whereas in Morocco, the winters obviously aren't as extreme. Despite warm winters, the cost for air-conditioning in the summer is really high. Alcohol is also expensive in Morocco, despite being consumed by locals and foreigners alike. 
Q: How would you rate the public transport in Morocco? What are the different options? Do you need to own a car?
A: In the bigger Moroccan cities, I would not dare to drive a car. The traffic is too chaotic! In Marrakesh, the most popular vehicles are scooters and small motorbikes. Taxis are in high demand and their rates are affordable.
Even though local city buses are cheap, I rarely use them because they often don't arrive on time, which is why taxis and motorbikes are so popular. 
The intercity buses are good and affordable. My favourite companies, Supratours and CTM, even provide free WiFi and aircon and they run on a timely schedule. 
Q: How would you rate the healthcare in Marrakesh? Have you had any particularly good or bad experiences with regards to doctors and hospitals in Morocco? Are there any hospitals you would recommend?
A: There are both private and public clinics in Morocco. I've only been to a public clinic once but it was a truly terrible experience. It was my first time in Morocco and, while suffering through a huge stomach pain, I was told to visit the free public hospital. The only consultation I was provided with was from a nurse who only asked if I had a fever or if I was married. She prescribed two kinds of antibiotics and no deeper medical analysis was provided. After this experience, I only visit private doctors. The disadvantage of being an expat in Marrakesh is that doctors try to overcharge me. I'm paying insurance in my home country, so in the event of any serious illness, my plan is to avoid Moroccan doctors and to fly back to Lithuania for treatment. 
Q: What are the biggest safety issues facing expats living in Marrakesh, or Morocco at large? Are there any areas that expats should avoid?
A: I receive so many questions regarding safety in Marrakesh. I've only experienced one incident of crime, which was when my mobile phone was stolen in the flea market and it was because of my own stupidity in leaving the phone in my outside backpack pocket. I would not recommend walking alone in the old town after 11pm. The old town is a twisting labyrinth of tiny streets with poor lighting and it can be a scary place to walk through at night. The new part of Marrakesh, where I live, is safe to walk in, even at night.
Q: Is there any obvious discrimination against particular religions, women or identities in Morocco?
A: Sexual harassment in the streets is a very controversial issue in Morocco, although this year, the Moroccan parliament released a new law that will criminalise harassment in the streets. So yes, as a woman in the streets of Marrakesh you will probably hear many "compliments". I don't pay attention to these anymore and hopefully, people will hear fewer "compliments'' in the near future. 
Q: How do you rate the standard of housing in Marrakesh? What different options are available for expats? Are there any areas or suburbs that you'd recommend for expats to live in?
A: Location in Marrakesh matters, especially if you're an expat. Most of the expats prefer living in the modern district of Gueliz, located next to the Medina. Gueliz was designed and built by French architects and it has wide boulevards, many chic restaurants and a newly built shopping mall, called Carré Eden. Gueliz is a pricey area to live in. However, by paying more, you'll also avoid a lot of unwanted attention that you would get when living in a traditional district. I've lived in Gueliz for a year and have never had problems getting home, even at night. 
I had previously rented a house in the Medina and it was a poor experience. I received too much attention, it was a hassle getting home through the busy roads and kids would play football in the street outside my window at all hours. I am not saying that the Medina is a bad place for an expat to live, however, they should be careful and choose a quiet street that is not too far from the main road. 
Meeting people and making friends in Morocco
Q: How tolerant are Moroccans of foreigners? 
A:  Depending on how foreigners treat Moroco, Moroccans are very tolerant of foreigners. I've met some snobby expats who dislike the Moroccan mentality and way of living. I've never understood how you can live in another country as a guest and not to try to adapt yourself. Generally, Moroccans are very friendly and open-minded.
Q: Was it easy meeting people and making friends in Morocco? How did you go about meeting new people?  Have you made friends with Moroccans or do you mix mainly with other expats? What advice would you give to new expats looking to make friends in Morocco? 
A: I have experienced life as an expat in the Netherlands and a bit in Canada. So, by comparison, making friends is easier in Morocco. Actually, Moroccan friendliness and warm communication were one of the reasons that I moved to Morocco. Making friends in the Netherlands was a complicated and long process full of planned meetings. In Morocco, people generally love chatting. Even takeaway coffee culture is not popular and locals love spending long hours sitting and talking in a café.
Facebook is a great place to find new friends with the same interests. If I see a post from another blogger living in Marrakesh or in another city, I don't hesitate to write to them. In Europe, I would feel a bit awkward doing this, but in Morocco, it feels comfortable and uncomplicated.
Working in Morocco
Q: What's the economic climate like Marrakesh? Do you have any tips for expats looking to find a job in Morocco? Which resources did you find most useful?
A: In Marrakesh, it's difficult for expats to find a job if they don't speak French. You either have to establish your own business or be an English teacher. If you're looking for an English-speaking job in Morocco, then look in Casablanca, which is Morocco's business hub. Or, like me, you can work online as a freelancer!
Q: How does the work culture in Morocco differ from home? Do you have any tips for expats doing business in Morocco?
A: As I already mentioned, the Moroccan mentality is different from more Western mindsets. If you want to establish your own business, you should first adapt yourself to the local living style and to be patient. Patience is the key to success in Morocco!  
And finally…
Q: Is there any other advice that you would like to offer to new expats arriving in Morocco?
A: I guess, the biggest advice for new expats arriving in Marrakesh is for them to not expect that things will work the way that they do in their country. Be open, become friends with your neighbours, shop vendors and even your neighbourhood street guards. Moroccans are very social and I only recently realised that this is the source for my never-ending affection for this country. 
► Interviewed in August 2018