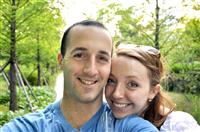 Matt and Andrea are from Washington State, USA. The couple landed in South Korea just three months after their wedding to teach English in a small town just outside of Seoul. Despite missing Western food and having the occasional hassle when Andrea is mistaken for a Russian prostitute (not her fault!), both are loving their new expat life in South Korea.
Read more about their adventures in their blog, world-walk-about.com.
Read more about Seoul and South Korea in the Expat Arrivals Seoul city guide and South Korea country guide or read more expat experiences of South Korea.
About Matt and Andrea
Q: Where are you originally from?
A: We're both originally from the eastern side of Washington State, USA, and we both lived in the Seattle area for about ten years before moving to Korea.
Q: Where are you living now?
A: We live in Gwangju-si, South Korea. It's a suburb of Seoul, and we're about 45 minutes by bus from the city.
Q: How long have you lived in South Korea?
A: About 11 months now!
Q: Did you move with a spouse/children?
A: Yes, we moved here together about three months after our wedding!
Q: Why did you move to South Korea; what do you do?
A: We came here to teach English. Matt is a teacher by profession, and we both had a dream to live abroad, so teaching English was a natural choice. It was something we could both do. We chose Korea specifically because we had a close friend living here at that time.
About Gwangju-si
Q: What do you enjoy most about Gwangju-si, how's the quality of life?
A: Our city is pretty sleepy. There are about 300,000 people, but many Koreans consider this a small town, and there aren't a lot of things to do. For anything cultural or touristy we have to go into Seoul. We do however have a lot of good food in our town! Our favourite thing to do here in Gwangju is go to an amazing duck restaurant.
Q: Any negatives? What do you miss most about home?
A: We don't have a lot of Western-style or international (non-Korean) food options in our town, and we definitely miss that! Also, sometimes being in a smaller town makes us feel like a fish in a fishbowl--Andrea is light-haired and she gets stared at a lot.
Q: Is Gwangju-si safe? Are there any areas expats should avoid?
A: It's definitely safe, we have nearly no crime in our town that we know about. Walking around at all times of the night is okay, but as with everywhere else, it's good to be alert. One thing that is mostly annoying (but sometimes a little scary) is that some men in Korea assume all white women are Russian prostitutes, and sometimes Andrea gets asked if she's Russian.
Q: How would you rate the public transport in South Korea? What are the different options? Do you need to own a car?
A: Public transport here is great! The busses are clean and on time, and from our town there are busses to nearly every nearby town. A couple of different busses will connect you to the nearest subway lines as well (Bundang or Seoul lines). It's also very cheap! Efficient and inexpensive public transport is one of the best things about South Korea.
Q: How would you rate the healthcare?
A: The healthcare is very inexpensive, but it's a pretty different system from the US. Doctor visits seem very rushed to us—they don't like to spend much time answering questions because they usually have so many more patients waiting. It can be a little stressful, but overall, it is pretty efficient. Luckily most doctors can speak decent English, and there are even some foreigner's hospitals in Seoul.
About living in South Korea
Q: Which are the best places/suburbs to live in the city as an expat?
A: Within Gwangju, I think our neighbourhood of Gyeongdong is a good one. However, technically Gwangju is a suburb of Seoul, and we definitely prefer the city to our suburb.
Q: How do you rate the standard of housing in the city?
A: Apartments are usually nice but very small. Ours is a bit of an exception—it's very large but a bit older. We have a killer view though—can't beat that!
Q: What's the cost of living compared to home? What is cheap or expensive in particular?
A: The cost of living is very low. I can't speak to housing prices, because our schools pay for our apartment. However our utilities are much less expensive than in the States, and as I mentioned before public transport is very affordable. If you stick to buying mostly Korean food groceries can be cheap as well, but foreign foods are quite expensive.
Q: What are the locals like; do you mix mainly with other expats in South Korea?
A: Most of the locals don't speak English very well here, but everyone is always friendly and helpful to us. We have a few Korean friends who are extremely helpful, but most of our friends are other expats.
Q: Was it easy meeting people and making friends?
A: There is a big network of English teachers in and around our town, so we met a lot of people right away. We also met a lot of people in Seoul since we had a close friend already living there.
About working in South Korea
Q: Did you have a problem getting a work visa/permit for South Korea?
A: Getting the visa was quite a process. We had to get FBI background checks, submit notarized copies of our diplomas and do loads of paperwork. If you are planning on teaching in Korea, start getting your paperwork together as soon as possible to save yourself some stress!
Q: What's the economic climate like in the city, is there plenty of work?
A: It seems fine, we really only have interactions with other teachers though so I don't know much about the job market outside of teaching.
Q: How does the work culture in South Korea differ from home?
A: Basically in every way. It is very important to appear to be working hard in Korea, even if you aren't. It is more important to work long hours to show your boss you're serious than to accomplish a lot in a shorter period of time. Finishing your work and going home early just does not happen in Korea. Also, the boss (in our case the principal) has a lot more power than back home. They seem to have absolute power within the schools—you don't say no to the principal. It can be very frustrating.
Q: Did a relocation company help you with your move?
A: Nope, we just arrived in Korea with a few suitcases in hand!
Family and children
Q: Did your spouse or partner have problems adjusting to their new home?
A: Our struggles were mostly the same—dealing with the language barrier, the culture shock and the different work environment/culture.
And finally…
Q: Is there any other advice you would like to offer new expat arrivals?
A: Come with an open mind and a laid back attitude. Be willing to try things and to get to know people. Learn to read Korean—being able to read signs and menus will boost your confidence in manoeuvring unfamiliar situations.  And lastly, have fun! Act like a tourist—see all the sights and cultural things, and act like a local—find a favourite restaurant or coffee shop, become a familiar face in local haunts.
~ Interviewed in August 2012