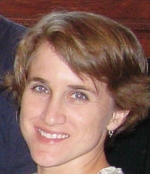 Annje, an American expat living in Chile, left home with her hubby to resettle in the slender land of sea and mountains. Having spent four years in Santiago prior to this relocation, she shares some valuable insight based on her expat experience.
Read more about Chile in the Expat Arrivals Chile Country Guide, or read more Expat Experiences in Chile.
About you
Q: Where are you originally from?
A: I'm originally from the US; I have lived in Arizona, Utah, Oregon, and most recently Austin, Texas, where I completed my graduate studies.
Q: Where are you living now?
A: Santiago, Chile – in the ("comuna") suburb of San Miguel
Q: How long you have you lived here?
A: Four months, but I lived in Santiago for almost four years about 10 years ago. This is where I met my husband.
Q: Did you move with a spouse/children?
A: I moved with my husband, who is Chilean, and our two children, ages five and three.
Q: Why did you move; what do you do?
A:  We moved to be closer to my husband's family. I had just finished my graduate degree, and we thought it might be the best time to make the move. I found a teaching job at a university here before moving.
About Santiago, Chile
Q: What do you enjoy most about Santiago, how's the quality of life in Chile?
A: The quality of life, for most expats, is really quite good. You can find most of the comforts and products that you are used to (though often at a price); there are many foreign companies and stores (i.e., Starbucks—though I don't go there much, and I have heard Gap and Banana Republic are on their way); you find access to all the services you need; there are good restaurants, good nightlife venues, plenty of cultural events, nice homes and apartments; and great places to travel, even close by (beach and mountains).
Q: Any negatives? What do you miss most about home?
A: I adapt fairly easily. I generally don't miss things like food. There are some small things I miss, like ordering more easily from Amazon. There are more important things I miss, like living without bars on the windows, without gates. I miss the level of trust that exists in US society (things like the mail man leaving a box for you on your doorstep-- and when you come home it is there; leaving a bike outside overnight and finding it in the same spot in the morning). Obviously, there are dishonest people everywhere, and things are stolen and houses broken into in the US, but it doesn't feel like a constant issue in the US like it does here.
In winter, there are issues like smog and lack of central heating which make me miss home.
Expats get frustrated sometimes by the bureaucratic processes, which can be tedious. There are things that just seem ridiculously intricate and infinitely hard, like getting a bank account or legalising an academic degree. I try to think of these things as just different, rather than constantly comparing them to how easy they seem in my home-country, which I think has helped me be more tolerant, but that is a work in progress, and you eventually find a breaking point ;-)
Q: Is Santiago safe?
A: Santiago is a big city, almost six million residents, and there is a fair amount of poverty (though this has gotten a little better over the years). It is safer than many countries in Latin America, but probably not quite as safe as more developed countries, like the US or in Europe. I haven't lived in a city of this size in the US, but I imagine it is somewhat similar to living in a city like Los Angeles. There is crime, for sure, pick-pockets are common and in sketchier parts of the city you have to be very careful and very aware. I was driving home late at night with my husband a while back, and he told me that if I was ever driving in that area by myself at night, to always keep moving, never come to a complete stop — that was very reassuring-haha. In general, though, I feel pretty safe, and I have never been robbed nor had a traumatic experience (knock on wood). 
About living in Chile
Q: Which are the best places/suburbs to live in the city as an expat?
A: Aha, you'd have to define "best." Chile is a very class-oriented country, and one of the ways that people determine how to classify you is by where you live. I live in a lower-middle class area that would probably not fall in the "desirable" category of suburbs for most foreigners. We live here because for the moment we are living with my father-in-law. It is not ideal in some ways because it is far from where I work, far from the areas with good schools, and lacking in pretty green spaces.
There are quite a few neighbourhoods, which could be described as upper-class, that are similar in look and feel (besides the big gates) to suburbs in the States; areas like Las Condes, Vitacura, La Dehesa, Lo Barnechea, La Reina.
There are more central areas, near el Museo de Bellas Artes and Parque Forestal that are desirable for the hip, young, childless foreigners. It depends a little on whether you have kids or not or how central you'd like to live. I personally like areas of Providencia, upper-middle-class, central, but clean and green with places to go out and run or bike or take the kids to play.
Q: What's the cost of living in Chile compared to home? What is cheap or expensive in particular?
A: We have been surprised that it is not as cheap as we remembered or imagined. There are aspects that are cheaper, rent, in general, is a little cheaper, produce from the local farmers' markets is very cheap, but our supermarket bill is very similar to what we paid in the US. Services like cable or cell phones are expensive and clothes, gasoline, and imported goods are quite expensive in comparison to the US. One of the big differences is being able to afford a nanny or housekeeper, something very common here even for the middle class. That is something in the US that is unattainable for most middle-class families—daycare, though expensive, is more affordable than a nanny. On the other hand, in the US, most kids attend public school which is "free," whereas here, if you have a good-enough economic situation, you send your kids to private schools, which can be quite expensive.
Q: What are the locals like; do you mix mainly with other expats?
A: For now, I mix mostly with locals because we spend a lot of time with family and Chilean friends, and most of the people where I work are Chilean. I belong to a network of expat women, married to Chileans, who share all kinds of "datos" (tips) on anything from where to buy cheddar cheese and coffee grinders to recommendations for travelling, or requests for hair stylists, doctors or house-keepers.
I do have a few expat friends, but since I work and have kids, I don't always get out as much as I'd like. I think expat friends and networks are a must in a foreign country, and the notion that hanging out with expats makes your experience less authentic somehow has always bothered me.
Q: Was it easy meeting people and making friends?
A: The first time I lived here, I found it harder to make real Chilean friends, especially women. Making friends with women here is one of the topics that comes up a lot with expats; it is notoriously difficult. Marrying into a Chilean family means you have more of a local network, but it is important to have your own friends too.
About working in Chile
Q: Did you have a problem getting a work visa/permit?
A: The first time I came, I came on a work visa. It was not hard to get, but you essentially have to be sponsored by the company that hires you. Now, because I am married to a Chilean, I have a residency visa, which I got at a Chilean consulate in the US before coming and was not hard to get. It is temporary for a year, and then I must apply for a permanent visa. In general, visa processes are time-consuming and involve standing in line a lot.
Q: What's the economic climate like in the city, is there plenty of work?
A: Chile has not suffered as much due to the latest economic downturn as countries like the US and, from what I have heard, Europe. There is usually plenty of work for foreigners, especially if you speak English. If you also speak Spanish and have a business background, those traits can also work to your advantage. Many expats teach English at one point or another. Some people find they like it and others hate it and dream of finding a "real" job. The first time I lived here, I taught English at an institute. I love language-related anything. My doctorate degree is in Foreign Language Education, so now I teach future language teachers.
Q: How does the work culture differ from home?
A: The work culture here is more stressful, I have found. They work very long hours and often have long commutes.
Q: Did a relocation company help you with your move?
A: No.
Family and children
Q: Did your spouse or partner have problems adjusting to their new home?
A: Here, I am the foreigner, so you might think I'd have more trouble adjusting, but I think my husband has complained more than I have about some of the processes that are inefficient. Of course, there are things that I don't like, but kind of accept as part of living here. For my husband, a Chilean who has lived abroad for some time, it is harder for him to accept.
Q: Did your children settle in easily?
A: Yes, they have loved it, and I think because they are young, they haven't had as much trouble adjusting as other kids who are older. They don't speak much Spanish yet, though they understand almost everything because they have grown up with a Spanish-speaking dad, but I am sure after a few months in pre-school and kindergarten they will be speaking more.
Q: What are the schools in Santiago like, any particular suggestions?
A: Public schools, in general, are not very good. There is a wide variety of private schools, many with an emphasis in English. They are ranked, mostly, according to how their students perform on the college entrance exam.
Because of this, there are many schools that do a lot of filtering: expelling students who do not make good grades. It feels like a kind of manipulation to me, like they are more interested in getting a higher ranking than in the well-being of their students, and I don't like that.
My feeling is also that education here is more traditional, there is a lot of memorisation, and I have heard complaints from expats that there isn't enough critical thinking and problem-solving. In general, though, I think private school education here is quite good overall—but you have to pay for it.
We put our kindergarten-aged daughter in a small child-care centre that offers kindergarten. They don't speak English, which we hope helps her transition more into Spanish. When she starts first grade in a year, I think we will try to find a bilingual school, where she'll get content courses in English up to 6th or 7th grade.
For Chileans, choosing a school is a big issue: it determines, in large part, where you end up living, who your kids end up making friends with, and in some ways, what kind of social values and contact with diverse people they have. As an educated expat, I am not as worried about future academic options for my kids—they will be fine: they will be bilingual, and they will also have the option of studying in the US.
Q: How would you rate the healthcare in Chile?
A: Healthcare in Chile is really pretty good. We are fortunate because my father-in-law is a doctor, so he has arranged for any healthcare needs we have. But in terms of technology, there are clinics and hospitals here that are state-of-the-art. I do find, in talking to other mothers about their paediatricians and about medical experiences in general, that there are some differences. I think healthcare here is a little more paternalistic: your doctor tells you what to do, and you do it.
And finally…
Q: Is there any other advice you like to offer new expat arrivals?
A: Be tolerant. Be open.
~ Interviewed March 2011