Vanessa Munro followed her boyfriend to his home country of Chile and has only been there for a few months. She tells us about the challenges of adjusting to a new country, especially when you don't really know the language. Visit Vanessa's blog, Aussie in Chile, to read more about her Chilean adventures.
About Vanessa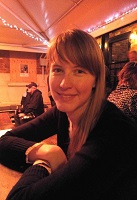 Q: Where are you originally from?
A: Canberra, Australia
Q: Where are you living now?
A: Santiago, Chile
Q: When did you move here?
A: August 2014
Q: Did you move alone or with family?
A: I came here with my Chilean boyfriend, who I met abroad.
Q: Why did you move; what do you do?
A: I moved here to learn about Chile and to learn Spanish. I have worked in many areas and enjoy working with people the most. Right now, I am working with my boyfriend to open an online business.
Living in Chile
Q: What do you enjoy most about Santiago?
A: Santiago is welcoming and has the benefits of a big city as well as the relaxed culture of a town. Everyone I've met has been very kind, and I find there is lots of beauty in unexpected places. The city has a unique look, with artwork painted on most walls and old colonial-style buildings mixed with German and English architecture. It's an interesting place.
Q: What do you miss most about home?
A: I have been immersed in a Chilean environment, and so I had some difficulty communicating at first − that was challenging as not many people speak English here. Honestly, I don't miss too much from Australia other than family and friends. The food is quite different, but it's also tasty!
Q: What are the biggest adjustments you had to make when settling into expat life in Chile?
A: I definitely experienced culture shock. For example, people like to socialise outside, even in winter, and almost everyone I know smokes. Meat portion sizes are quite big and lunch is the biggest meal of the day.
Q: What's the cost of living compared to home?
A: Generally, Chile is cheaper than Australia (isn't everywhere?), but relative to salaries I'd say transport is quite expensive, as is also eating out in restaurants. Clothes, alcohol and rent aren't expensive.
Q: How would you rate public transport?
A: The metro system is quite convenient. Taxis are handy, but they are expensive. Buses are handy and frequent, and you have a good chance of getting a seat. Many people have cars to cut down commute times, but there are regular traffic jams and fuel is expensive. There are bike paths in certain areas and I have seen numerous cyclists around town.
Q: How would you rate the healthcare in Santiago?
A: Luckily, I haven't had any experiences with healthcare.
Q: What are the biggest safety issues facing expats living in Santiago?
A: In the daytime, walking in most areas is fine, but at night I always walk with someone. A few friends have had stuff stolen by pickpockets. Try not to flaunt expensive jewellery, phones or laptops in public. There are also frequent protests in the centre of Santiago, which can get quite intense. The police are usually involved. I'd recommend keeping a good distance from these protests, especially those involving students, which seem to escalate more quickly.
Q: How do you rate the standard of housing in Santiago?
A: Apartments are comfortable and not expensive. Most expats I have met live around Providencia.
Meeting people in Chile
Q: How tolerant are the locals of foreigners?
A: I have blonde hair, which makes me stick out a bit. Men are quite forward, whistling in the street sometimes. But apart from that, people don't treat me differently. 

Q: Was it easy making friends?
A: I haven't met many expats, actually. I live with a Chilean, in a Chilean circle of friends. However, I recently joined a basketball team and this has been a good way to meet people. Also, English teaching would bring you into contact with a lot of people, expats and otherwise.
Q: Have you made friends with locals, or do you mix mainly with other expats?
A: I would recommend trying to join a local activity to meet locals. This will improve your language skills much faster, and let you understand and participate in Chilean culture.
Working in Santiago
Q: Did you have a problem getting a visa or work permit?
A: I arrived on a tourist visa and have applied in the country for a working visa. I'm still waiting for that to be processed and cleared.
Family and children
Q: Do you think there are any specific challenges for a trailing spouse?
A: Getting settled can take time, as most processes are very bureaucratic and need a lot of paperwork.
And finally…
Q: Is there any other advice you would like to offer new expat arrivals?
A: Eat 'completo italiano'; enjoy the amazing graffiti around the city; visit during the celebration of Independence on the 18th of September; go to a local 'feria', or market, to buy fruit and veg (cheaper and fresher); and go somewhere with a view − sunsets over the coastal mountains are amazing, as are the views of the city at night. 

~ Interviewed in November 2014