David is a Scottish expat living in Belgium. He divides his time between work in Brussels and weekends in Cheshire in England, where his wife and child still live. While David enjoys the diversity and vibrancy of Brussels, he misses his family back home and doesn't get back to England as often as he would like. Here he shares his experiences and offers other expats practical advice about the ins and outs of life in Belgium.
Read more about Belgium in the Expat Arrivals Belgium country guide or read more expat experiences in Belgium.
About David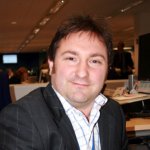 Q: Where are you originally from? 
A: Glasgow, but I live in Cheshire, England, permanently.
Q: Where are you living now? 
A: Brussels, Schuman area, mostly during the week.
Q: How long have you lived in Brussels? 
A: Six months.
Q: Did you move with a spouse/children? 
A: No, they are still in the UK
Q: Why did you move to Belgium; what do you do? 
A: Contract work; I'm an IT Consultant.
About Brussels
Q: What do you enjoy most about Brussels? How's the quality of life? 
A: I think I most enjoy the randomness of Brussels. It is so different to where I live in England. There are people here from all over the world, speaking all sorts of languages and representing every culture and viewpoint you can think of. This makes it feel very vibrant. Quality of life is very good overall.
Q: Any negatives? What do you miss most about home? 
A: Brussels is a big city for me, and I don't really feel comfortable here yet. It's one thing to travel in and out of a city to work every day, but it's another to be here all of the time. I miss most from home my wife and little boy. I don't get home as often as I would like. The variety in the supermarkets could do with being improved here, too; a lot of my favourites just don't exist in my local supermarket here in Belgium.
Q: Is Brussels safe? Are there any areas expats should avoid?
A: Overall, the city does seem to be pretty safe. There are a lot of reports about muggings and theft in and around the big stations, so you need to be aware of that. I've been told Anderlecht is not so nice, but I stayed there for my first few weeks and had no issues with it.
Q: How would you rate the public transport in Brussels? What are the different options? Do you need to own a car? 
A: Public transport is overall very good. There are trains, trams and an underground system, buses and taxis. You don't need a car in Brussels itself, and in fact, it could be a liability in some neighbourhoods; it is slower than public transport at busy times, and parking can be very difficult.
About living in Brussels
Q: Which are the best places/suburbs to live in Brussels as an expat?
A: It depends on where you are going to be working. There are a lot of expats in Brussels, and they seem to be fairly widely spread over the city. The EU area around Schuman is obviously great if you work there; it's not too far from the centre of the city too; public transport is good. It can be very quiet at the weekend though.
Q: How do you rate the standard of housing in Brussels?
A: Pretty good overall in terms of quality, from what I saw. Prices will depend on what you are used to; cheaper than London, but my tiny studio in Brussels costs about the same as my house in Cheshire though.
Q: What's the cost of living compared to home? What is cheap or expensive in particular?
A: It's more expensive than where I live, but probably comparable with other big cities. Petrol, clothing and some food I find expensive. I'm told that insurance is expensive too, but for me it's included. Public transport, beer and some food are good value.
Q: What are the locals like; do you mix mainly with other expats?
A: I don't mix with any expats yet. I need to change that. The locals seem very friendly but quite reserved. It's unusual to be invited to the home of someone in Belgium, and in six months, I haven't been invited out for a beer after work.
About working in Brussels
Q: What's the economic climate like in Brussels, is there plenty of work?
A: At present, there does seem to be a fair amount of work, certainly more in my specialism than at home right now, which of course is why I'm here.
Q: How does the work culture in Belgium differ from home?
A: Hard to say. I find the pace slower, but that could be down to it being a nationalised company? The languages I find causes issues, nobody is speaking their first language all of the time, and I see a lot of miscommunications. It's not unusual for someone to ask something in Flemish and get an answer in French; very weird.
And finally…
Q: Is there any other advice you would like to offer new expat arrivals?
A:  Surrealism was invented in Brussels. Once you've been here a little while, it's not hard to understand why.
– Interviewed September 2012