In 2013, Emma moved to Illinois for graduate school, where she first met the man who would one day be her husband. Now happily married in Minneapolis, Emma blogs about her experiences with the people, food and culture of the North Star State in her blog, Diasporina.
Here, she talks to Expat Arrivals about the differences between life in the US and life in her home country of Armenia.
About Emma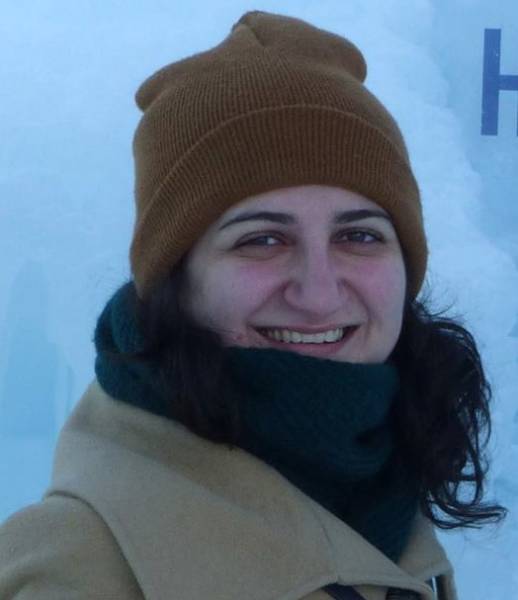 Q: Where are you originally from?
A: Yerevan, Armenia
Q: Where are you living now?
A: Minneapolis, MN, USA
Q: When did you move here?
A: I moved to Minneapolis in July 2015.  I spent two years in DeKalb, Illinois for graduate school starting in 2013.
Q: Did you move here alone or with a spouse/family?
A: I met my spouse at Graduate School. He was from Minnesota, so when I got done we moved to Minneapolis.
Q: Why did you move; what do you do?
A: Initially, I went to Illinois to work on my master's degree. I got married and my husband is originally from Minnesota. When we graduated, he wanted to return to his home state. I didn't mind.
Living in Minneapolis
Q: What do you enjoy most about Minneapolis? How would you rate the quality of life compared to Armenia?
A: Minneapolis is a beautiful city with a fancy downtown, woods, lakes, and nice people. Minnesota is one of the most economically developed states and the quality of life is higher than in many other states. I wish my home country had the same life quality. 
Q: Any negatives? What do you miss most about home?
A:  Well, I obviously miss the food of my home country. The only negative side for me is being so far away from my family. I miss them a lot. 
Q: What are the biggest adjustments you had to make when settling into expat life in Minneapolis? Did you experience any particular elements of culture shock?
A: Well, I had to learn how to drive a car! That was one of the most important adjustments I had to make to survive in the US. It's been three years that I live in the US, and each time I think I know everything about this country, there is something new that blows my mind, some new cultural shock. I've had many instances of cultural shock and I regularly write about them in my blog. 
Q: What's the cost of living compared to Armenia? What is cheap or expensive in particular?
A: Clothes are cheaper here than in my home country. Meat has the same price. Fruits and vegetables are more expensive here. I would also say services are very expensive in America. For example, you can have a nice haircut by a stylist at a salon in Armenia for about $12. In America, you will have to pay $80-120 for the same level of hair stylist at a salon. 
Q: How would you rate the public transport in Minneapolis? What are the different options? Do you need to own a car?
A: I would rate it 7 out of 10. There are buses of course, and metro trains (two lines). But you do need to own your own car just like in any other American city. Except for New York and Chicago, maybe. 
Q: How would you rate the healthcare in Minneapolis? Have you had any particularly good/bad experiences with regards to doctors and hospitals? Are there any hospitals you would recommend?
A: Well, healthcare is expensive, but that's not only an MN problem but overall issue in the country. I haven't had a bad experience with doctors or hospitals. Allina Health is usually the hospital to go to. 
Q: What are the biggest safety issues facing expats living in Minneapolis? Are there any areas expats should avoid?
A: Well, it is important to know which neighbourhoods are good or bad for living. Not only expats, but also most people try to avoid certain areas in Minneapolis and St. Paul because of high crime rates. 
Q: Any areas/suburbs you'd recommend for expats to live in?
A:  Avoid North Minneapolis and West St. Paul. The best options are South Minneapolis, Uptown, NE Minneapolis, and suburbs.
Meeting people and making friends in Minneapolis
Q: How tolerant are the locals of foreigners? Is there any obvious discrimination against particular religions or women etc.?
A: I have not experienced any discrimination. I would not say there is discrimination. Even if Minnesotans don't like you for whatever reason, they are too nice to say so or show. 
Q: Was it easy meeting people and making friends? How did you go about meeting new people?
A: It's not easy because I lack some local history, values and traditions. It takes time to build relationships. I met people at my work and obviously I hang out with my husband's family and friends. There is a small Armenian community that both my husband and I have been active in. 
Q: Have you made friends with locals or do you mix mainly with other expats? What advice would you give to new expats looking to make friends? Any social/expat groups you can recommend?
A: I communicate with people at work who are locals. As to friends, it is easier to build relations with expats as you share some common experiences. It takes time to become friends with locals. As to social groups, I have heard about a Meetup app that connects locals. I know a few people who made friends via that app. I haven't used it myself but from what I've heard, it is helpful. 
About working in Minneapolis
Q: Did you have a problem getting a visa or work permit? Did you tackle the visa process yourself or did you enlist the services of an immigration consultant?
A: I got married in the US and received my permanent residency. We did not hire any lawyer as the list of all the documents that needed to be submitted were on the immigration website. It took me about 9 months to get my green card. 
Q: What's the economic climate like in Minneapolis? Do you have any tips for expats looking to find a job there? Which resources did you find most useful?
A: As I mentioned above, Minnesota is one of the most developed states that is home to many companies on Fortune 500 list. It is more challenging to find a job with a humanities degree as there is tough competition. It's easier to get a job in a technical field. I would recommend young expats to take courses or get a degree in science. 
Q: How does the work culture differ from Armenia? Do you have any tips for expats doing business in the US?
A: It doesn't differ a lot. I would say that in general, Americans work more and harder than any other nation. They have shorter vacations and retire later. As to doing business, always make sure you pay your taxes! 
Q: What are the schools like, any particular suggestions?
A:  In general, schools in Minnesota are very good. Of course, there are problems at schools in areas that are lower-income, but school ratings are published regularly so you can see which schools are getting good results, and which schools may need to do more. My husband has many teachers in his family, and they always say that good education begins in the home. 
And finally…
Q: Is there any other advice you would like to offer new expat arrivals?
A: No matter how hard it is, try to mingle with locals more often. It is too easy to become dependent on expats who share your cultural identity, which makes you isolated from your new home community.

– Interviewed in January 2017

► Are you an expat living in the US? We'd love to hear your story. Contact us here if you'd like to be interviewed.