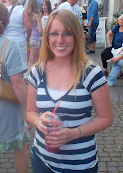 Evelyn moved from rural Kentucky to Norway after a penpal romance blossomed into love and marriage. She's loving the scenery and clean, crisp air in Skien, where she's settled with her Norwegian husband and American cat. Read about her experiences of getting a visa, and her impressions as a newly arrived expat of the great public transport, Norwegian work culture and healthcare.
Follow her adventures on her blog, My New Norwegian Home.
Read more expat experiences in Norway or read about the country in the Expat Arrivals guide to Norway.
About Evelyn
Q: Where are you originally from?
A: Kentucky, USA
Q: Where are you living now?
A: Skien, Telemark, Norway        
Q: How long have you lived here?
A: Since May 25, 2012
Q: Did you move with a spouse/children?
A: I moved here with my cat. My husband is from Norway, but he came to Kentucky to help me prepare to move shortly before my big move and he was with me on the flight to my new home. We also married during this time when I was in Kentucky.
Q: Why did you move; what do you do?
A: I moved to be with my husband. I am a recent college graduate and I'm currently enrolled in taking Norwegian language courses.
About Skein
Q: What do you enjoy most about your host city, how's the quality of life?
A: I love the scenery of Skien, Norway. I think it's very clean and the air is crisp here. I think it's a wonderful suburban city to live in.
Q: Any negatives? What do you miss most about home?
A: My largest complaint and this is my complaint of Norway in general is – it's so cold! My second complaint is how expensive everything is. What I miss most about home is my family first and foremost and friends, but that's a given. I can't really pinpoint anything else I particularly miss extensively. Of course there's the little things, like warm Kentucky summer nights – and days for that matter, catching lightning bugs, certain brands of candy and other products, there are so many of "the little things" I miss.
Q: Is the city safe? Are there any areas expats should avoid?
A: I think Skien is a very safe place to live with a very low crime rate.
Q: How would you rate the public transport in Norway? What are the different options? Do you need to own a car?
A: Since moving here I have used public transport for the first time and it works well for me, so I have no complaints there. Many people drive cars and ride their own bicycles, there's even a train station and small airport in Skien if needed for going to larger cities. If living in Skien, you don't particularly need a car, but it's always nice to have.
Q: How would you rate the healthcare in Norway?
A: I haven't needed to use anything for healthcare here yet, but recently my husband was sick – he caught Mono on our honeymoon of all times – and upon arriving back to Norway we had various trips to the doctor and I thought the care he received here was great. I think the quality of care is the same here as in America, but it is MUCH MUCH cheaper!!!
About living in Norway
Q: Which are the best places/suburbs to live in Skien as an expat?
A: Skien, the city in Norway I'm living in, isn't quite a large enough city for there to be major differences between different suburbs and housing areas.
Q: How do you rate the standard of housing in Skien?
A: I think the housing here is quite great. The vast majority are middle class and I've noticed a difference between housing here and America. In America, most large houses are along roads; here larger, more luxurious homes are a bit hidden. I think it's easier to see a wider variety of homes in America, whereas here with a large majority being middle class you can of course find a variety of homes at a variety of prices, but the extent of that is not as large of a gap as in America.
Q: What's the cost of living compared to home? What is cheap or expensive in particular?
A: My general rule of thumb living in Norway is this: everything is about twice as expensive as in America. But the average salary for Norwegians is about double that of Americans, so the cost of living evens out.
Q: What are the locals like; do you mix mainly with other expats?
A: My language class is nothing but other expats, so yes, I mostly mingle with them.
Q: Was it easy meeting people and making friends in Norway?
A: I couldn't imagine coming here and not having a social net to fall back on. Because of my husband living here I was automatically warmed and welcomed into his social group and have made friends with his friends' wives.
About working in Norway
Q: Did you have a problem getting a work visa/permit for Norway?
A: The hardest part about getting my residency permit (which also allows me to work in Norway) was ordering my birth certificate in America. I had read and heard horror stories about people having to wait six months to a year or longer for the application to be approved, but when we turned in the application at the police station we were told we had a very straightforward and organised case and it was approved in two weeks.
Q: What's the economic climate like in Skien; is there plenty of work?
A: I look at work ads quite often, though I don't work and I'm probably not fluent enough in Norwegian to work, but I often see many, many ads for jobs which I'm qualified for in my education. The unemployment rate in Norway is low – around 3 per cent.
Q: How does the work culture in Norway differ from home?
A: I can't speak from personal experience, but just from observing others. I would say it's more relaxed. People don't really live to work, but they work to live. They work less hours than in America and from my understanding there are great labour laws here.
Q: Did a relocation company help you with your move?
A: No. I didn't own much to begin with. I sold a lot of my things and what I had left was either packed in suitcases or packed in boxes and shipped in the mail.
Family and children in Norway
Q: Did your spouse or partner have problems adjusting to their new home?
A: My husband already lived here in Norway and has his entire life.
Q: Did your children settle in easily?
A: We don't have any children, but we do have a cat who I brought with us and she's settling in great.
Q: What are the schools like, any particular suggestions?
A: I have no children and I haven't lived here long enough to decide how grade schools are. I have been reading a bit about colleges and universities and their criteria seem very similar to those of American colleges and universities.
And finally…
Q: Is there any other advice you would like to offer new expat arrivals?
A: Before coming here I had heard and been told many things about Norway – things ranging from "people are unfriendly and rude" to "the food is terrible" and even "my mother-in-law never hugs me." I think there are a lot of misconceptions about any place, including Norway. My best advice is to go into Norway with a blank slate and experience things for yourself before making judgements about the country. I think it's good to be prepared, research things, read and watch videos about Norway and know what you're getting yourself into. It's also good to talk to expats who now call Norway home. Many people have different opinions on the country, so it's good to understand the facts, but experience Norway for yourself. Let yourself be the influence of what you think about Norway, not others' opinions.
~ Interviewed in September 2012