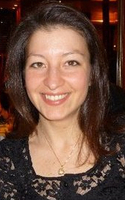 Gisèle, a Central American expat living in Norway, has embraced this Scandinavian nation's egalitarian principles with open arms and a self-actualised air. In her interview with EA she gives expats some tried and trusted tips on making friends, and some much-needed insight into a work culture that throws ambition to the dogs.
Read more in the Expat Arrivals Norway country guide or read more expat experiences in Norway.
About Gisèle
Q: Where are you originally from?
A: I was born in El Salvador and am half-French on my father's side. I went to French school and lived for nine years in Paris prior to moving to Norway.
Q: Where are you living now?
A: Today I live in Oslo, Norway.
Q: How long you have you lived in Norway?
A: I moved to Norway four and a half years ago, in the summer of 2006. I deliberately chose to move during that season to increase my chances of liking the country and staying, as I had heard how challenging the weather could be.
However, Oslo is fairly dry so if you put on the right fabrics and layers, you will not suffer from the cold.
Q: Did you move with a spouse/children?
A: My then boyfriend (now husband) moved first. Six months later I was unpacking in my new home, putting family pictures all over the place to make it my own. We did not have children at that time.
Q: Why did you move; what do you do?
A: I moved because I needed a change of "scenery". I had been living in Paris for nine years working as a Marketing Manager for a consulting firm. The stress and lack of personal time were consuming me, so my boyfriend's suggestion to move was very much welcome. I was eager to discover his country and all the possibilities that a new beginning has to offer.
About Oslo, Norway
Q: What do you enjoy most about living in Oslo, how's the quality of life in Norway?
A: Oslo has been very kind to me. These are my first observations:
People are nice and helpful, very welcoming! When this comes as a surprise, it means you've been in Paris for too long.

Everything is so clean and organised. If Norway were a company, one of their brand values would have to be "user-friendly". Oslo is so neat, administration procedures are fairly simple and you can do most of it online.

You can tell right away you are in a rich country. I did not see any beggars. It was explained to me that there were almost no beggars. What you do see more of is drug addicts, but they are concentrated in one area. I remember being at the gym one time and they were giving away free shampoo and conditioner at the ladies room. And I'm not talking about samples, these were actual bottles!!
Q: Any negatives? What do you miss most about home?
A: What I miss about El Salvador is the music and the sense of humour, which is quite different from here. What I miss from Paris (my second home) is the variety of products at the supermarket. When I first came here four and a half years ago, it was almost impossible to find Nutella, but they are slowly catching up.
Q: Is Oslo safe?
A: I feel safe walking around Oslo until around 10pm. That's not to say the city is unsafe after 10pm, but I simply believe safety should not be taken for granted.
About living in Norway
Q: Which are the best places/suburbs to live in Oslo as an expat?
A: I have moved twice since I came, always within Oslo. I wanted to stay close to the city centre because:
It's more lively and there are people everywhere, which helped me feel "part of the group". If we had been in the suburbs, I would've felt isolated. However, if you crave nature and fresh air, the suburbs is definitely the place to be! I heard Voksen Skog is great like that, and not too far away that you need a car.

Everything is closer, which makes it easier to be "spontaneous".

I found a job downtown and I wanted to enjoy walking to work and put long commute times behind me.
Our first apartment was in Bislett, a neighbourhood that I love because of the food stores you find there. It's conveniently located between Majorstua and Grünerloka, where you find a great variety of restaurants and shops. Later on we moved to Grünerloka, a very special neighbourhood with a grunge-creative vibe, always lively, even on Sundays. Finally, when our first daughter was born, we moved a bit further away from the city centre to Ullern. Again, I don't like the "isolation" feeling you might get when going to the suburbs, so decided to sacrifice a bit of space in exchange for the proximity to the city.
Q: How do you rate the standard of accommodation in Norway?
A: The standard of accommodation is high, especially in modern buildings. We were quite lucky because the first two apartments we moved into had just been refurbished. Bathrooms and kitchens in general are in outstanding condition in most places. Under-floor heating is included in most bathrooms and is such a luxury! Not to mention, kitchens are usually fully-equipped with the most effective cupboards I've ever seen.
Q: What's the cost of living in Norway compared to home? What is cheap or expensive in particular?
A: The cost of living in Norway is of course higher than back home (no matter where that is; Oslo is one of the most expensive cities in the world). The advantage is that whenever you go on holiday, everything feels soooo cheap! :) And don't worry; Norwegian salaries are quite high so your purchasing power will not necessarily be affected.
Q: What are the locals like; do you mix mainly with other expats?
A: The only thing that has slightly changed my way of life (considering the higher standard of living) is that it is particularly expensive to go out for a drink or a nice dinner. We still do it, just less often. Also, imported goods are extremely expensive. 
Q: Was it easy meeting people and making friends?
A: Locals are nice and friendly. I've made some good Norwegian friends at work. My friends outside work are expats for the most part.
There are many ways of meeting new people and expanding your group of friends. My boyfriend coming from Hamar, we had no friends in Oslo so I had to be a bit creative and sometimes outgoing. Here are my main sources:
The school where I learned Norwegian

Work

The French cultural centre: got me my first job as a babysitter

Online networks

Friends of friends: now I meet newcomers through my friends and try to help them in the best way that I can.
About working in Norway
Q: Did you have a problem getting a work visa/permit?
A: I didn't have any problems with a visa or work permit because I have the French nationality and Norway being part of the Schengen countries, I was allowed to work without a special permit. I simply got a residence permit, called "oppholdstillatelse". I had to go to a government agency to get registered and get a temporary "personal number". That number will allow you to cover the basics: getting a bank account a mobile and a job. Once you get your permanent number, you are "in the system". I then had to go to the police station and everything has been via email ever since. You do have to renew it after a while.
Q: What's the economic climate like in Oslo, is there plenty of work?
A: Norway in general, and Oslo in particular, has a very dynamic and healthy economic climate. I never "felt" the crisis here. I recently decided to change jobs and it took me a couple of months before I got a new one. Unemployment in Norway is very low, between 3 and 4 percent as of mid-2011.
Q: How does the work culture differ from home?
A: The working culture in Norway is a topic I could write about for pages and pages; there are many pros and cons, so I'll try to be brief (and objective!)
Flat hierarchy: very different from home (France, where I got my first job). You will have lots of freedom to shape your position and speak your mind. The boss is not always right and doesn't know it all, surprise surprise!

Work/Life balance is very important. Working hours are very humane and you don't have to feel guilty for leaving early if you have a doctor's appointment.

Most companies are also very flexible if you want to start early and leave early, or if you want to work from home during the week, especially if you have children.

Maternity and Paternity leave: 56 weeks paid up to 80 percent of your salary or 46 weeks paid up to 100 percent. You can split the weeks with your partner at ease, so long as he takes 10 weeks minimum. Only in Norway!!

My main challenge is that the working culture is "consensus" oriented and "non-confrontational".
Having to agree on everything means lots and lots of meetings and a slow decision-making process, because combined with a flat hierarchy, everyone has a say and anyone can freeze a process.
The lack of confrontation can lead to frustration and can also mean that no-one will tell you if you are going in the bad direction or what you could've improved for next time. So if you want feedback, ask for it.
Q: Did a relocation company help you with your move?
A: I moved on my own, so I had no relocation company helping me out. I simply sent all my boxes on cargo. It was much cheaper than by mail.
Family and children
Q: Did your spouse or partner have problems adjusting to their new home?
A: As my husband is Norwegian, he had no trouble adapting to home. However, having lived abroad for some time and not being the typical Norwegian (we don't ski in the winter, we don't bike to work in the summer and we don't own a cabin or a boat), he does miss continental Europe sometimes, especially the weather.
Q: What are the schools in Norway like, any particular suggestions?
A: Our daughter is still very young and does not go to school yet. More about this subject in a couple of years!
Q: How would you rate the healthcare in Norway?
A: Healthcare in Norway is good, pretty much like in any other European country. The system is fairly simple, without compensations or reimbursements like in France. If you don't like your doctor (GP) or want one closer to home, you can change online, but no more than twice a year. A consultation is about 17€ and if you are pregnant, you won't have to pay for anything.
And finally…
Q: Is there any other advice you like to offer new expat arrivals?
A: My advice:
If you are planning to stay long, learn the language before you get a job. It will open more doors for you in the long term.
If you can, get an apartment with a fireplace and a balcony. It does help you get the most out of the two most important seasons: winter and summer.
If you want to get to know your host city, don't move to the suburbs right away. Discover the city first, pick-out your favourite areas and then make your decision. It will also make it easier for you to make new friends.
Enjoy the possibilities! One of the greatest things this country has to offer is TIME. If you organise yourself, you can dedicate it to do what you love, whether it's spending time with your kids, doing sports or that long-forgotten hobby. When you come back from work at 5.30 pm, it feels like having a whole new day before you so make good use of it!
– Interviewed May 2011