Gregory Grove is a South African expat living in Saudi Arabia. He teaches English at a school in the capital, Riyadh, having previously lived in the southwestern city of Al Baha. Although Gregory enjoys the malls and finds many things generally cheaper in Saudi Arabia, he misses the parks, dams and social life back home in South Africa. Gregory blogs about his experiences of life in KSA at gregory-saudi.blogspot.com
Read more about expat life in the Kingdom in the Expat Arrivals guide to Saudi Arabia, or read more expat experiences in Saudi Arabia.
About you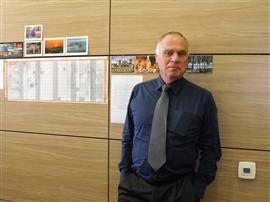 Q: Where are you originally from? 
A: Johannesburg, South Africa
Q: Where are you living now? 
A:  Riyadh, Aqiq, Saudi Arabia
Q: How long have you lived in Saudi Arabia? 
A:  Eight months (previously seven months in Al Baha)
Q: Did you move with a spouse/children? 
A:  No
Q: Why did you move to Saudi Arabia; what do you do?
A:  Currently, I'm a TEFL teacher at Al Jazeera Academy. In South Africa, I spent most of my life in the IT industry and several years as a Trauma Counsellor and Reiki Teacher.
About Riyadh
Q: What do you enjoy most about Riyadh, how's the quality of life? 
A:  I enjoy the malls and that I can get almost anything that I can get at home.
Q: Any negatives? What do you miss most about home? 
A:  I miss the parks, dams and botanical gardens. Also, the "nice" places are for families only, so we singles are barred from them. Also, no pubs, clubs, dancing or alcohol. No opportunities to meet women except at the compounds.
Q: Is Riyadh safe? Are there any areas expats should avoid?
A: The south of Riyadh is said to be dodgy (Batha) but I enjoy the vibe. It is very cosmopolitan, noisy and lively. You can buy just about anything there, change money at good rates and get real bargains. You can also get ripped off or get your pocket picked – so be alert.
Q: How would you rate the public transport in Riyadh? What are the different options? Do you need to own a car?
A: No public transport, no railway system. I get around mainly in taxis.
Q: How would you rate healthcare in Saudi Arabia?
A:  I haven't been sick here, so I can't say.
About living in Riyadh
Q: Which are the best places/suburbs in Riyadh to live as an expat?
A:  Again, I haven't lived in many different places here, but if you can get into a compound, that will probably be your best bet. Compounds are oases of Western culture. People dress normally, many have pools and some even sell homemade beer.
Q: How do you rate the standard of housing in Riyadh?
A:  I live in a shared apartment provided by my employer. It is spacious, clean and pleasant with all the mod-cons.
Q: What's the cost of living in Saudi Arabia compared to home? What is cheap or expensive in particular?
A:  My accommodation is paid for by my employer. Groceries and appliances (microwaves, computers and such) are cheaper than in South Africa, possibly because there is no tax or interest in Saudi Arabia.
Q: What are the locals like; do you mix mainly with other expats?
A:  The locals are friendly and have a good sense of humour. Most of my colleagues are Egyptian and Syrian, with whom I have a good relationships.
Q: Was it easy meeting people and making friends in Saudi Arabia?
A:  Because there are no social facilities in KSA, making friends outside of work is not easy.
About working in Saudi Arabia
Q: Did you have a problem getting a work visa/permit for Saudi Arabia?
A:  No – my company arranged everything, although I believe things have been tightened up considerably since I got here.
Q: What's the economic climate like in Riyadh, is there plenty of work?
A: I teach English, and there does seem to be a demand for native English speakers. Also, the Saudis prefer to hire expats for everything, so I suspect that there is lots of work available if you have the skills. Also, KSA is a wealthy country, and they pay well to lure Westerners into what is essentially an alien culture.
Q: How does the work culture differ from home?
A:  No music, women, alcohol, parties, pubs or clubs. Also, all shops close five times a day for prayer, as the Saudis take their religion very seriously. Expect many conversion attempts.
Q: Did a relocation company help you with your move? 
A:  No. I brought just clothing – everything else was provided or bought here.
And finally…
Q: Is there any other advice you would like to offer new expat arrivals?
A:  If you read my blogs, you will have a pretty good idea of my experiences here.

~ Interviewed March 2013