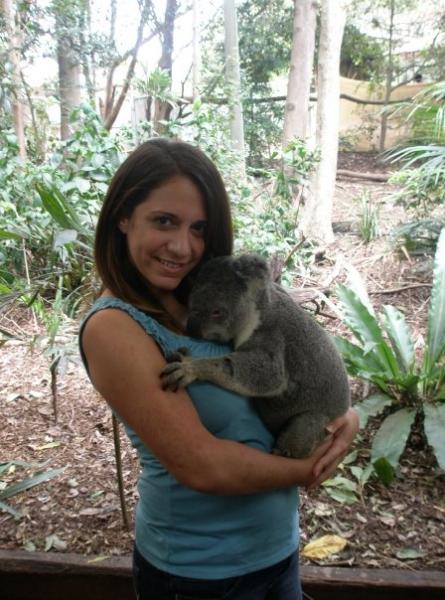 Jo Toumazou originally from London, UK moved to Australia five months on a working holiday visa. While she misses her family, friends and a decent cup of English tea, she has adjusted well to her new life in Sydney. She loves Australia's great weather and the variety of exciting activities available. 
Read more about Sydney in the Expat Arrivals Sydney City Guide or read more expat experiences in Australia.
About Jo
Q: Where are you originally from? 
A: I am from London in the UK
Q: Where are you living now? 
A:  I live in Kings Cross, Sydney.
Q: How long have you lived in Sydney? 
A: I've been here for five months. 
Q: Did you move to Australia with a spouse/children? 
A:  I moved to Australia by myself but have made friends since arriving.
Q: Why did you move; what do you do? 
A:  An Australian friend encouraged me to visit his country. Instead of booking a holiday, I applied for a year-long working holiday visa! I worked in busy city bars to make my money (a British accent goes a long way as a bartender!) and during the last couple month, I just took some time out to travel along the East Coast.
About Sydney
Q: What do you enjoy most about Sydney ? How's the quality of life? 
A:  I love Sydney. I think it is a fantastic city. The weather is lovely and there is so much to do; from shopping at Paddy's Market to taking surfing lessons at Bondi Beach.
Q: Any negatives? What do you miss most about home? 
A: I only really miss my friends and family (and a decent of English tea!)
Q: Is Sydney safe? Are there any areas expats should avoid?
A: I felt comfortable walking around the city by myself, day or night, but I would say that the Kings Cross area can seem daunting to those who aren't used to the hustle and bustle of the inner city.
Q: How would you rate the public transport in Sydney? What are the different options? Do you need to own a car?  
A: I would rate the public transport system very highly! The Metro system and buses are very frequent and I have never experienced a delay. The cost of public transportation in Sydney is reasonable. There are also very convenient coaches which offer inter-city links (via the middle of nowhere) should one want to go further afield! 
Q: How would you rate the healthcare in Australia?
A:  Thankfully, I have only had to visit a doctor once since coming to Australia. The appointment system hasn't discriminated against me as an expat, but prior to an appointment, I did have to sign up to the Medicare System, which works alongside the UK's NHS system. 
About living in Sydney
Q: Which are the best places/suburbs to live in Sydney as an expat?
A: I believe the best places to live as an expat would be the Northern Beaches. They offer beautiful beaches and lots of space for families. There is no overcrowding like you have in Sydney city centre. And these suburbs are only a 30-minute bus ride from Central Sydney.
Q: How do you rate the standard of housing in Sydney?
A: I would rate the standard of housing higher in the suburbs than in inner city Sydney. In the suburbs, the houses are beautiful and spacious with lovely maintained gardens, but in the city, they're more likely to be ugly brown-brick town-houses.
Q: What's the cost of living in Australia compared to home? What is cheap or expensive in particular?
A: I think that the cost of living in Sydney is cheaper than the cost of living in London, but this isn't actually cheap! But the outdoorsy lifestyle of the Australians also means that instead of going out for dinner, you can prepare a cheap and cheerful picnic, and eat in the Botanical Gardens! 
Q: What are the locals like; do you mix mainly with other expats?
A:  The locals are generally friendly people, but expats seem much more interested in forging friendships (as they are in the same boat). I met a LOT of Canadians exploring the world!
Q: Was it easy meeting people and making friends?
A:  It's very easy to meet new people in Sydney, but as a lot of people are travelling through, these are typically short-term friendships. 
About working in Australia
Q: Did you have a problem getting a work visa/permit for Australia?
A:  Not at all. I applied for my 'Working Holiday Visa' in the morning, and had received approval by the evening!
Q: What's the economic climate like in Sydney, is there plenty of work?
A: There are opportunities, but the better jobs go to the locals, and there are so many expats, the competition is fierce. I'd recommend to anyone going to Australia, to try to get a job placement before flying out there.
Q: How does the work culture differ from home?
A:  People seem very driven in Sydney, but also not as uptight as in London. Both are bustling cities, but the sunshine in Sydney makes people happier! 
And finally…
Q: Is there any other advice you'd like to offer new expat arrivals?
A:  You'll find the best bars, cafes and shops in Sydney away from the main streets. 
► Interviewed in August 2012