Katie Dundas originally came to Australia on the country's working holiday program. More than five years later, Katie has made Sydney her home and runs a blog called The Accidental Australian about her adventures down under.
In her interview with Expat Arrivals, she tells us about her life in Sydney.
About Katie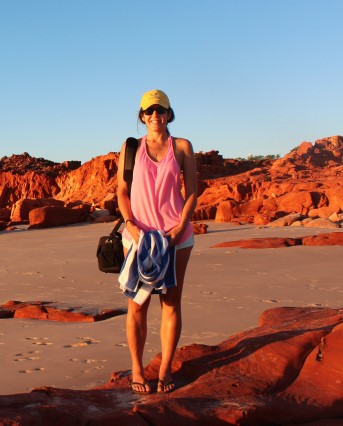 Q: Where are you originally from?
A: Maryland, USA
Q: Where are you living now?
A: Sydney, Australia
Q: When did you move here?
A: 2012
Q: Did you move here alone or with a spouse/family?
A: Alone
Q: Why did you move; what do you do?
A:  I came over originally on a working holiday visa, and now work for a not-for-profit organisation.
Living in Sydney
Q: What do you enjoy most about Sydney? How would you rate the quality of life compared to your home country?
A: There are so many advantages to living in Sydney – as a big fan of staying active and enjoying the outdoors, the temperate climate of Sydney is perfect. I often go diving or snorkelling at one of the local beaches, running, swimming, or coast or bush walks are some of my favourite things on the weekends. 
There are also constantly fun free events on, such as Vivid Sydney or the Chinese New Year celebrations, as well as a huge variety of restaurants, bars, and theatre options. 
The quality of life is very high here – it is a very safe, stable country, with a good national health care system, high hourly wages, great weather, and low unemployment rates. 
Q: Any negatives? What do you miss most about home?
A: Australia, but especially Sydney, can be extremely expensive, and can be a bit of a shock for new arrivals – especially when it comes to housing prices, which are astronomical.
Mostly I miss my family and friends (and maybe a good New York-style bagel!), but with family and friends, it is easy to stay connected, although the time zones can make conversations difficult.
Q: What are the biggest adjustments you had to make when settling into expat life in Sydney? Did you experience any particular elements of culture shock?
A: Australian culture is pretty easy to adjust to, as it is so similar to America, in a lot of ways. As mentioned, I would say the high cost of living would be the biggest shock, although this is somewhat mitigated by the fact that jobs are well-paying here. With the average price for a single family home hovering around the million dollar mark in Inner Sydney currently, often driven up higher by most sales being via an auction, unfortunately many people have to settle for renting, rather than ownership. 
Other than that, brush up on your Aussie slang, give Vegemite a try, and be careful in the surf – dangerous riptides and jellyfish are common! 
Q: How would you rate the public transport? What are the different options? Do you need to own a car?
A: Public transport is fairly good in Sydney – there is an extensive train, bus, and tram network that stretches north, west, and south of Sydney, and is very affordable. It is best accessed through an Opal Card, a free transport card that you can top up to tap on and off – they are available most everywhere. I say 'fairly' good, because the trains can often be infrequent, depending on where you are going, and they don't run very late into the night.
You definitely don't need a car, although it is fun and handy to have, as public transport will get you most everywhere. However, if you do go down that road (pardon the pun!), traffic can be very heavy here, and parking scarce. 
Q: How would you rate the healthcare in Sydney? Have you had any particularly good/bad experiences with regards to doctors and hospitals? Are there any hospitals you would recommend?
A: Australia has a nationalised health care system, Medicare, as well as additional private health care being available. Some visa holders will qualify for Medicare, while others won't, so check this out before arrival to see if you're covered. 
My experiences have been positive, and, coming from America, I find it very refreshing to receive quality healthcare at no, or little, cost. This is funded through tax, the Medicare Levy Surcharge – worth noting that if your visa type doesn't allow eligibility for Medicare, then you can claim back the levy when filing your tax. 
I wouldn't recommend any hospital over another, as I believe it's better to talk to your doctor and local specialists to decide where to go, dependent on your needs and health cover. 
Q: What are the biggest safety issues facing expats living in Sydney? Are there any areas expats should avoid?
A: Australia, and Sydney, is generally a very safe place, but, like anywhere, always exercise caution with valuables, wallets, etc. Crime is low, and gun ownership is extremely restricted. 
One big safety issue in Australia is the sun – it is very strong here, due to the depletion of the ozone layer, and Australia has one of the world's highest skin cancer rates. Be vigilant with your sunscreen application and wear hats- as the Aussie's say, 'slip, slop, slap!' (Slip on a shirt, slop on some sunscreen, and slap on a hat.)
Q: How do you rate the standard of housing in Sydney? What different options are available for expats?
A: Housing, in my experience, is of a high standard and very comfortable, although many flats are of an older style. One thing to note is the air conditioning and heat is often not centralised, despite the hot summer days and occasionally chilly winters, so worth asking about this before committing to a property. Otherwise, check out Bunning's (the Australian equivalent of Home Depot) for space heaters or portable a/c units. 
Q: Any areas/suburbs you'd recommend for expats to live in?
A: Anywhere close to the downtown area, or CBD, are popular, such as the Inner West or the lower North Shore. If you'd rather live closer to the beach, check out Manly or the Eastern Suburbs. 
Meeting people and making friends in Sydney
Q: How tolerant are the locals of foreigners? Is there any obvious discrimination against particular religions or women etc.?
A: Australians are generally friendly, easy-going, and welcoming – being American, or female, won't be an issue. Be prepared to answer a lot of questions about our current political state though…
Q: Was it easy meeting people and making friends in Sydney? How did you go about meeting new people?
A: Meeting new people isn't too hard, but you definitely need to make an effort, as I find a lot of Sydney natives tend to already have a close network of childhood and university friends. Try joining a Meetup group, taking a community college course, or connecting in with the Sydney Americans expat club, who hold social gatherings throughout the year. 
Q: Have you made friends with locals or do you mix mainly with other expats? What advice would you give to new expats looking to make friends? Any social/expat groups you can recommend?
A: I have a range of friends, including American expats, Australians, and other overseas transplants. As mentioned above, Meetup.com is a great way to connect in with other like-minded people, as is the Sydney American expat club. Joining your co-workers for Friday after-work drinks, a common occurrence here, is also a good way to meet new friends.                           
About working in Sydney
Q: Did you have a problem getting a visa or work permit? Did you tackle the visa process yourself or did you enlist the services of an immigration consultant?
A: Most Americans, as well as many other nationalities, easily qualify for a one-year working holiday visa. Other common options would be the 457 working visa, or a de facto partner. Although timely, and often expensive, the visa process is generally straightforward, with all requirements listed via the Department of Immigration. If you are feeling less confident, or nervous about the process, a qualified immigration consultant could be a good option. 
Q: What's the economic climate like in Sydney? Do you have any tips for expats looking to find a job there? Which resources did you find most useful?
A: The economy and job market is pretty strong in Sydney, and there are many opportunities, being one of the largest cities in the country. Recruitment agencies are popular here, so a good tip is to sign up with several agencies that specialise in your field of work, and they can help you with the job search and with arranging interviews. 
Q: How does the work culture differ from home? Do you have any tips for expats doing business in Australia?
A: The work culture I'd say is a little more laid back and informal than the US, in keeping with the Australian way. Due to this, as well as the warm climate, formal dress is mostly not required, and casual, but well presented, attire, is acceptable in most workplaces. 
For anyone doing business here, I'd recommend being genuine, honest, respectful, and of course friendly, as this goes a long way in establishing rapport. Drinking is also a big part of Australian culture, so work dinners and drinks are very common – but if you don't imbibe, that will be respected too. 
And finally…
Q: Is there any other advice you would like to offer new expat arrivals?
A: Make the most of it and enjoy it! Australia truly is 'the lucky country'- make the most of your time here, and travel and explore as much as you can. There is so much to see and do here, from the Outback, beaches, cosmopolitan cities, and island paradises.
– Interviewed in February 2017