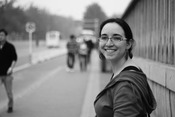 Kara, an American expat in China, is a self-proclaimed member of the kingdom of Geekdom. She moved to the big, bustling metropolis of Beijing with her husband in 2008, and now spends her time writing, blogging, studying to become a pilot and assisting the expat youth associated with a Christian church in Beijing.
Read more about China in the Expat Arrivals China country guide or read more expat experiences in China.
About Kara
Q: Where are you originally from?
A: The US (specifically Minnesota)
Q: Where are you living now?
A: Beijing, in the Wangjing area
Q: How long you have you lived here?
A: 3 years
Q: Did you move with a spouse/children?
A: Yep, my husband.
Q: Why did you move; what do you do?
A: My husband was hired as the youth pastor at the Beijing International Christian Fellowship. We have both worked with expat youth since we arrived, and I am currently a freelance writer and editor.
About Beijing, China
Q: What do you enjoy most about Beijing, how's the quality of life in China?
A: I enjoy the diversity of people in the expat community; I've gained friends from all over the world by living here, and I don't think other cities are quite like that. I also love the diversity in cuisine available at reasonable prices. I think my quality of life here is quite high.
Q: Any negatives? What do you miss most about home?
A: There are always negatives. I guess for me the biggest negative is the language barrier. I haven't yet taken courses in Chinese, so I'm quite limited in what I can get done sometimes. Oddly enough, I miss being able to engage in small talk; I feel quite rude not being able to converse with people in a casual manner.
Q: Is Beijing safe?
A: I feel quite safe most of the time, but I'm quite careful about not walking in abandoned places in the dark. If you use common sense, you can avoid potentially-unsafe situations quite easily.
About living in Beijing
Q: Which are the best places/suburbs to live in Beijing as an expat?
A: I really love Wangjing because it's close to the city without being incredibly expensive. There are foreign import stores nearby, IKEA, and now even a Burger King. I also enjoy Wudaokou, though the rent prices anywhere near the subway are crazy.
Q: How do you rate the standard of accommodation in China?
A: It totally depends on the particular place. When my husband and I were first searching for an apartment, we saw some really old and dirty apartments and some incredibly fancy, well-designed places. In general, you can get a decent place with potential (aka one you'll have to put some work into but will eventually be great) for an affordable price. As rent prices skyrocket, though, this becomes more and more difficult.
Q: What's the cost of living in China compared to home? What is cheap or expensive in particular?
A: Most things are cheaper (if you go to the right places): eating out, clothes (at markets, at least), groceries, iPhone cases. Some of my little favourites from back home are much more expensive, though: cereal, Downy fabric softeners, Tide pens, Sally Hansen nail polish.
Q: What are the locals like; do you mix mainly with other expats?
A: I definitely live in a bit of an expat bubble. The local people I have met are quite friendly, but my husband and I are here to work with foreigners, and my Chinese is so limited that relationships with locals aren't a high priority. I hope to change this in the future.
Q: Was it easy meeting people and making friends?
A: I thought it was quite easy to meet people, but it took a long time to settle into genuinely close relationships and find those with similar interests and passions. There's a bit of distrust toward anyone new; many people who have lived here for a while don't want to invest a ton into a relationship that will only last for a few months. There are a lot of people who don't think this way, though, and I think in general things just take a bit longer than you'd like here; friendships are no exception.
About working in Beijing
Q: Did you have a problem getting a work visa/permit?
A: Nope, but things change on that front all the time, so I try not to take it for granted.
Q: What's the economic climate like in Beijing, is there plenty of work?
A: I think it's fairly easy for foreigners to find jobs; the question is whether the jobs are very good. If you aren't picky and are highly flexible, you can get a job teaching English somewhere. If you're picky, it'll be harder, though not impossible. I interviewed for several writing jobs a while back and turned them down mostly because they were going to dominate too much of my time.
Q: How does the work culture differ from home?
A: It's more intense. People are expected to drop everything else for work, work extra hours without extra pay, and work weekends in exchange for holidays during the week. Once you're accustomed to it, it's not quite as extreme as it sounds, but it's still more demanding than I'm used to.
Q: Did a relocation company help you with your move?
A: Nope, we did it on our own. We brought everything to start our life here in five boxes/suitcases on the plane.
Family and children
Q: Did your spouse or partner have problems adjusting to their new home?
A: My husband didn't have nearly as much trouble adjusting as I did. My husband lived here in high school for several years, so he knew a lot more than I did when we came. I was the one with the major culture shock issues.
Q: How would you rate the healthcare in China?
A: I've really only had to take my husband to the ER at Beijing United once, but that was a good experience (well, except for the panic and pain that proceeded it). It's pricey, for sure, but it sure beat me trying to navigate a Chinese hospital with almost no Chinese language. I've heard that can be done, but I'm not quite ready to try it personally.
And finally…
Q: Is there any other advice you like to offer new expat arrivals?
A: My number one piece of advice is to give yourself and those around you a ton of grace. Let yourself make mistakes without it being a big deal, and try to see the crazy situations you find yourself in with lots of humour. Practice flexibility, especially if it doesn't come naturally to you. Find a few small things you can control, places you feel comfortable, and go to those when everything else is crazy.
► Interviewed March 2011