Lisa Huang is a young Taiwanese expat who moved to Cape Town, South Africa from Chicago two years ago to pursue a job opportunity. While she misses easy access to transport and the food that reminds her of home, she is loving life in the Mother City. If you are new to Cape Town, join Lisa's social group FoodandChaatter, to meet other new arrivals and share a good meal.
Find out more about life in Cape Town by looking at our Cape Town City Guide or reading more expat experiences of South Africa.
About Lisa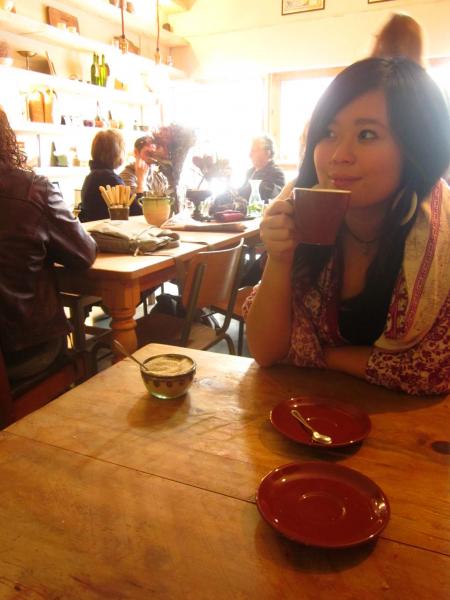 Q: Where are you originally from? 
A: Tainan, Taiwan
Q: Where are you living now? 
A: Gardens, Cape Town
Q: How long have you lived here? 
A: Two years
Q: Did you move with a spouse/children? 
A: No
Q: Why did you move; what do you do? 
A: I was working in Chicago, USA for a financial services company. When the company opened a Cape Town office in 2010, I was sent to complete the merger and acquisition, and to stabilize our African data operation.
About Cape Town
Q: What do you enjoy most about Cape Town, how's the quality of life? 
A: Cape Town is a unique city, where unsurpassed natural beauty and a cosmopolitan metropolis blend into one. It's extremely vibrant with active communities in IT, entrepreneurship, social sustainability, finance, and various other ecosystems. I love the fast-growing communities here, where I am exposed to new ideas and passionate change agents all the time!
Q: Any negatives? What do you miss most about home? 
A: Having accessible, punctual public transportation is definitely something I miss most. Also, the food – growing up in Tainan, the gourmet capital of Taiwan, I have been spoilt with street food vendors, corner bakeries and family-run restaurants that are over a century old. I miss authentic Taiwanese food, and the busy Night Markets! South Africa is a true melting pot with a fusion of culinary delights, so that does help to curb my cravings.    
Q: Is Cape Town safe? Are there any areas expats should avoid?
A: There are certain parts of Cape Town that should be avoided. Just as I would not go to areas like the Bronx in New York, downtown Lima in Peru, areas beyond the underground Tube coverage in London and the Pudong district of Shanghai after certain hours. Ultimately, Cape Town is as safe or dangerous as other metropolitan cities in the world. I would say, be conscious of your surroundings if you are travelling alone, pay attention not to flaunt your valuables. The city centre itself is safe if you travel in a group after dark, or stick to well-lit, high-traffic areas like Long Street or Kloof Street. However, I do avoid areas like Greenmarket Square in the CBD and the East City/Zonnebloem after dark, as they are predominantly occupied by office spaces, which are vacant after 5pm.  
Q: How would you rate the public transport? What are the different options? Do you need to own a car? 
A: I have lived in Cape Town for two years without a car, so you can definitely survive without a car! I travel by trains, minibus taxis, MyCiTi buses, walking and cycling. However, public transport in Cape Town is limited, and it can be difficult to reach suburbs outside of the city, especially in evening and weekends. Carpooling is a great solution if you want to travel to the winelands, Cederberg Mountains or other natural sights outside the city centre. It saves everyone money and is a great way to meet new people. 
Q: How would you rate the healthcare?
A:  With health insurance coverage, Cape Town's healthcare is great at associated hospitals. I have only visited private hospitals for annual check-ups with no major surgeries or operations, though, thus I cannot comment on that.
About living in Cape Town
Q: Which are the best places/suburbs to live in Cape Town as an expat?
A: It depends on what you are looking for. City Centre is a great "start-up" zone to gain familiarity of the city, communities, and the nightlife that the city has to offer. The city is buzzing 24/7, so it can be quite noisy. Naturally, rent is more expensive with limited space in city-centre locations.
If you are looking for a cooler, rain-covered neighbourhood, look no further than the mossy Southern Suburbs. The Northern Suburbs are great for beach weather, especially if you are keen to pick-up wind surfing! For the price of a flat in the city, you can typically get a house in the suburbs with more green space. This is probably more suitable for expats moving to Cape Town with children or pets.
Q: How do you rate the standard of housing in the city?
A:  Again, it depends on which neighbourhood you live in. I live in Gardens in a secured apartment complex. The standard of living is great, with easy access to museums, restaurants, events and nightlife.
Q: What's the cost of living compared to home? What is cheap or expensive in particular?
A:  Internet, car ownership, insurance is much more expensive than at home. Rent can be comparable to Chicago (maybe 10 to 20 percent less, again depending on the area you choose), but entertainment (events, museums, nightlife) and dining out are much cheaper in comparison.
Q: What are the locals like; do you mix mainly with other expats?
A:  I mostly hang out with locals and other travellers / transplants to the city – not specifically the expat community by traditional definition (i.e. corporate relocations).  Almost 7 out of 10 people you meet in the city centre will not be from Cape Town. As it is more expensive to live in the city, most locals tend to live in the suburbs. South Africans are warm, friendly, and genuine people. From Capetonians and Durbanites, to Jo'burgers, everyone has an incredible story to share and are genuinely interested in other cultures!
Q: Was it easy meeting people and making friends?
A:  I met 80 percent of my friends through Couch Surfing in my first six months, as the expat community here is typically older when I first moved here at just 23 years old.  After six months, my social circle expanded through friends of friends, and through meeting new people at various events.  
If you are open to meeting people from all walks of life, and aren't too shy to attend events or gatherings where you can be exposed to new communities, it is really easy to meet people and make friends in Cape Town and beyond. I would say the same rules apply in every corner of the world.
About working in Cape Town
Q: Did you have a problem getting a work visa/permit?
A:  No, I applied for a work permit in the USA.
Q: What's the economic climate like in the city, is there plenty of work?
A: I think it depends on your background, education, skill set and work experience. With my undergraduate studies in Business Administration (equivalent to a B.Com in South Africa), and experience working in the financial industry, it is no more challenging to find work in Cape Town than Chicago, New York, or other global cities.
Q: How does the work culture differ from home?
A:  Work culture in Cape Town is more laid back and comparable to the European work environment. In my company, we rarely see anyone working overtime (past 6pm) and arriving before 8am. This is quite different from the US work culture. Depending on the demographics in the office, I have found work culture to be more top-down in South Africa, where employees are not necessarily encouraged or motivated to express their opinions or suggestions for improvements. Overall, people are friendly, but there is less focus on fraternising or happy hour events after work. In Cape Town, there are a million options for things to do, so people do like to disengage from work after they "clock-off". Also, don't expect anyone to read their work emails after Friday 5pm.
Q: Did a relocation company help you with your move? 
A:  Yes, from Chicago to Cape Town.
And finally…
Q: Is there any other advice you'd like to offer new expat arrivals?
A:  Be open-minded. Try to be aware of any pre-existing, stereotypes and stigmas you may have about Cape Town, South Africa, and the African continent. Everyone is unique, and comes from a different background. Be curious, ask questions to clarify and learn about the city you live in, with cultural sensitivity and deep respect for others. More importantly, have an optimistic outlook and enjoy your time in a new city. It is such a privilege to travel or be invited to live in a foreign country, so see it as an opportunity to gain new perspectives and ideas! Have fun, and welcome to Cape Town!
~ Interviewed in November 2012